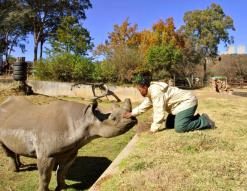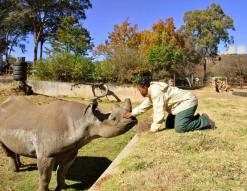 South African wildlife is in the news for a good reason, with the recent announcement that two local productions have been shortlisted for the 2012 Wildscreen Panda Awards, part of the UK's Wildscreen environmental and wildlife film festival.
The two films are Saving Rhino Phila, produced by NHU Africa, and Survival Stars: Home Sweet Home, an Earth-Touch production. Each is hoping to bring home a Golden Panda, described as the Oscar of the nature film world.
Phila is up against three other films in the Nature Conservancy Environment and Conservation category, while Survival Stars has two rivals for the Children's Choice award.
A total of 74 entries covering film, series and new media are vying for top honours at this year's festival.
The list of finalists was narrowed down from 491 films from 46 countries, by an international judging panel comprising experts such as composers, directors, producers and sound engineers.
In addition to the two local films, Botswana's The Last Lions is also in contention for three awards, in the cinematography, music and theatre categories. The Last Lions was co-produced by Wildlife Films and National Geographic Entertainment, and directed by award-winning filmmakers Dereck Joubert and his wife Beverly.
Now 30 years old, the biennial Wildscreen festival is said to be the most prestigious event in the environmental and wildlife film industry. It takes place in Bristol in the UK and brings together international players in the industry, as well as thousands of members of the public, for a week of thought-provoking debates, talks, workshops, master classes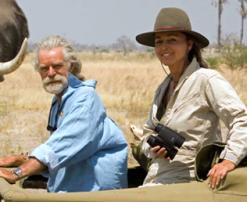 and screenings.
This year's event runs from 14 to 19 October.
Innocent, but hunted
The 52 minute-long Saving Rhino Phila tells the gripping story of a survivor.
Phila the rhino was the victim of an organised and well-armed poaching attack not once, but twice, taking at least nine bullets as she fought for her life.
A rare black rhino, Phila was just five years old when she was first hunted down by poachers in helicopters, armed with semi-automatic weapons and dart guns. Although wounded and de-horned, she survived the first attack because the criminals were focused on another rhino that was with her, and that did not survive.
Phila was recovering from this attack in a secure boma, when she was tracked down by the poachers just months later and attacked again, this time for the remaining stump of her horn. She survived this attack too and in October 2010 was moved to the Johannesburg Zoo where she recovered, under a permanent guard – for her safety she is still there.
Controversially, the documentary calls for the legalisation of trade in rhino horn.
The trailer may be viewed online here.
At 11 minutes long, Survival Stars is one of a series of short features that introduce children to the antics of animals as they go about their daily business of staying alive.
KwaZulu-Natal-based production house Earth-Touch is responsible for numerous documentaries about the natural world and has already won a handful of awards for them. The company's spellbinding work may be viewed on its Vimeo or YouTube channels, or may be downloaded from iTunes.
By: Janine Erasmus
Source: http://www.mediaclubsouthafrica.com