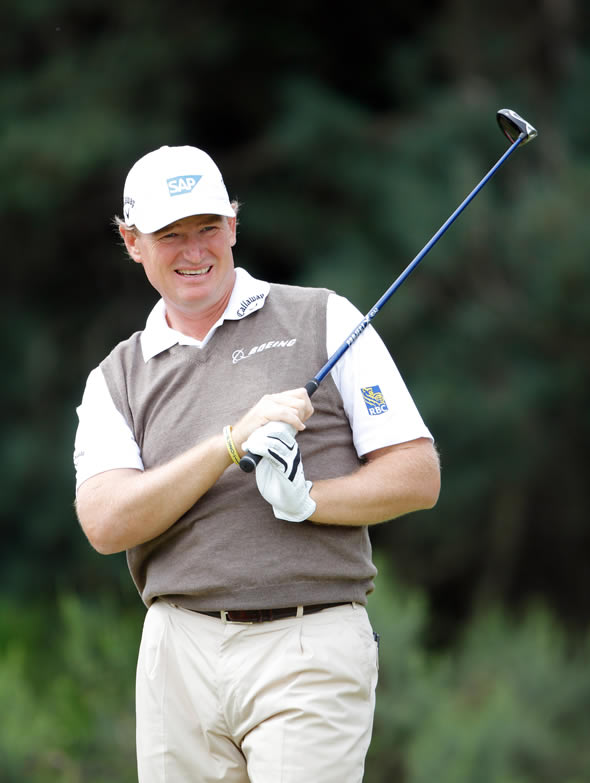 South African golf champion Ernie Els has posted a heartfelt thank you on his website for all the support and congratulatory messages he's received since his surprising win at the British Open last weekend! And we say 'surprising' with all due respect because it seems that nobody was more shocked than Ernie to win the prestigious golf tournament.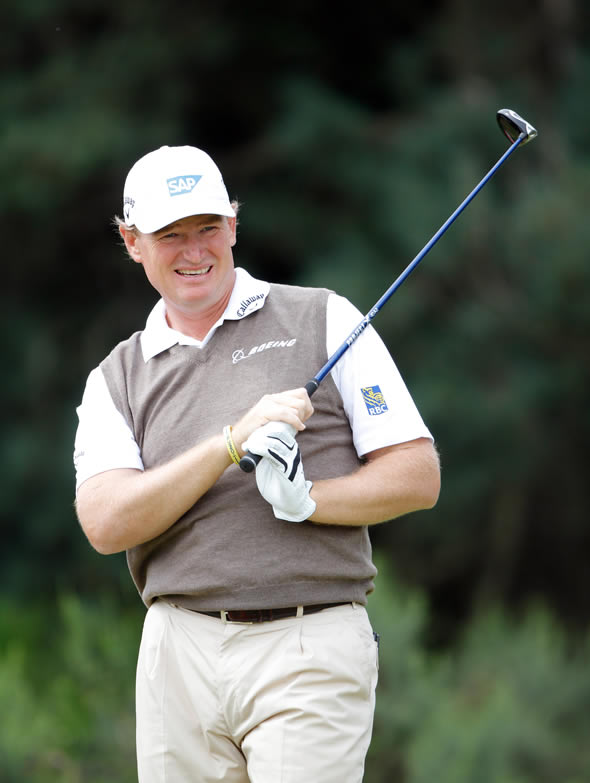 During the final moments of the Championship at Royal Lytham & St Annes, bookies had Ernie down at 469-1 odds to win against Australian Adam Scott who had a four-shot lead with only four holes left to play. But against those odds, Ernie rose to the challenge and won one of golf's most prestigious tournaments, taking home the prized Claret Jug and a mere $1.452 million! (And the incredible win has already sparked joke photos, like the one below.)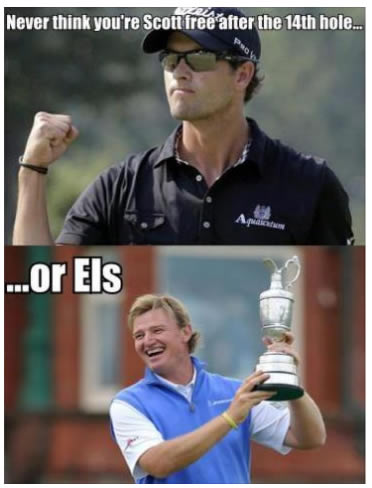 This is Ernie's second win at the British Open. The first was ten years ago, in 2002. He's one of four South Africans to have won this event, the others being Bobby Locke, Gary Player and Louis Oosthuizen.
Here are some excerpts from Ernie's post of thanks:
Wow, what a week. I'm still a bit numb, but I think it's slowly sinking in. It's a crazy, crazy game. I can't really believe I have won. This was one of the greatest days of my career. I said at the start of the tournament that I felt like something special might happen and it doesn't get more special than this. I played well all week and saved my best till the end. Playing this tough, tough back nine in four-under par, given the circumstances, makes it one of the best rounds of my career. It's an amazing feeling.

As I said in my winner's speech, I really feel for my good buddy Adam Scott. Sport is really tough sometimes. I have been on the other end more times than I have been on the winning end so I know what Adam is feeling like. He's got all the talent in the world, though. He's one of my best friends out here on Tour and I love seeing him play well. I believe he'll win won of these majors some day.

Right now I just want to say a few thank you messages. Obviously to my whole family, especially Liezl, Samantha and Ben, who are my rock. Thanks to my caddie Ricci Roberts. We're like brothers and I couldn't have done this without him. Thanks also to my sponsors Callaway, SAP, RBC and Boeing who have supported me so well. I also want to thank my team, many of whom have stuck with me through thick and thin. I want to thank the fans. They are always so great to me and it really means a lot. Thanks also to the R&A and to Lytham & St Annes. Despite the weather it was a great set-up, probably one of the best I've ever seen. They did a great job.
Ernie recapped his incredible week of play, ending with his recount of Sunday's play:
Right from the start of the week I felt I had some belief – as I said, as if something special was about to happen. For Sunday I wanted the breeze to blow, as I figured that would help me out, but I was in a good position and really excited about being in the mix. I was hitting more greens in regulation than anyone. If the putts started to drop I knew I had a great chance.

Then on Sunday…well, what can I say? I had chances early on, which I didn't take, but I stayed patient. I knew it was going to be a tough day for everyone and I just tried to keep hitting good shots, keep giving myself opportunities, because you never know what might happen. Golf is a funny game. Then on the back nine I started getting the putts to drop. It was a lot of fun and obviously the putt on 18 was as sweet as they come, right into the heart of the cup. That was an amazing feeling and the crowd's reaction was incredible. They are the moments you dream about, really.

Anyway, it's going to be a pretty crazy night…but in a good way obviously! I was going to fly straight from Lytham to Canada tonight for this week's RBC Canadian Open, but I desperately want to get down to Wentworth to see my family and celebrate, so after my media commitments here I'll be doing that and then flying to Canada probably on Tuesday. I'm sure they'll understand.
And he ended with this final message:
Anyway, just one final thing before I go. I want to thank everyone for taking part in two very successful Els for Autism events that took place this week at The Greenbrier and at Baltusrol. That's the quality of the venues we have on the schedule this year. It's fantastic. There are plenty more great events between now and the Grand Finale later this year, so if you fancy taking part just click here.

That's it for now. Thanks so much for all your messages of support.
You can read more on Ernie's website: http://www.ernieels.com/