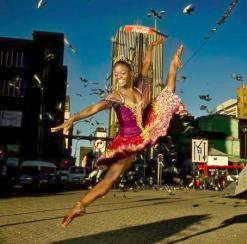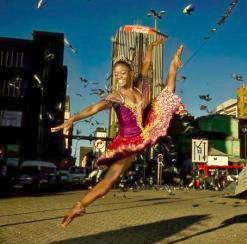 Teenage ballet dancer Michaela DePrince survived a brutal civil war, adapted to a new life in a faraway country, and overcame numerous challenges to excel in a white-dominated art form. Today she's regarded as one of the US's most promising young artists.
DePrince is African by birth, born in the West African country of Sierra Leone in the middle of a devastating civil war. Still not old enough to go to school, she ended up in a refugee camp as one of thousands of war orphans.
Her bleak existence there – compounded by a skin pigmentation condition called vitiligo – was sustained by a torn-out magazine picture of a ballet dancer that somehow found its way into the camp and into her hands, and she decided there and then that she wanted to be like the happy girl in the picture.
DePrince and two other girls from the orphanage were adopted by an American family and with their love and support, and with the help of her dancing, she was eventually able to put her wartime experiences behind her, although it took time and hard work and the memories have never gone away entirely.
Today the 17-year-old is poised and assured, a mindset that belies her turbulent past, but gives a clue to why she is where she is today. She knows what she wants, and she's prepared to do everything possible to get it.
"I've only ever wanted to dance," she says, and that determination has carried her in a discipline where competition is ruthless and discrimination has the potential to curtail many a career.
The confident teenager is tipped for international stardom. (Image: Janine Erasmus)

Professional debut in Johannesburg
So compelling is her talent that the South African Ballet Theatre's (SABT) Dirk Badenhorst invited DePrince to make her professional debut with the Johannesburg-based company in July, dancing the role of Gulnare in the local premiere of Le Corsaire.
The ballet was presented by the South African Mzanzi Ballet, a new company formed through the merger of Mzansi Productions and the SABT. It was produced by former SABT principal dancer Angela Malan after the style of Marius Petipa, who set the standard for all modern interpretations of the ballet.
DePrince had just two weeks to learn the role and she then had to make the transatlantic journey alone, as her parents were busy looking after her siblings.
"To come all this way to work with an unfamiliar ballet company, not knowing anyone, and not knowing what you were walking into, took a lot of courage," says Iain MacDonald, the SABT's artistic director. "But the minute Michaela walked in, it was like she was one of the family."
"I didn't even know that South Africa had a ballet company," says DePrince, "but I've had the time of my life here." She plans to return some time in early 2013.
Her performance as the slave girl Gulnare was widely praised, with reviewers describing her interpretation as "beautifully executed" and her line and balance as "near-perfect".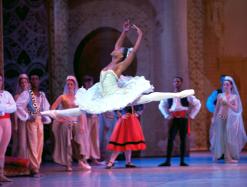 "I also learned a lot from Burnise," she says, referring to the vastly experienced principal dancer Burnise Sylvius, a Pretoria girl who has guested with ballet companies from Canada to Hong Kong, and danced the role that DePrince most aspires to – that of Aurora in Sleeping Beauty, a role renowned for its technical difficulty.
A new beginning
Early on, DePrince showed a strong aptitude for ballet. "My mom got me The Nutcracker on DVD, and I learned all the moves off by heart."
At a live performance of the same ballet, she was able to accurately point out where the dancers were making errors – without having taken a single lesson herself. Her mother enrolled her in a dance class in Philadelphia where they lived, and she flourished, dancing en pointe at the age of seven, and forging a career despite the efforts by some of her earlier teachers to discourage her.
Now photos of her exuberant grands jetés and lively smile garner comments like "bellissima!" and "spectacular!" but when DePrince was growing up there was seemingly no place for a black dancer in the pastel world of American ballet.
But she followed the advice she now gives to other aspiring young dancers: to never give up and follow your dream relentlessly.
"There were times that I wanted to pack it in, but my mom said, 'wait until the end of the year' or 'give it a little longer', and that helped me to get over the wall."
The family has since relocated to New York so that DePrince and her sister Mia, a talented singer, can pursue their careers. Those with sharp eyes may notice that many of DePrince's ballet shoes have been dyed – by her mom – to complement her skin.
DePrince recently completed a scholarship at the Jaqueline Kennedy Onassis school of the American Ballet Theatre. She joins the renowned Dance Theatre of Harlem in August.
"I had a few offers, but I wanted to join the Harlem company because they've done so much to pave the way for black dancers."
South African Laveen Naidu is currently Harlem's executive director. He started off by studying South Indian classical dance in his hometown of Durban, and went on to graduate from the University of Cape Town's ballet school. In 1991 he received a scholarship from the Dance Theatre of Harlem, and has never looked back.
DePrince was also one of the six young stars of the 2011 documentary First Position, which follows dancers throughout their preparations for the Youth America Grand Prix, a prestigious international student dance competition.
Giving talented kids a chance
MacDonald runs the SABT's outreach programme, which is active in several areas of Johannesburg, including Soweto, Sophiatown and Alexandra. Children between six and 16 years of age receive free lessons to a standard that allows them to take examinations, and progress. According to MacDonald, this initiative has paid off handsomely.
"There's no question that we have talent," he says, "but it's opportunities that these kids need. Ballet gives them more than just a workout, it helps them to become more self-confident and disciplined, and this spills over to other areas in their lives."
DePrince was able to interact with the young dancers at the SABT's Alexandra dance school and, says MacDonald, she was an inspiration.
"The kids were a bit unsure and in awe when she walked in, but they warmed to her very quickly."
The development programme has seen a number of successes, most notably the award-winning Andile Ndlovu, who now dances with the Washington Ballet, and returned home to appear in Le Corsaire.
Children from the development programme are regularly exposed to professional productions, either performing or watching, and some of them also appeared in Le Corsaire.
THis is what DePrince loves to see. She hopes to be a role model for other young girls, especially those with the disadvantages that she overcame, and to inspire them to set their sights firmly on their dreams.
By: Janine Erasmus
Source:www.mediaclubsouthafrica.com