After Oscar Pistorius' heated reaction last night, immediately after missing out on Gold in the Men's 200m Final, the South African athlete has apologised for his bad timing…but not for the content of his rant which was made during a Channel 4 interview. He has also uploaded a photo to his Twitter page that seems to support his argument that his competitor's blades were rather long.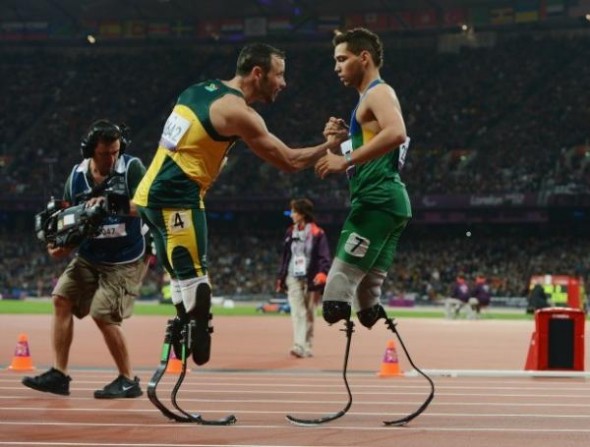 Oscar was the hot favourite to win, but after a promising start, he was overtaken at the finishing line by Brazil's Alan Oliveira. Oscar contends that Alan's blades were longer than the International Paralympic Committee (IPC) should allow.
Late last night Oscar posted a message on his Twitter page, saying "thank you for the support tonight. I'm pleased with the race I ran. I am disapointed [sic] not to have defended my title. Well done to Alan."
A couple of hours later he published another message, alongside a photo which – although Oscar doesn't say anything – quite clearly demonstrates how much longer the Brazilian's blades were than his.
His message this time was "Congratulating Alan of Brazil for his 200m win.. The fastest last 80m I have ever seen to take it on the line."
Oscar finished the men's T44 200-metre track final with a time of 21.52 seconds, slightly slower than his world record 21.30 which he had run the previous night. His friend and "roomie" T44 class athlete Arnu Fourie took fourth spot with a world record of 22.49.
The IPC has announced that it is to meet with Oscar to discuss his concerns over regulations that govern the running prostheses.