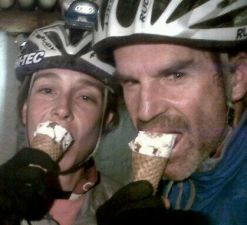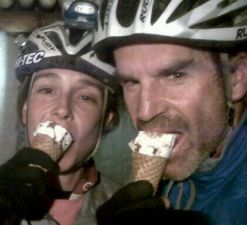 Like having babies, you forget the pain, says super athlete Jeannie Dreyer, referring to her astonishing first-place finish in the 2 300km Freedom Challenge mountain bike race. The route starts in Pietermaritzburg in KwaZulu-Natal, and ends in Wellington in Western Cape, and takes place at the end of June.
Thirty-three-year-old Jeannie, a housewife and mother of two toddlers, crossed the finish line with her husband, Martin, one of South Africa's top endurance athletes, in just 12 days, five hours and 55 minutes. She broke the women's record for the race by seven days, and beat 41 men and five women to the finish line. Jeannie averaged an extraordinary 200km each day, sleeping three to four hours a day, except for two days she was off her bike for about nine hours.
It was Martin's third challenge. He set the new record in 2012 when he finished in a mind-bending 10 days, 16 hours and 40 minutes. This meant that he averaged 230km a day, sleeping three hours for the first three nights, then two hours for the next three nights, then catnaps until the finish. Martin, 45, is an exceptional athlete: he has won the 120km, three-day Dusi Canoe Marathon seven times, as well as a string of other canoe races. He has also distinguished himself in multi-discipline adventure races, both in South Africa and abroad.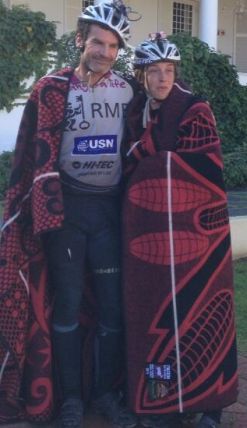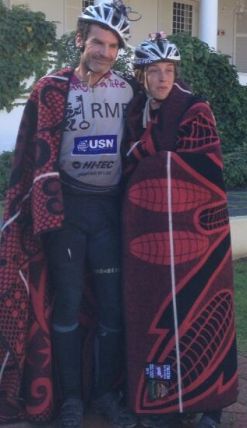 "It was wonderful. Nothing compares to it as far as mountain bike racing goes. No event gets close," Jeannie enthuses. "It puts life into perspective, and shows you what basic things you need to survive." The biggest mental challenge was the daily distances they covered, she says, with her relying entirely on Martin to indicate the day's route. This meant she had to set small goals for herself each day.
The trail takes participants up and over several of South Africa's most remote and beautiful mountain ranges, and across the endless semi-desert Karoo, into the winelands of the Cape. It is done in June, the middle of winter, which means that conditions include blizzards and snow, fierce wind, and below zero temperatures. Riders face an overall ascent of 37 000m over the 2 300km, and have 26 days in which to finish. Finishers don't get a medal or monetary prize, just a warm Basotho blanket.
Support stations are positioned every 100km, where riders get meals, a bed and a chance to wash their gear. Ahead of the race they submit two-litre tubs containing anything extra they want for the event, which are sent to the support stations. Other than that, they carry everything they need on their backs. They are not permitted to carry a GPS, and must rely only on maps and written directions from the race organiser, David Waddilove, who is based in Wellington.
Started in 2004
Waddilove started the race in 2004, after he ran the Two Oceans Marathon in Cape Town, and then ran all the way to Pietermaritzburg, where he then ran the Comrades Marathon, a 90km race between that city and Durban. He ran 60km a day, taking 42 days to get to Pietermaritzburg.
The following year he ran the Comrades with his brother. After the race, the two cycled back to Paarl, then pulled out kayaks and paddled the four-day 212km Berg River Marathon. This became the Extreme Freedom Challenge; 11 people have completed it over the past nine years. In 2009, Waddilove changed the format slightly, replacing the Comrades Marathon with what he calls the Dusi Trail Run, an 80km run from the outskirts of Durban to the periphery of Pietermaritzburg, largely along the banks of the Umgeni River.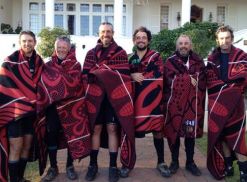 "While I was running I had a lot of time to think about things. It became clear to me that the route could not easily be travelled on foot but would work well as a mountain biking route," he says. And that's how the Freedom Challenge, or Race Across South Africa, came about: "In 2004, when South Africans were celebrating 10 years of freedom, the Freedom Challenge was born."
Waddilove has tried to include has many places of historical or geological interest as possible. Riders take the route ridden by General Jan Smuts and his commando in 1901, on the run from British forces during the Anglo Boer War or South African War, of 1899 to 1902. They also pass through the site of the Battle of Stormberg.
The trail cuts through 4.5-billion years of geological time and six plant biomes. It follows historical migration routes, and riders experience different local languages and cultures along the way. They stay in huts, or hunting lodges, eating anything from pap and maroch, to venison pie. "This while riding through some of the most visually spectacular parts of the country," adds Waddilove. In total, 149 people have signed up for this awesome adventure.
Impressive record of races
Jeannie has undertaken and won, or finished in the top three, in an impressive record of races – from canoeing and running, to some of the country's most challenging mountain bike events. One is the Cape Epic, an eight-day, 800km bike race in Western Cape, with some 15 000m of climbing. It attracts some of the world's top riders. She came second, together with her team.
Most days on the Freedom Challenge would start with Jeannie asking her husband where they were going. He would point to the immediate mountain, then to the next, then the next, then say: "That blue mountain – we're going over it."
The first 500km of the race takes riders to Rhodes in Eastern Cape, and can be done as a complete ride, called the R2R, or Ride to Rhodes. The Dreyers did it in two-and-a-half days. Jeannie says they pushed hard to get there, and she felt it. Her knee was aching but a chiropractor in Rhodes worked on it, and she tied it up with a buff to carry on. That knee settled down but then the other one became painful. She took a bit of recovery time, but then just forgot the pain, she says.
It was hard carrying a backpack for 15 hours – it took its toll on her buttocks and groin, she says. She eased the groin discomfort by wearing a pair of seamless tights underneath her cycling shorts, which gave her immediate relief.
Like any long-distance athlete, Jeannie worked through the physical discomfort. "Both these discomforts played on my mind and there were times I thought if I don't sort this out and it gets any worse I may not be able to finish – although pulling out of Freedom was not an option. I read this just before we left: 'If you decide beforehand you're not going to quit then everything else is easy.'"
Jeannie's endurance is reflected in some of her tweets during the race: "The most insane 19hr day. Just had to suck up the discomforts and vasbyt [persevere] like I've never done before." And "Don't ever think yesterday was hardest because today is. Another day of beautiful pain! 15hr Cambria to Willowmore." And "Stettyn's made me cry today but flip did it make the finish even more sweet! A life journey I will reflect on forever."
Stettyn's is the sting in the tail of the race: it's a 10km portaging trail up a mountain pass, on the last day of the race. Bikes have to be swung up on the shoulders as they cannot be pushed – there is just no path on the boulder-strewn way up to the top. Once at the top, there is another 30km to the finish.
Jeannie tweeted: "Had some serious lows and some incredibly beautiful highs (on the trail & emotions) … but this is one AMAZING ADVENTURE."
Great admiration
Martin has great admiration for his wife. He describes how the two of them cycled up the gruelling Swartberg pass in Western Cape, outside Prince Albert, then into Die Hel (Afrikaans for The Hell), a lush, isolated valley between two mountain ranges, and up the other side. The path out of Die Hel is a steep 1km hike, with bikes on backs.
They came through at 2.30am, in the pouring rain, and were soaked to the skin. By the time they reached the support station Jeannie was on the point of hyperthermia, explains Martin. The Dreyers had hot showers, breakfast and their gear tumbledried, and were soon on their way again.
He stresses that he never gave her any help, such as carrying her backpack, except for helping one another over tall fences. "This was her race. She said when we got up, how long we would stop at a station. I just gave her the options."
He adds that the 2012 race was the hardest he had ever done in his life, but this year was "her adventure". "She was great, the best companion I could have had. She added such huge value although she never knew what she was getting into. Her value was the colour, the companionship, the love of my life right next to me. She was always positive and vibrant."
Jeannie says she is keen to do the race again. "I would love to go back, to ride hard and enjoy the luxury of the support stations."
Change a Life Academy
Martin is involved in the Martin Dreyer Change a Life Academy in the Valley of a Thousand Hills outside Durban, in KwaZulu-Natal. Here he is passing on his skills and experience to previously disadvantaged youngsters, and has already achieved some impressive results.
In 2009, 10 of his paddlers came in the top 36 positions of the Dusi Canoe Marathon, and in 2010 one of his paddlers came third. In 2011, nine finished in the top 23 places. He has diversified to mountain bikers for his protégés, and entered four teams in the inaugural Dusi2C bike race between Pietermaritzburg and Durban this year. They achieved four positions in the top 20 places.
Different combinations
The Freedom Challenge is open to 60 riders every year, and now offers a package of different combinations for those who find 2 300km a little too daunting. Besides the 500km R2R, which can be done as a non-stop event in June, there is a supported version done in September when it is warmer. "It is quite feasible that this will extend further with a 1 000km non-stop ride from Rhodes to Cape St Francis using international randonneurring rules," says Waddilove.
He also organises individual tours of the route for those who want to take in sections of the ride, staying at the accommodation establishments he has set up over the years. Some 200 people do this each year. He has plans to extend the race north to Beit Bridge, and further, to Mount Kilimanjaro, in a ride that would start in Cape Town, and end in Tanzania.
It's a big ride, but Waddilove has even bigger dreams. "And then there is, of course, a big screen, big sky feature documentary that is crying out to be made about the route, its people and those riding it."
The Freedom Challenge has given back to the communities that support it every year. It initiated and raised the first R500 000 towards the Gerard Bengu Gallery at Centocow Mission in KwaZulu-Natal. Close to R1-million has been raised for the Freedom Challenge Scholarship Fund for pupils living along the trail. The race has also initiated the Mehloding Heritage Day Festival, which is likely to become a major Eastern Cape event, he says. "Perhaps one could say of the Freedom Challenge that, while focusing on its key goal of developing a mountain biking trail across Southern Africa, it has become a vehicle for social change."
But for the riders it is much more. "Riders travelling the trail have spoken of how it has afforded them a valuable and positive insight not only into this country, but also into themselves," concludes Waddilove.
By: Lucille Davie
Source: www.mediaclubsouthafrica.com