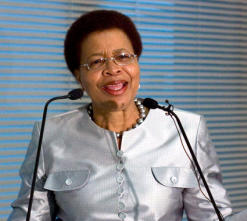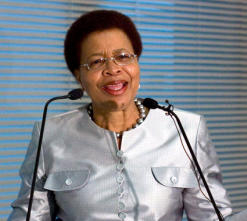 Many know Graça Machel as Nelson Mandela's wife and the former first lady of both Mozambique and South Africa, but perhaps few recall that she was once a fiery young freedom fighter.
Born Graça Simbine on 17 October 1945 in Gaza, Mozambique, Machel went to a Methodist mission school and then to the University of Lisbon on a scholarship. Enrolling in 1968 to study languages, she became involved in student politics, resulting in Portugal's secret police putting her under surveillance.
Fearing arrest by her country's colonial ruler, she left for Switzerland and spent time in Europe, where she made contact with the Marxist-based Mozambican Liberation Front, Frelimo.
In 1973, she joined the organisation, which was setting up resistance against the Portuguese colonial government. Frelimo had its headquarters in Tanzania, where it operated two training camps under Chinese and Russian instructors, respectively. According to South African History Online, at these camps Machel "underwent military training and learnt how to take apart an assault rifle and put it back together".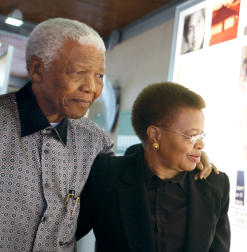 As she had studied languages, including German, French and Portuguese, Machel began teaching at the schools Frelimo established in its training camps and within liberated territories in Mozambique. In 1974, she was appointed the deputy director of the Frelimo Secondary School at Bagamayo in Tanzania, embarking on what was to become a celebrated career in education and the advancement of literacy and children's rights.
Samora Machel
It was in Mozambique's Cabo Delgado province that she met the Frelimo commander, Samora Machel, whom she married in 1975 shortly after Mozambique achieved independence and he became president. South African History Online recounts that with this marriage, Machel became stepmother to her husband's five children by a former wife and partner. The couple had two children of their own.
She also joined Frelimo's Central Committee, becoming minister of education and culture. She held this post until 1989, during which time the number of pupils enrolled at school rose from about 40% to 90% for male children and 75% for female children, says South African History Online. She is also credited with increasing the number of schoolchildren in Mozambique from 400 000 to 1.5-million during her tenure as education minister, and reducing the illiteracy rate by 72%.
Her husband was killed in an aeroplane crash over South Africa in 1986 during the country's anti-apartheid struggle, and at the height of the civil war in Mozambique. Two years after it gained independence from Portugal, the ruling Frelimo was violently opposed by the Mozambique Resistance Movement, or Renamo, which received funding from Rhodesia and later South Africa. The conflict ended in 1992 and Mozambique held its first multi-party elections in 1994.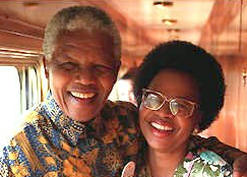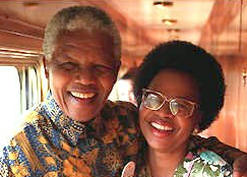 With the war's end, Machel became involved in Mozambique's efforts to rehabilitate its 1.5-million returning refugees. As a member of the Forum of African Women Educationalists, founded in 1992 by African female ministers of education, she helped to develop ways to improve the education of girls and empower Mozambican women.
Impact of violence on children
In her role as president of the National Organization of Children of Mozambique, which places orphans in village homes, Machel articulated her concerns about why children were targeted for violence in certain societies – killed, tortured and made part of the destructive process of war and genocide. She led the organisation for 20 years, at the same time working with UN organisations, including Unicef, for which she became Goodwill Ambassador.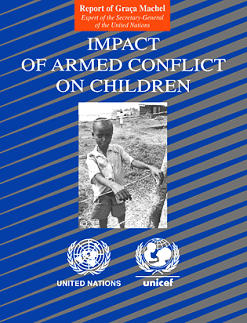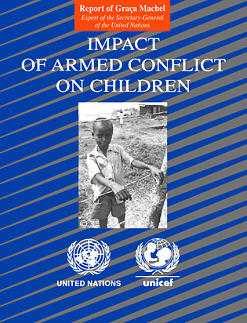 In 1994, the UN appointed Machel to carry out an assessment of the impact of armed conflict on children. Her groundbreaking report, presented in 1996, was the first human rights assessment of war-affected children and established a global agenda for the protection of children's rights in conflict.
Her book, Impact of War on Children: A Review of Progress Since the 1996 United Nations Report on the Impact of Armed Conflict on Children, was published in 2001 in conjunction with Unicef. The book presents the findings of her study and documents the violence children endure, as well as the interventions taking place. Machel's survey took in child soldiers, displaced and refugee children as well as child victims of landmines, Aids and sexual exploitation, focusing on the psychological consequences of war on the very young. The book is illustrated with photographs by Sebastião Salgado.
In 2010, the Graça Machel Trust was founded, to advocate for the rights of African women and children, as well as good governance and democracy. The trust is a platform "to embrace, nurture, enable and inspire women and children to soar to the fullest of their potential", says its website. "It consolidates the work of its founder and seeks to build her legacy, empower new generations to take up the challenges of their times and create caring societies that value social justice. Leveraging her access to key national, regional and global networks and champions, the Trust amplifies the voices of those who otherwise might not be heard in certain spaces."
Among the trust's projects are the End Child Marriage Campaign; the New Faces New Voices African Women Economic Summit; the Network of African Businesswomen; the Youth for Microbiocides Advocacy Programme; the African Medical Research Foundation; the Gender Violence Project and various child health and immunisation projects with the GAVI Alliance.
Machel also founded the Zizile Institute for Child Development in Mozambique, to focus on early childhood development and is a co-founder of the Mandela Institute for Development Studies.
Global leader
In addition to being the current chancellor of the University of Cape Town, Machel serves in various capacities in several organisations, including The Elders – formed in 2007 by Machel with Mandela and retired Archbishop Desmond Tutu to address issues including the Israeli-Palestinian conflict, sustainable development, and equality for girls and women.
She also serves on the Africa Progress Panel; the High Level Task Force on Innovative International Finance for Health Systems, and the UN Millennium Development Goals Advocates Panel. She is chair of both the Leadership Council for the Campaign to End Paediatric HIV/Aids and the Board of the African Centre for the Constructive Resolution of Disputes.
Not surprisingly, over the years Machel has won international recognition for her myriad achievements. Her many awards include the Laureate of Africa Prize for Leadership for the Sustainable End of Hunger (Hunger Project 1992); the Nansen Medal in recognition of her contribution to the welfare of refugee children in 1995; the Global Citizen Award of the New England Circle in 1997; the Inter Press Service's International Achievement Award for her work on behalf of children internationally; the Africare Distinguished Humanitarian Service Award; and the North-South Prize of the Council of Europe.
Nelson Mandela
Her relationship with Mandela has been a happy meeting of astute minds and generous spirits. She met Madiba soon after her husband died and, finding they shared many causes in common, the two formed a deep friendship. They were married on his 80th birthday (July 18) in 1998.
"She has not only brought joy to Madiba, she has also tried very hard to draw the Mandela family together," Tutu told the Washington Post early in July 2013, when it was reported she never left the side of the ailing elder statesman.
Verne Harris, director of research and archives at the Mandela Centre of Memory, told the same publication: "She has great warmth, and like Nelson Mandela, she insists on dignity. She has an identity and a life journey independent of Nelson Mandela."
The two of them together, however, are a formidable force.
By: Yvonne Fontyn
Source: www.mediaclubsouthafrica.com