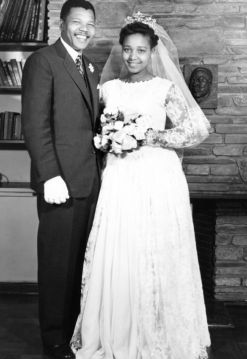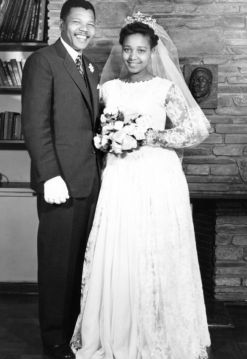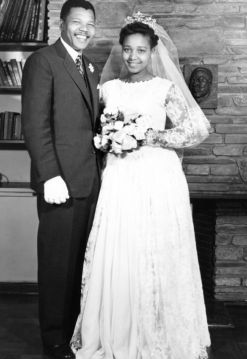 South Africa's beloved statesman and father of democracy and reconciliation, Nelson Mandela or Madiba, his clan name and affectionate nickname, has many women in his life. But perhaps the three most important are his three wives, one of whom is deceased, another from whom he is divorced, and a third, his loving present wife, Graça Machel.
And of his six children, it's his three daughters who remain – Makaziwe, Zenani and Zindzi. His children have given him a generous 17 grandchildren and 14 great-grandchildren, with a fair sprinkling of girls among them.
His mother, Nosekeni Fanny, was a significant person in his life, especially as his father died when he was only nine years old. He writes of her in his autobiography, Long Walk to Freedom: "My mother and I never talked very much, but we did not need to. I never doubted her love or questioned her support."
His mother died in 1968, while he was on Robben Island, and he was not able to attend her funeral. He writes about his visit to his mother's grave after his release from prison in 1990: "I find it difficult to describe my feelings: I felt regret that I had been unable to be with her when she died, remorse that I had not been able to look after her properly during her life and a longing for what might have been had I chosen to live my life differently."
It's the same remorse he felt about not seeing his children grow up, and about not being able to support Winnie Madikizela-Mandela, his second wife, especially when she was jailed. On one occasion, Madikizela-Mandela spent 491 days in solitary confinement, and even contemplated suicide.
Evelyn Mase
Mandela's first wife, Evelyn Mase, was born in Engcobo, in the former Transkei, now Eastern Cape. Mandela met her in the lounge of the late Walter and Albertina Sisulu, in Soweto, in Johannesburg. He describes her in Long Walk to Freedom: "She was a quiet, pretty girl from the countryside who did not seem overawed by the comings and goings at the Sisulus." She was then training as a nurse with Albertina Sisulu and the wife of Peter Mda, Rose, at the Johannesburg non-European General Hospital.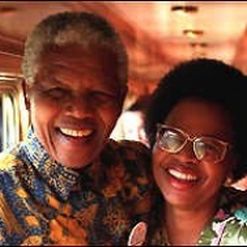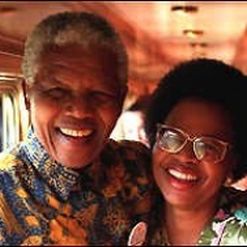 Her father was a mineworker who died when she was a baby. Her mother died when she was 12 and she was sent to Johannesburg to complete high school. The romance developed quickly. Writes Mandela: "I asked Evelyn out very soon after our first meeting. Almost as quickly, we fell in love. Within a few months I had asked her to marry me, and she accepted."
They were married in the Native Commissioner's Court in Joburg, as they could not afford a traditional wedding. In 1945, their first child, Thembi, was born. In the same year, they moved into a two-roomed house in Orlando West, at 8115 Vilakazi Street.
Mandela loved being a father. "I delighted in playing with Thembi, bathing him and feeding him, and putting him to bed with a little story." He discovered that he loved children. "In fact, I love playing with children and chatting with them; it has always been one of the things that makes me feel most at peace." He discovered too that he enjoyed domesticity. "I enjoyed relaxing at home, reading quietly, taking in the sweet and savoury smells emanating from pots boiling in the kitchen."
In 1950 his second son, Makgatho, was born. Four years later his daughter, Makaziwe, was born. She was given the name of the Mandelas' first-born daughter, who died at nine months.
One of Mandela's saddest moments was the death of Thembi, in a car accident. He was serving his life sentence for treason on Robben Island at the time, and heard of the news of his son's death in 1969. He was refused permission to attend the funeral. Thembi was 25.
In 2005, he had to bear the death of his second son, Makgatho, who died of an Aids-related illness. Makgatho had four children, while Thembi had two. His daughter Makaziwe had three children.
In the years after their marriage, Mase became involved in the Jehovah's Witnesses, which was to drive a wedge between the couple. She became disturbed that Mandela's devotion to the ANC and the struggle was unremitting. "She had always assumed that politics was a youthful diversion, that I would someday return to the Transkei and practise there as a lawyer."
But their paths were to go forever in opposite directions. "I tried to persuade her of the necessity of the struggle, while she attempted to persuade me of the value of religious faith," writes Mandela. "When I would tell her that I was serving the nation, she would reply that serving God was above serving the nation. We were finding no common ground, and I was becoming convinced that the marriage was no longer tenable."
It wasn't – they divorced in 1958. Mase died in 2004.
Winnie Madikizela
Mandela's second wife was the beautiful Winnie Madikizela, who moved to Johannesburg in 1952, where she still lives, in the suburb she moved into with her husband in 1958 – Orlando West. That house, 8115 Vilakazi Street, where Mandela had lived with Mase as well, is now the Mandela Museum. It was opened as a museum in 2009 after its restoration. Today, Madikizela-Mandela lives over the koppie in a house she built.
She was born Nomzamo Winifred Zanyiwe Madikizela in 1934 in the Bizana district of the former Transkei, the fifth of eight children. Her parents, Columbus and Gertrude Madikizela, were both teachers. Her mother died when she was 10, and she soon took over the domestic duties – caring for her younger siblings and doing her father's laundry.
She arrived in Johannesburg to study to be a social worker, doing her training at Chris Hani Baragwanath Hospital. "Winnie was a remarkably effective and dedicated social worker," writes Emma Gilbey in The Lady, The Life and Times of Winnie Mandela. "The patience and resourcefulness she had demonstrated with her younger brothers and sisters were now put to daily, professional use."
It was in Johannesburg that she met Mandela in 1957. Soon after meeting her, Mandela asked her out, taking her to his favourite restaurant – Kapitan's in downtown Joburg. No longer in existence, it was one of the few restaurants in the city where all races could meet and dine together. It was also in Joburg that she first met Helen Joseph, who became like a mother to the young 23-year-old. It was Joseph who began Madikizela's political education, encouraged by Mandela.
In the meantime, Madikizela and Mandela, both tall and statuesque, were falling in love. Mandela writes in Long Walk to Freedom of their first date: "I told her of my hope and of the difficulties of the Treason Trial. I knew at once that I wanted to marry her – and I told her so. Her spirit, her passion, her youth, her courage, her wilfulness – I felt all of these things the moment I first saw her."
Gilbey explains: "Electrified by each other's presence, they glowed together. Individually they were each highly charismatic, as a couple they were overpowering." His marriage proposal was unusual: "One day, Nelson just pulled up on the side of the road and said; 'You know, there is a woman, a dressmaker, you must and go and see her, she is going to make your wedding-gown. How many bridesmaids would you like to have?' That's how I was told I was getting married to him!" Madikizela-Mandela says in Part of my Soul.
The couple married in the Transkei on 14 June 1958 – she was 23, he was 40 and newly divorced, and returned to Orlando West, where they began a family. They had two daughters – Zenani was born in 1959; Zindzi was born in 1960. They have each had four children.
Decades of harassment
From the moment she married Mandela, Madikizela-Mandela was doomed to decades of harassment, imprisonment and torture at the hands of the apartheid security police. It started in 1958, when she was detained for her participation in a women's anti-pass campaign.
Later, once she was on her own after Mandela was imprisoned for life in the 1964 Rivonia Trial, she was thrown in at the deep end. "She was left to cope with extremely difficult circumstances on her own and she began to work clandestinely for the ANC. She participated in underground meetings and organised the printing and circulation of roneoed pamphlets," says Sheila Meintjies in a 1998 report.
Life for the young Madikizela-Mandela on her own, with two young children, was hard. "The first few weeks and months after Nelson was gone, that was utter hell. Solitude, loneliness, is worse than fear – the most wretchedly painful illness the body and mind could be subjected to," she recounts in Part of my Soul.
In 1969, she was arrested and tried under the 1967 Terrorism Act. It was her first taste of jail and solitary confinement, sleep deprivation and torture. Her life became one banning order after another, with security policemen always in the background. In 1977, she was banished to Brandfort in Free State. Here, she lived in a small box house, with "no running water, no electricity, and the house had no floors or ceilings. The town was hostile, and the people spoke mainly Sotho, Tswana or Afrikaans, and hardly any Xhosa, which was Winnie's home language," records Meintjies.
But she persevered, and opened a clinic and a crèche, and initiated feeding schemes for the young children of Brandfort. She defiantly returned to Soweto in 1986, where she formed the Mandela United Football Club – the team was, in effect, her personal bodyguards. In 1991, she was charged with and convicted for the kidnapping and murder of 14-year-old activist Stompie Seipei. She received a six-year sentence but this was reduced to a fine of R15 000.
After Mandela was released from jail in 1990, the couple resumed married life in their small Vilakazi Street home, but it didn't last – they separated in 1992, and divorced in 1996.
At 79, Madikizela-Mandela has retained her beauty, and is always immaculately dressed. She has lost none of her outspokenness or grassroots popularity, and is still an active ANC member, holding a position on its National Executive Committee.
Graça Machel
Two years after his divorce, in 1998, Mandela married his third wife, Graça Machel, the widow of Mozambican president Samora Machel, who died in a plane crash in 1986. She was born in Gaza in Mozambique on 17 October 1945, and studied languages at the University of Lisbon. She became involved in student politics, but fearing arrest by the Portuguese, Mozambique's colonisers, she moved to Switzerland, where she got involved in Frelimo, the Mozambican Liberation Front.
In 1974, Machel became the deputy director of the Frelimo Secondary School in Tanzania, from where Frelimo operated. This was her introduction to education and her interest in the advancement of literacy and children's rights. When Mozambique achieved independence in 1975 she married Samora, the country's first president. They had two children. She was appointed minister of education and culture, a position she held for 14 years, until 1989. Her achievements were impressive – in that time pupil enrolment rose from about 40% to 90% for boys, and 75% for girls, according to South African History Online. She also reduced the rate of illiteracy by 72%.
When Mozambique's civil war ended in 1992, Machel became a member of the Forum of African Women Educationalists, and helped to develop methods to improve the education of girls, thus empowering Mozambican women. She was appointed president of the National Organization of Children of Mozambique, which places orphans in village homes. She led the organisation for 20 years, at the same time working with UN organisations, including Unicef, for which she became Goodwill Ambassador.
In 1994, Machel was appointed by the UN to carry out an assessment of the impact of armed conflict on children. Her groundbreaking 1996 report was the first human rights assessment of war-affected children and established a global agenda for the protection of children's rights in conflict. A book followed – Impact of War on Children: A Review of Progress Since the 1996 United Nations Report on the Impact of Armed Conflict on Children, published in 2001.
In 2010, the Graça Machel Trust was founded to advocate for the rights of African women and children, as well as good governance and democracy. The trust is a platform "to embrace, nurture, enable and inspire women and children to soar to the fullest of their potential", says its website. The trust has a range of projects: the End Child Marriage Campaign; the New Faces New Voices African Women Economic Summit; the Network of African Businesswomen; the Youth for Microbiocides Advocacy Programme; the African Medical Research Foundation; the Gender Violence Project and various child health and immunisation projects with the GAVI Alliance.
Machel serves on an impressive array of forums: The Elders, the Africa Progress Panel, the High Level Task Force on Innovative International Finance for Health Systems, and the UN Millennium Development Goals Advocates Panel.
And over the years she has won many awards: the Laureate of Africa Prize for Leadership for the Sustainable End of Hunger; the Nansen Medal in recognition of her contribution to the welfare of refugee children in 1995; the Global Citizen Award of the New England Circle in 1997; the Inter Press Service's International Achievement Award for her work on behalf of children internationally; the Africare Distinguished Humanitarian Service Award; and the North-South Prize of the Council of Europe.
Meeting Mandela
She met Madiba in the early 1990s and they formed a deep friendship. They were married on his 80th birthday, in 1998. It's not hard to see why they make such a good match – they both radiate a warmth, a humanity and a dignity.
She has been constantly at his side in past two months that he has been at the Pretoria Mediclinic for a recurring lung infection.
By: Lucille Davie
Source : www.mediaclubsouthafrica.com