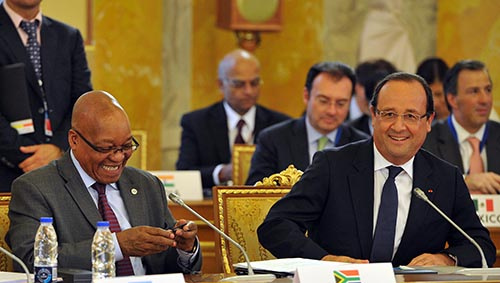 Have you ever noticed how President Jacob Zuma is always the most cheerful in a room full of politicians? While the others turn on stiff and stilted smiles, staged mainly for the cameras, the South African President sports an irrepressible full-vaultage beam through even the most tedious of meetings. Perhaps less stressed than most?
In this latest photo – taken during the G20 Leaders' Summit last week in St Petersburg, Russia – Zuma laughs while his neighbour, French President Francois Hollande smiles more cautiously, his eyes betraying a definite uncertainty on whether it was okay to smile or not.
Although Hollande's uncertainty could be due to the Smile Incident he experienced a couple of days earlier when the French schools began their new year. A photo by French news agency AFP captured him sitting at a school in the north of France, with the words 'back to school' written on a blackboard behind him…and a very goofy grin on his face. After publishing the photo, the agency then tried to retract it, which served to attract more attention to the photo and stirred controversy that the government itself had persuaded the agency to withdraw the pic. AFP denies this.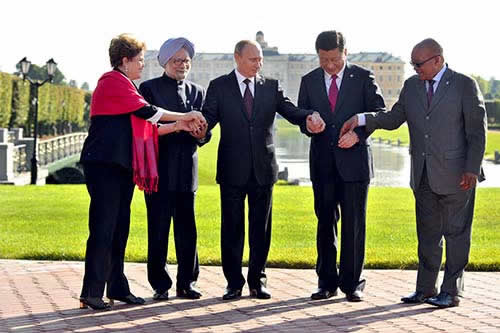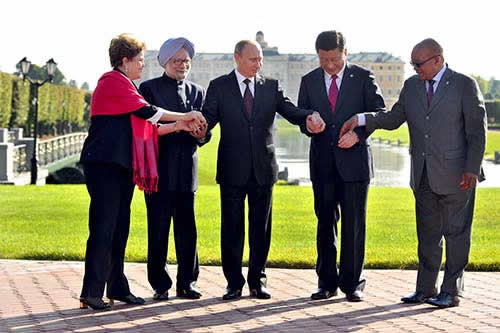 Apart from dazzling with his smile, President Zuma also chaired a meeting of BRICS Leaders whilst he was at the Summit. The BRICS meeting reflected on the progress made with regards to the implementation of the eThekwini Declaration, focussing particularly on progress made in respect of the New Development Bank and the Contingent Reserve Arrangement.
Global economy issues were also discussed, including issues of growth, global trade and the creation of much needed jobs. South Africa committed to continue with its development programmes including those addressing poverty and inequality.