Outraged South Africans have taken matters into their own hands to make sure Romain Poite never refs another rugby game! The international referee caused a furore yesterday during the match between the Springboks and All Blacks at Edenpark in New Zealand. He made several controversial decisions – most notably, yellow-carding Bismarck du Plessis for what appeared to be a legal tackle of Dan Carter. SEE UPDATE BELOW.
Within 24 hours, a page was set up on Facebook to stop the French rugby union ref from ever reffing another rugby game, jokes were created and spread virally, and Poite's Wikipedia page has had an interesting makeover!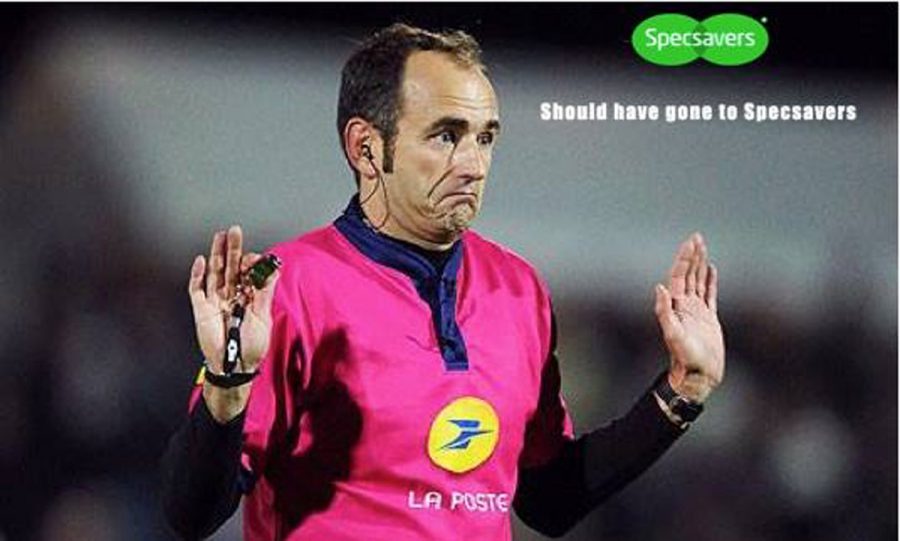 The RomainPoitePetition page, which has already attracted over  40,000 fans, claims "Romain completely ruined a momentus game of Rugby SA vs NZ 14/09/2013… you just cannot get it so wrong… share your views and lets get the message over to the IRB in full force!".
One image that was uploaded (see below) includes the caption: "Apparently this will get you carded… otherwise known as a tackle… Did Romain Poite think he was reffing a football game?"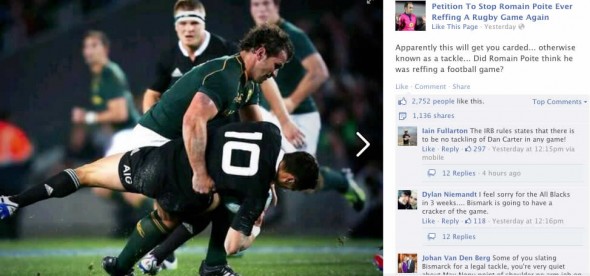 And Poite's entry on Wikipedia has been updated by a South African who goes by the username "DoorsAjar". The user has added a whole section on Poite called "Performance" which includes comments like "Poite displayed his inferior knowledge of the game on a very public stage" and ends with "Poite has since been declared a 'simpel doos' in South Africa, and rumours are doing the rounds that he will be bliksemed if he ever sets foot on South African soil".
Poite first entered international rugby as the ref in the 2007 World Cup match between Ireland and Namibia. The first time he refereed during a Six Nations match was in 2010…and his last was perhaps yesterday!
UPDATE: The IRB has issued a statement admitting Poite was incorrect!! RESULT!
See former Springbok player and coach Nick Mallet's opinion of the ref here: 
 Join the Facebook Petition page:
http://www.facebook.com/RomainPoitePetition