In a conversation with CNN's Anderson Cooper today, Archbishop Desmond Tutu revealed that he and Nelson Mandela did not agree upon everything.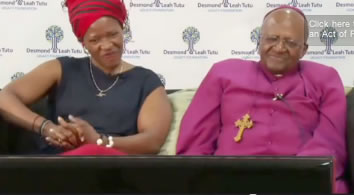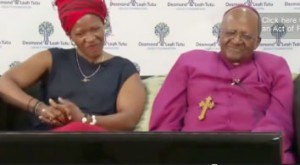 Laughing at the memories, the Archbishop shared the following anecdote during a live conversation to honour the life and legacy of Nelson Mandela.
"I don't think he liked getting my advice on his sartorial taste! – He was actually very incredibly humble. He was shacking with Graca. And I said 'you are setting a very bad example', and he went off and they got married! And I think it was one of the best things that has happened. I mean Graca gave him a great deal of joy in his latter years – but when I said to him I think his shirts look like pyjamas. He said 'ts, who can listen to a man who wears a dress in public?'"
The Archbishop was talking during a 20-minute digital conversation, hosted by PeaceJam's One Billion Acts of Peace campaign, that was broadcast via Google+ Hangouts on Air. Others in the conversation included His Holiness the Dalai Lama, who joined from India, Richard Branson, Reverend Mpho Tutu, and the first female Irish President Mary Robinson.
Archbishop Tutu said during the broadcast that "what we're seeing – this outpouring of love and admiration from so many people in our country, in a way is reminiscent of 1994, Apri…"
He said people were touched by Madiba because "this was a man who cared…who cared about us…it's not something you you can put on…"
He also acknowledged that it was Nelson Mandela who "helped our country not go up in flames by his extraordinary magnanimity that saw him urge his people to forgive and work for a reconciliation".
The Dalai Lama on Peace and Forgiveness
The Dalai Lama suggested that others can emulate Mandela's incredible ability to forgive, that this is part of our basic nature which can be nurtured when a mother gives her child affection. He said a "human being who receives a lot of affection from their mother has the ability to show affection to others…"
He also noted the importance of religion in Mandela's life which helps "teach us the practice of affection".
When asked by a 13-year-old child from Afghanistan how Nelson Mandela's spirit of forgiveness and reconciliation could be kept alive in a country like Afghanistan where these values are a necessity, the Dalai Lama said that even though with "sufficient force you can control physical", violence "never control and changes mind". He said therefore that for a long-lasting solution, a non-violent method is needed, which will lead to eventual love.
"Now is the time to think about the value of non-violence and forgiveness. You can create a new atmosphere. You need patience and will-power. Anger never built will-power. Compassion creates inner strength, self-confidence – that's the basis of will-power," he said.
Tutu on South Africa's Future
Archbishop Tutu said that the most important thing in South Africa to focus on now is that "we are a rainbow nation, and we really ought to carry on this legacy that [Nelson Mandela] has left us of being an embodiment of reconciliation, magnanimity and forgiveness, and to really be saying no one must be left behind. We are a country that can – we needn't be the most wealthiest country – but we can be a country where everyone matters."
Watch the video here: