President Zuma unveiled a nine-metre high Madiba statue at the Union Buildings in Pretoria this morning, a day after the the country's beloved Nelson Mandela was buried in Qunu in the Eastern Cape. The statue replaces one of Prime Minister Hertzog which has been relocated.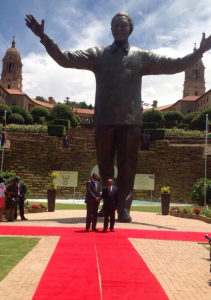 In a speech to commemorate the National Day of Reconciliation and the Centenary of the Union Buildings, the South African President said the official mourning period for Mandela ended at midnight last night,  and the national flag has been raised.
"It has been a difficult period for our country, for Africa and for our friends all over the world," he said.
He thanks the Mandela family for sharing their moment of grief and said "it  was indeed the moment of our greatest sorrow as the rainbow nation."
He then urged the nation to have no more tears. "We must celebrate Madiba and take forward his legacy. He should live in our hearts and inspire us to do something good every single day, to honour his memory."
The site of Madiba's statue was previously that of the statue of former Prime Minister James Barry Hertzog, who led the white government from 1924-1939.
President Zuma said that after much consultation, "and in the spirit of reconciliation that our country has become renowned for" the family of former PM Hertzog had agreed for his statue to be moved to another spot in the Union Buildings. Family representatives were present at the unveiling of the Madiba statue.
The statue weighs about 4,5 tons and cost R8 million to create, and shows Mandela with his arms outstretched to denote a sentiment of calling the whole nation together to unite.
President Zuma said that to mark National Reconciliation Day "we recommit ourselves to peace, forgiveness, tolerance and reconciliation."
He said these values were the hallmarks of the Presidency of Madiba, and that it is therefore "of great historical significance that we are marking National Reconciliation Day 2013 by officially unveiling the 9 metre statue of Madiba, the man who encouraged us to look beyond our differences and become one nation, united in our diversity.
"We laid Tata to rest in Qunu only yesterday.
"Today, he rises majestically at the seat of government, as a symbol of peace, reconciliation, unity and progress.
"In his humility, Madiba left it to the South African people to celebrate his life and legacy and to decide how he should be remembered.
"He said when asked how he wished to be remembered:
"It would be very egotistical of me to say how I would like to be remembered. I'd leave that entirely to South Africans. I would just like a simple stone on which is written, 'Mandela'."
"In our view, this stone is a fitting tribute to the contribution he has made to our country, Africa and the world.
"It is the least we can do for a man who dedicated his entire life to this country and its people."
It is hoped that the statue will remind South Africans "about the values of unity, reconciliation, compassion and Ubuntu" and will "forever remind us of Madiba's towering vision and stature."
The President has declared the Union Buildings as a national heritage site, and said in so doing "we are acknowledging its historic significance and affirming its value as one of the sites that houses our nation's heritage.
"This will also create the necessary framework that will allow us to preserve and promote the history and heritage that is at the Union Buildings.
We are doing this as part of our ongoing work to write a new and inclusive narrative for our country. While we acknowledge the past, we are also emphasise that we are now one nation and that our national symbols need to reflect that unity in diversity."
President Zuma ended his speech with a call to all South Africans to return to work tomorrow and "build the South Africa that Madiba sacrificed 27 years of his life in prison for. Let us all work together, united in our diversity as the famous rainbow nation on the Southern tip of Africa, to build a better South Africa, united, non-racial, non-sexist and prosperous."
Facts about the Union Buildings:
This year the Union Buildings, the seat of government, turn 100-years-old.
The majestic building was constructed in 1910, and was completed in November 1913.
The two identical West and East Wings of the Union Buildings, were intended to each represent the English and the Afrikaner groups, excluding the black majority from governance.
The Union Buildings is also more well-known for the historic 1956 march by more than 20 000 women, protesting against pass laws.
The first democratic national general elections on April 27, 1994, marked the end of a Union Buildings that existed to serve only one section of society.
It was at the very buildings, at the Nelson Mandela Amphitheatre specifically, that Tata was inaugurated as Head of State and head of the new Government of National Unity.
The Union Buildings became Madiba's office. The headquarters of government began to symbolise true unity and legitimate authority.
It was also here at the Union Buildings that Madiba lay in state for three days last week.
The Union Buildings precinct also has immense social value – during weekends many newly-wed couples come to the gardens to take beautiful pictures for posterity. The Union Buildings also attracts busloads of tourists on a daily basis.
It had all along been a provincial heritage site. It is now a national heritage site.