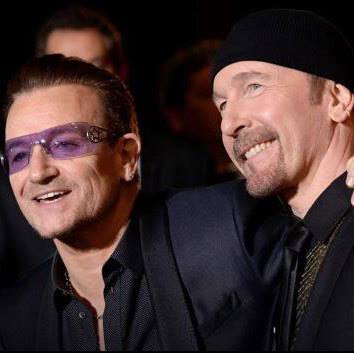 Congratulations to "Mandela: Long Walk to Freedom" for scooping its first award of the film awards season last night at the 71st Annual Golden Globes in America…and well done to Bono for managing to refrain from swearing whilst on stage!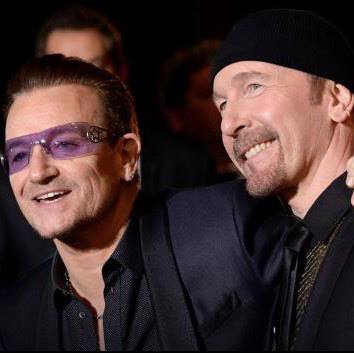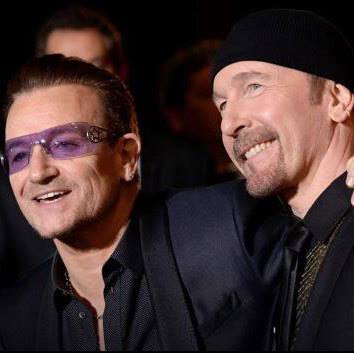 The lead singer of U2 admitted backstage afterwards that he'd been a little worried that he was going to swear after having had a couple of martinis. There's nothing cool" about swearing, he insisted, but explained that in Ireland it's "exuberance". Apparently he kept saying to himself "whatever you do, don't say f***"!
Bono and his band members have a long history with Mandela as supporters of the anti-apartheid movement, and of the former South African President's projects including his global HIV/AIDS campaign.
Bono quipped that the Irish band has been doing Mandela's "bidding" for nearly 35 years. "Whether it was anti-aparheid, or fighting the Aids struggle – he lost his son to the disease – and he pushed us there. "
On accepting the award, U2 guitarist, The Edge said, "This is amazing. We have been working for President Mandela since the 70's, since we were teenagers and when we did our very first concert against the apartheid movement, so it has taken us 35 years to write this song."
U2 wrote the winning song – "Ordinary Love" – after watching a rough cut of the Mandela biopic. Their intention was to write a political anthem, but "the whole thing was: how could we write a song that could ever live up to that name? The answer was we couldn't."
With legendary movie producer Harvey Weinstein's support, the band chose instead to write what they could write – a love song, "a complicated, screwed up, messed up love song". (Scroll down for the video of "Ordinary Love".)
This is the first song the band has written in three years.

"This really is personal for us. Very, very personal," said Bono. "This man turned our life upside down, right side up. A man who refused to hate, not because he didn't have rage or anger, but he thought love would do a better job. We wrote a love song because it's kind of what's extraordinary about the film. You know about the global statesman, but you don't know about the man, that's why you should see this film."
South African producer, Anant Singh commented: "Congratulations to Bono and U2. They composed an amazing song that truly captures the love story of Madiba and Winnie. 'Ordinary Love' was their first song in three years. We thank them for their contribution to our film and for their commitment to Madiba and to our continent."
"Mandela: Long Walk to Freedom" is based on Mandela's autobiography of the same name, which chronicles his early life and the 27 years he spent in prison before becoming South Africa's first black President. The film stars Idris Elba as Mandela and Naomie Harris as Winnie. Justin Chadwick directs.
The other songs in the same category included: Atlas (Hunger Games: Catching Fire), Let It Go (Frozen), Please Mr Kennedy (Inside Llewyn Davis) and Sweeter Than Fiction (One Chance).
WATCH 'ORDINARY LOVE' HERE:
Watch highlights of the Golden Globes here:
Other winners at the Golden Globes included:
BEST PERFORMANCE BY AN ACTRESS IN A SUPPORTING ROLE IN A MOTION PICTURE
Jennifer Lawrence, American Hustle
BEST PERFORMANCE BY AN ACTRESS IN A SUPPORTING ROLE IN A SERIES, MINI-SERIES OR MOTION PICTURE MADE FOR TELEVISION
Jacqueline Bisset, Dancing on the Edge
BEST MINI-SERIES OR MOTION PICTURE MADE FOR TELEVISION
Behind The Candelabra
BEST TELEVISION SERIES – DRAMA
Breaking Bad
BEST PERFORMANCE BY AN ACTOR IN A TELEVISION SERIES – DRAMA
Bryan Cranston, Breaking Bad
BEST ORIGINAL SCORE – MOTION PICTURE
Alex Ebert, All Is Lost
BEST PERFORMANCE BY AN ACTOR IN A SUPPORTING ROLE IN A SERIES, MINI-SERIES OR MOTION PICTURE MADE FOR TELEVISION
Jon Voight, Ray Donovan
BEST PERFORMANCE BY AN ACTRESS IN A MOTION PICTURE – COMEDY OR MUSICAL
Amy Adams, American Hustle
BEST PERFORMANCE BY AN ACTRESS IN A TELEVISION SERIES – DRAMA
Robin Wright, House Of Cards
BEST PERFORMANCE BY AN ACTOR IN A SUPPORTING ROLE IN A MOTION PICTURE
Jared Leto, Dallas Buyers Club
BEST SCREENPLAY – MOTION PICTURE
Her
BEST FOREIGN LANGUAGE FILM
The Great Beauty
BEST ANIMATED FEATURE FILM
Frozen
BEST MOTION PICTURE – DRAMA
12 Years A Slave
BEST PERFORMANCE BY AN ACTRESS IN A MOTION PICTURE – DRAMA
Cate Blanchett, Blue Jasmine
BEST PERFORMANCE BY AN ACTOR IN A MOTION PICTURE – DRAMA
Matthew McConaughey, Dallas Buyers Club
BEST MOTION PICTURE – COMEDY OR MUSICAL
American Hustle
BEST PERFORMANCE BY AN ACTOR IN A MOTION PICTURE – COMEDY OR MUSICAL
Leonardo DiCaprio, The Wolf of Wall Street
BEST DIRECTOR – MOTION PICTURE
Alfonso Cuaron, Gravity
BEST TELEVISION SERIES – COMEDY OR MUSICAL
Brooklyn Nine-Nine
BEST PERFORMANCE BY AN ACTRESS IN A TELEVISION SERIES – COMEDY OR MUSICAL
Amy Poehler, Parks & Recreation
BEST PERFORMANCE BY AN ACTOR IN A TELEVISION SERIES – COMEDY OR MUSICAL
Andy Samberg, Brooklyn Nine-Nine
BEST PERFORMANCE BY AN ACTRESS IN A MINI-SERIES OR MOTION PICTURE MADE FOR TELEVISION
Elisabeth Moss, Top of the Lake
BEST PERFORMANCE BY AN ACTOR IN A MINI-SERIES OR MOTION PICTURE MADE FOR TELEVISION
Michael Douglas, Behind the Candelabra