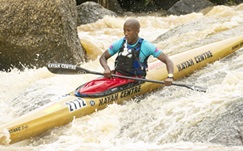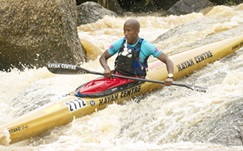 The Soweto Canoe and Recreation Club (Scarc) is aiming to make waves at this year's Dusi Canoe Marathon, with a club record 20 members taking part in the event, including former podium finisher Loveday Zondi.
With canoeing increasing in popularity among black South Africans, Scarc club captain and coach Nkosi Mzolo is optimistic about the club's prospects at the 2014 edition of the three-day epic, which starts at Camps Drift in Pietermaritzburg on 13 February.
'We are proud'
"It is really great that we will be sending 20 paddlers to the Dusi this year,"Mzolo said in a statement on Monday. "In the past it has been quite difficult getting paddlers qualified and race-ready for such a big event, but this year we are proud to have so many paddlers taking part in the race.
"This year a lot of the team have really been training hard and qualifying for the Dusi has been the main goal," he added.
Mzolo singled out three of the Scarc paddlers that he is hoping will do well after solid performances at the recent Drak Challenge, which also served as the South African K1 River Championships, in Underberg.
'Looking forward to the Dusi'
"The Drak Challenge was good for us," he said. "We had 17 paddlers in the race and all of them managed to finish, which was great. I know that it is very different to Dusi, but I am still happy with how they did and am looking forward to Dusi after some good results.
"Siseko [Ntondini] had a really good Drak Challenge, where he ended up in ninth place overall and second place in the under-23 category. He is going to be paddling Dusi with Piers Cruickshanks this year, which will be really good for him and there is so much that he is going to learn from Piers," Mzolo added.
He also named the experienced Loveday Zondi and rising start Thando Ngamlana as a crew to watch out for. Ngamlana finished in a respectable 43rd overall and 16th in the under-23 category at the Drak Challenge, finishing ahead of his more fancied partner Zondi.
'This combination excites me'
"This combination is the one that excites me the most because these two are strong paddlers and we are really hoping that they can push for a top 10 at the Dusi this year," Mzolo said.
Zondi, a veteran of 10 Dusis and the first ever black paddler to finish on the podium at the Dusi, understands the pressures of being a role model to the young, aspiring paddlers at Scarc, and said he has been impressed by the improvements that have been made at the club.
'I enjoy the role'
"It's not easy having a lot of youngsters looking up to you, but I enjoy the role that I play at the club," Zondi said. "It's always good seeing these youngsters asking questions because a lot of them see the Dusi as just another race but it is a lot more than that!"
Zondi said he gains a lot of satisfaction from seeing paddlers like Ntondini and Ngamlana coming through the ranks and making an impact nationally, which serves as motivation for him and the other members at Scarc.
'I want to give them my knowledge'
"Sitting down and talking to the guys is something that I enjoy because I want to give them my knowledge," he explained. "I want them to take in the information about training and preparation for big races like the Dusi.
"We stay together at our clubhouse and it is great seeing some of the guys want to do well and take their training seriously because it means that we are doing something right.
"Seeing the guys come through to the senior ranks is great, and now the guys I have seen from the beginning are competing against me!"
Dusi goal
Zondi and Ngamlana have set themselves of a top 10 finish in the Dusi, which far more than any other canoe marathon places a heavy premium on portaging.
"Thando is a really strong runner, probably one of the strongest at the club, and he has improved his paddling a lot, so we are really hoping that if it all goes well we could end in the top 10," Zondi said.
By: SAinfo reporter
Source: www.southafrica.info