A Nelson Mandela Tribute Concert will be held in New York at the Church of St Paul the Apostle on 59th in Manhattan, NYC on 13 February 2014 at 19:00 (7pm).
The event will be attended by former US President Clinton, the grammy-winning Soweto Gospel Choir and Hollywood actor and academy award-winner Morgan Freeman (who played Nelson Mandela in 'Invictus'). Scroll down to download the invitation.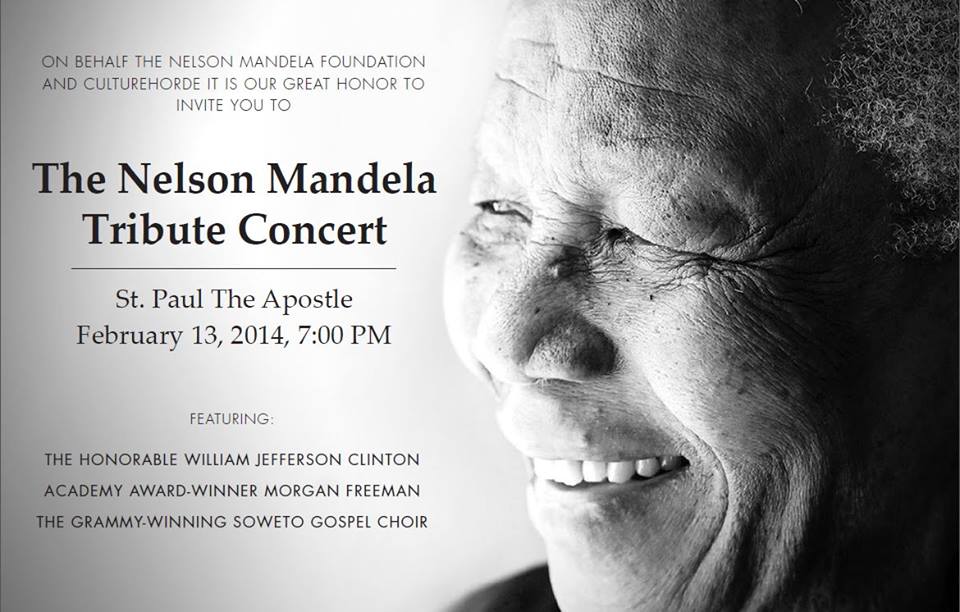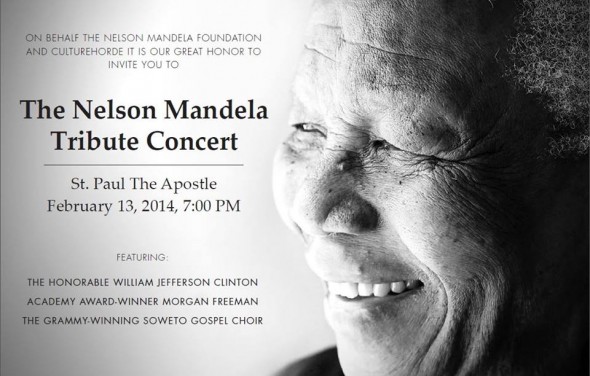 This New York Tribute Concert aims to take the audience on an authentic journey through Mr Mandela's life, from his early life in Qunu in the Transkei, where he earned the name "Troublemaker", to his time as a practising lawyer in Johannesburg, to his exemplary display of forgiveness, leadership and wisdom that illuminated his path to Presidency and made him an icon and a much-loved personality around the world.
After the performance, VIP ticket holders will join the Nelson Mandela Foundation and eminent persons for an intimate cocktail reception.
Guests from around the world are invited to join this event – an initiative of  the Nelson Mandela Foundation (NMF) and CultureHorde – to celebrate the life and legacy of the late Nelson Mandela.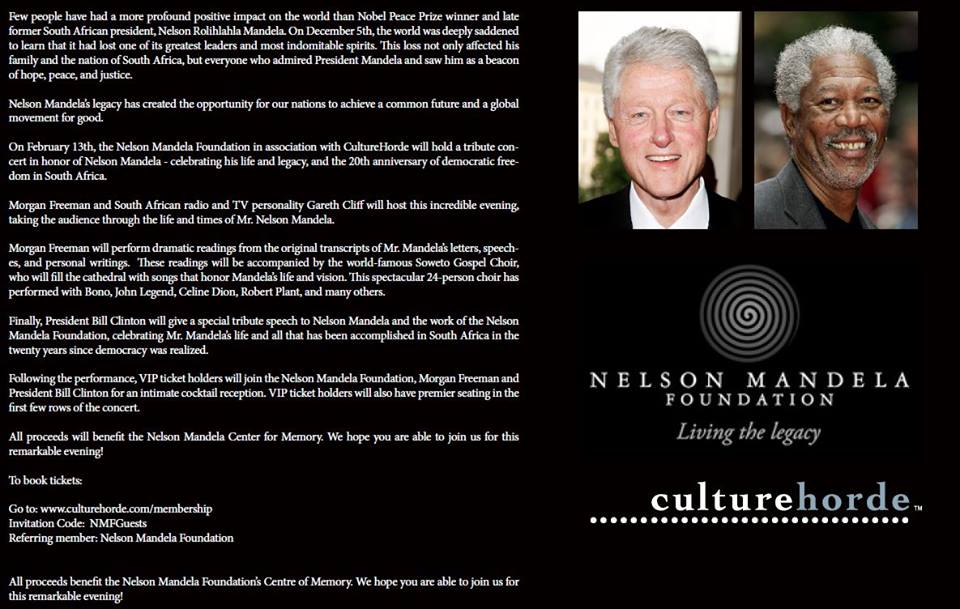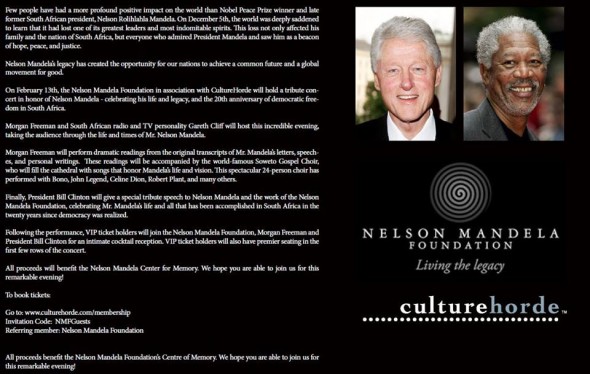 In a press statement, the NMF said "Nelson Mandela's legacy created the opportunity for South Africa to achieve a common future. It was through his vision and grace that the world witnessed forgiveness; it was through his example that South Africans were able to follow his path of healing in recognition of the light of humanity that touches all people – irrespective of colour or race."
It is the NMF's mandate – as the custodian of Madiba's legacy – "to verify facts, share information and resources, and interact openly with a global audience on all aspects relating to the life and times of Mr Mandela."
South African radio and TV personality Gareth Cliff will MC the event and narrate part of Mandela's life. Cliff said "as an advocate for the Nelson Mandela Foundation, I'm honoured to host this prestigious event alongside Madiba's friends, President Clinton and Morgan Freeman. It's gratifying to see the commitment to Madiba's legacy not only here in South Africa, but worldwide."
CE of the Foundation Sello Hatang said "we can all learn from his example" and quoted an extract of a letter Mandela wrote to his then-wife Winnie in 1975:
"Honesty, sincerity, simplicity, humility, pure generosity, absence of vanity, readiness to serve others – qualities which are within easy reach of every soul – are the foundation of one's spiritual life. Development in matters of this nature is inconceivable without serious introspection, without knowing yourself, your weaknesses and mistakes. At least, if for nothing else, the cell gives you the opportunity to look daily into your entire conduct, to overcome the bad and develop whatever is good in you. Never forget that a saint is a sinner who keeps on trying."
DOWNLOAD THE INVITATION
Click here to download the Invitation to the Nelson Mandela Tribute Concert in New York (PDF)
TICKET DETAILS
To book tickets, visit www.culturehorde.com/membership
Invitation code: NMFGuests
Referring member: Nelson Mandela Foundation
If you have any questions, please email customerservice@culturehorde.com
Tickets sales benefit the Nelson Mandela Foundation through its fund at the King Baudouin Foundation US and are tax-deductible above $75 per ticket (for General Admission) and $125 per ticket (for VIP). Details sent upon purchase.