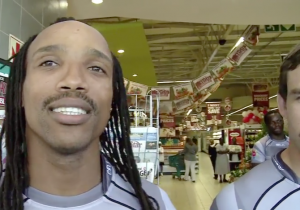 The Sharks and the Bulls will meet on the field at Kings Park Stadium in Durban tonight. But that's not the only challenge facing the Bulls.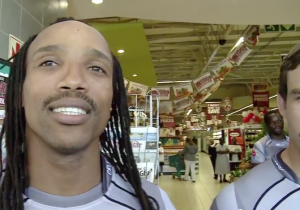 In the spirit of paying it forward that's currently sweeping South Africa – since Brent Lindeque uploaded a #changeonething video of himself doing a good deed – the Cell C Sharks have uploaded a #MakingADifference video.
For those who aren't aware – Brent's good deed video has transformed the dangerous global social media drinking game #NekNomination into wonderfully generous #RAKNominations (Random Acts of Kindness.
For the Shark's challenge (see video below), the players sprint around Checkers as fast as they do on the field (well, almost), with some eager kids in tow to help.
In a tense two-minute countdown, they successfully pack their trolleys to overflowing with R12,000 worth of groceries to give away to those who need it.
And at the end they deliver the challenge: "Bulls and Stormers you have one week" to do the same.
The Sharks vs Bulls game kicks off at 19:10 in Durban tonight, and Cheetahs vs Lions earlier at 17:05 at Free State Stadium, Bloemfontein.
If the whole Lions, Cheetahs, Storms* etc. thing confuses you – check out the Australian Courier Mail for a "mug's guide" to the SA Super Sport teams*: 
Click here
to read it.
*Bulls (Pretoria), Cheetahs (Bloemfontein), Lions (Johannesburg), Sharks (Durban) and Stormers (Cape Town)