It's high time someone in South Africa spoke up about something that we've all been too timid to raise for far too long, either out of politeness or a misguided sense of political correctness.  Let me be the first to speak out about this abomination and consequences be damned!
To the tune of "Love Me Tender" (with apologies to George R.Poulton and W. W. Fosdick).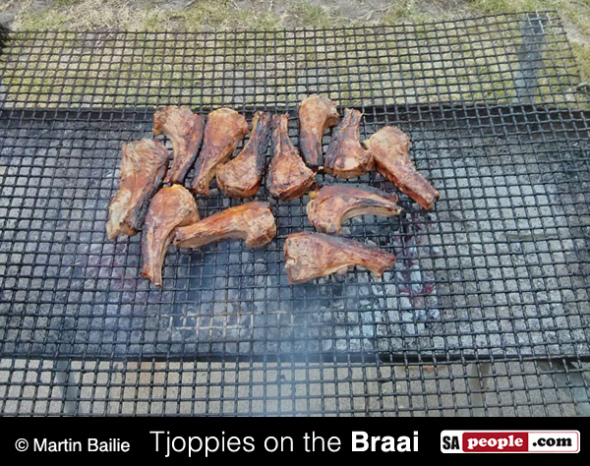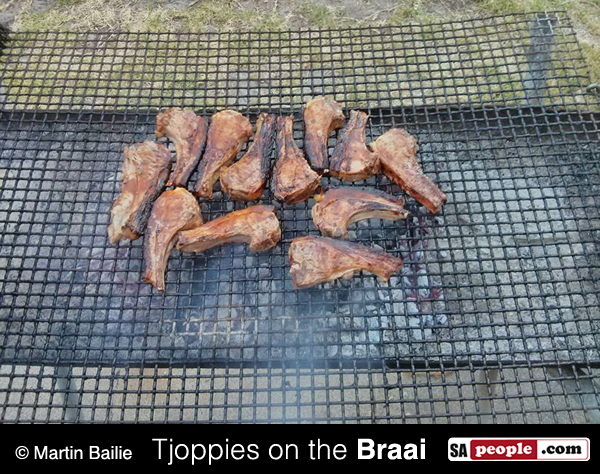 TURN IT TENDER
Lyrics copyright 2014 © Paul Christie
Chorus:
Turn it tender, please be kind
Never pierce it through
Dis mos a bleddie braaivleis, mind
Not a bliksems barbeque!
So here you are back home again
Arriving out the blue
Thanks for inviting us around
To share this meal with you
But you've been gone for far too long
Can we be frank with you?
You've forgotten how to braai a tjop
Or make a potjie stew
Chorus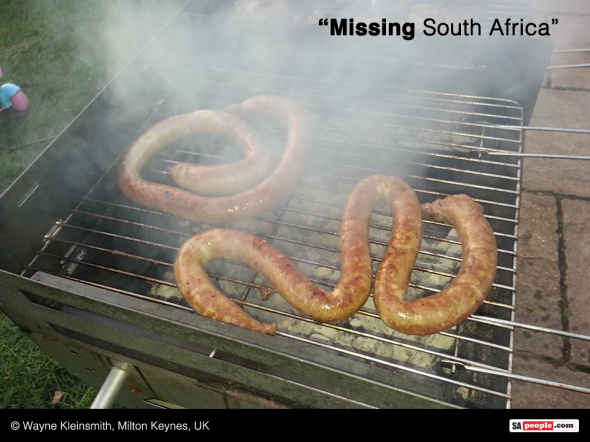 We just don't smaak this "pattie" thing
Your Pom pals don't have a clue
Bangers go with mash not pap
So here's what you should do
Put on a tjop and tons of wors
Be sure to cook them through
And add some chicken for the chicks
And a juicy steak or two
Chorus 
Turn the steak just one time please
Don't exercise your pecs
By spinning it around and 'round
It's not a flippin' rolodex
Add a pot of stywe pap
And some nice iced Castles too
And don't forget to make some sous
Like ouma used to do
Chorus 
Use the braai tongs, lose the fork
Don't fill the wors with holes
That banger you've got on your fire
Looks like it's full of moles
Keep the booze stocks way up high
And get those flames down low
This is not a crematorium
Or a pyrotechnic show
Chorus 
A braaivleis is a lekker plek
Where an oke can be an oke
And pick the Springbok rugby team
While dodging all the smoke
We've solved the problems of the world
Me and my best mates
With an ale or two held firm in hand
And some boerie on our plates
Chorus 
At a barbeque you natter with
Some prim and proper bloke
While taking little sippies of
Your tepid diet coke
At a braai you get to ease your cares
And crack your corny jokes
And share your life's philosophy
With like-minded okes
Chorus 
At a barbie the rocks are in your drink
And the meat and sky are grey
At a braai the rocks are in my pool
And its sunshine all the way
Wieners and limp wors are out
And meat like a rubber mat
Dis mos a bliksems braaivleis, mind
Not your bloody Earls Court flat
Chorus 
So feed me tender, feed me through
And put the beer on tap
And be very sure to chill it too
Not like that warm Pom c**p
Learn how to make some lekke pap
And how to serve a toot
And for goodness sake please get rid of
That blerrrie three piece suit!