Many of us get exhausted just watching the legendary 90-km Comrades Marathon on TV…but three incredible athletes set out to run the distance of TEN Comrades Marathons in 10 consecutive days. Heartbreakingly two have had to pull out…but wow, we applaud them for their selflessness and bravery in pushing their physical boundaries to the limits to raise money for charity.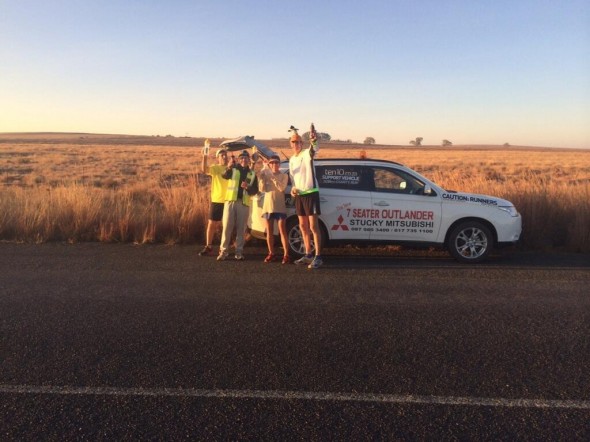 The three runners are Hazel Moller, Hilton Murray and Carlo Gibson. They began their epic journey on 23 May in Bedfordview, Johannesburg; following a 9-stage route down to Pietermaritzburg where they planned to finish the tenth and final stage of their 900 km challenge (!) by running the official Comrades Marathon on Sunday (1st June 2014).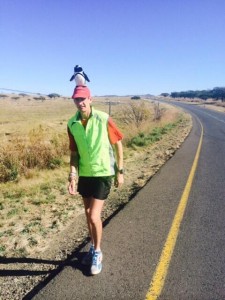 Unfortunately Carlo had to pull out after running four consecutive days because of an injury. We know it must hurt because this is a guy who after falling off a cliff while mountain biking in 2007, and smashing his foot "was told that I would not be able to run again. So once the foot had healed I did what every athletic person would do – I started running!"
Hazel managed to endure five Comrades in five consecutive days…but has a bleeding stomach ulcer now. She hopes this will have healed by Sunday so she can still run in the official marathon. It looks hopeful. Three hours ago she posted "Just ate first proper thing in 3 days- and it stayed down. Yippeee I might make it to comrades."
And so Hilton is the only one left standing! He is now almost finished his eighth 'comrades' in eight consecutive days! Hazel tweeted less than an hour ago that "Doctor Wayne from BCC for president 4 running with Hilton 4 a couple of Km's to show his support. Thanks doc u biscuit".
The three embarked on their venture to raise much needed funds for two South African charities: PET (Pets in Townships) and the Pink Drive (an organisation for  breast cancer  awareness and screening).
So far they have raised R59,000.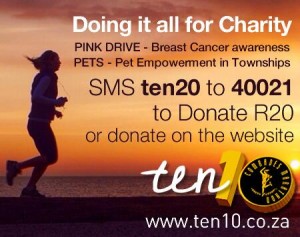 If you would like to support their Ten10 Challenge – they would be grateful for donations of any amount  – please click here.
More Info:
Ten10 website:
www.ten10.co.za
FB: facebook.com/tencomrades
Twitter: twitter.com/hazel_moller
UPDATE 5.54 pm Friday: Hilton has just completed his 8th comrades – done in 11h53. Two more to go!
UPDATE 6 pm Saturday: Hilton has completed his 9th comrades in nine days! One to go!!