Today is Global MND Awareness Day. For those unfamiliar with the term MND, it stands for Motor Neuron Disease, the fatal illness that Springbok legend Joost van der Westhuizen was diagnosed with in early 2011…and that touches the lives of so many South Africans.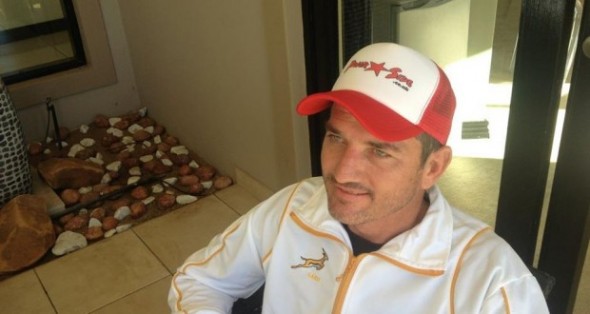 In a message to SAPeople, with a moving tribute song for Joost attached (watch video below), member Leonie B-T said: "Global MND Awareness day today so sharing this song written for and about Joost van der Westhuizen by his relative Suni Botha. As probably all South Africans know Joost was diagnosed some years ago and he has been fighting and raising awareness through his foundation – the J9 Foundation [Joost was nicknamed J9 during his rugby playing days on the field]. MND has also touched my family and so I'm thinking today about those of you who have had this disease enter your lives too."
Someone else who has been moved to act for those with MND is Marky Warren, a South African in the UK who is an avid Springboks and Sharks supporter. On Monday he will begin a 231 km walk from Millennium Stadium in Cardiff to Twickenham Stadium in London to raise awareness for Motor Neuron Disease.
He is doing the walk in honour of three former top South African rugby players who are all living with MND – Joost Van Der Westhuizen (Springboks, Blue Bulls), Tinus Linee (Western Province) and Ryan Walker (Natal Sharks).
"The walk is to raise awareness for those true fighters that live their lives day to day with the dreadful and currently incurable Motor Neuron disease aka MND," says Mark.
His UK walk will be a 'curtain raiser' for 'The Long Walk' he will be doing in July in South Africa. The Long Walk will be a 624 km walk that starts on Mandela Day (18th July) in Johannesburg and ends in Durban, raising funds and awareness for the J9 Foundation.
"Following my recent visit to South Africa to get things finalised, full details of The Long Walk in South Africa will be revealed shortly. The walk from Cardiff to London will be a great opportunity to highlight MND here in the UK in order to maximise awareness both here and in South Africa," says Mark.
His walk next week will take six days to complete, and begins at 8 am on Monday at the entrance to the Millennium Stadium on Westgate Street in Cardiff. It will end at the statue of players outside Twickenham Stadium in London on Saturday afternoon on 28 June 2014.
Watch Music Video: MR.No 9 – Sumi
Sumi (Sumari) Botha: "Joost Van Der Westhuizen, not only my hero but my family too and through all this, I show him how much I love and respect him through writing this song for him…I was flown over to South Africa in June of 2013 from Australia to film and record his song and I know his legacy will live on!"
Watch Video by the J9 Foundation
More Info:
Raising Awareness for MND walking from Cardiff to London
Visit The Long Walk facebook page to watch Mark's progress.
Follow Mark on Twitter – @PharSideUK