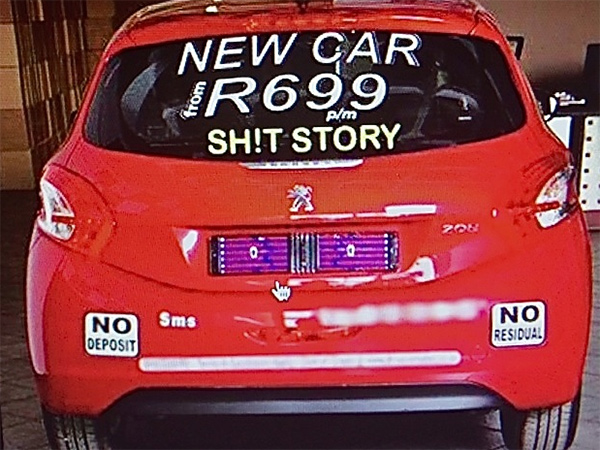 A controversial car-purchasing scheme in South Africa – in which new owners drove cars emblazoned with adverts – has recently fallen apart causing shockwaves for thousands of car owners in the country.
Here is a wrap-of of the events as they stand today, republished with the kind permission of columnist Wendy Knowler, East Coast Radio (where this article first appeared):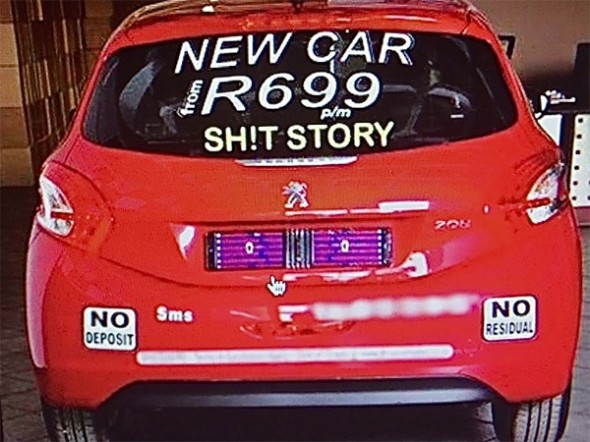 R699pm cars – Game Over
The Satinsky saga took quite a dramatic turn this week. Things rapidly went from bad to worse for the thousands who'd signed up for those 'New car from R699 per month' cars.
On Tuesday, with no warning or consultation, the company behind the deal, Satinsky, effectively pulled the plug on the current arrangement – the advertising fees will no longer be paid.
It's over. Their clients are now on their own with their monthly repayment to their bank.
The fall-out is unfolding on a Facebook page for victims of this saga; people are pleading with their banks for help, and Satinsky, in all of this, true to recent form, is not engaging with them at all.
All the company did was put out a statement suggesting that their clients sign up for another rewards programme. More on that later…
First, a quick recap on the background of this shocking issue.
As I explained in last week's show, Satinsky acted as a motor dealership, sourcing the cars directly from the motor manufacturers, handling the applications for bank finance on their clients' behalf, and then delivering the cars to their happy, excited new owners with two contracts for them to sign – one with a bank, mostly Absa, for the full repayment amount over six years, and another, separate contract with a company called Blue Lakes Advertising & Promotions, said to be based in Hong Kong.
Satinsky claimed that Blue Lakes was a separate company and that it acted as a managing agent for Blue Lakes in South Africa, and ran its so-called client help desk.
In terms of that Blue Lakes contract – there was actually a choice of two contracts, but I won't go into that here – the clients got an advertising fee every month, deposited into their bank accounts, and for most of them, without that fee, their repayments are unaffordable.
From what I can gather, there are at least 17 000 people driving around in those mobile billboards at the moment, so there's a lot of shock and financial misery out there.
But it started out well. Most had a very good experience with the deal. They got the fees they were supposed to receive, according to their contracts, every month.
The wheels started to fall off around Febuary/March.
A typical person on the mileage linked contract went from getting over R1000 a month as an advertising fee, to R570, then R484, and then, on Tuesday, the first of the month – NOTHING AT ALL, or at best, R100.
Carey Kennard of Durban, who bought a Nissan Micra from Satinsky a year ago, discovered on Tuesday that she didn't get paid a cent by Blue Lakes. She also found that she couldn't upload her photos of the car – the contracts require clients to post photos of their odometers to prove their mileage, and photos of their stickers, on the company's website in order not to be in breach of the contract.
"So I feel like I have been robbed, because I am paying the bank, R3000 a month for the car, and I thought I was going to continue to get paid back about half that amount every month in advertising fees, but that's not the case anymore," she says. "My bank balance is now in the minus figures."
Satinsky has not once acknowledged that people have not been paid what they ought to have been, in terms of their contracts. Instead it has issued statements accusing some of its clients of defrauding the company.
On Tuesday Satinsky posted a message on each client's website profile – which have now been cleared of all payment history – saying that it had dissolved the "management agreement" between itself and Blue Lakes and that it had found what it called "a suitable alternative offering", having appointed Accelerator Rewards PTY Ltd as its "valued partner". Clients can download an app on their smartphones, use it to make referrals, and if they result in the sale of cars, they get points and discount vouchers, which they can use for "every day expenses".
But there's no cash to be had, so that's not much help with those car repayments. Accelerator Rewards' website was registered as recently as the 17th of June. By Satinsky.
I asked Satinsky spokesman Siyanda Zuma about that, and other developments.
He didn't say much, predictably. All I got was: "At this stage we are engaging with all stakeholders and clients. As a result we reserve our right to comment at a later stage.
"Please note that anything that you publish should be factually correct and we reserve our rights fully."
So the company at the centre of the saga won't exercise their right to comment, but are urging me to get my facts right.
Unsurprisingly, I haven't picked up any enthusiasm for the new rewards deal, and some people have since removed the stickers from their cars. A few have kept the stickers in place, but added a few choice words to the stickers, such as "Stay Away!".
All are considering their options.
They can sell their cars, but most people won't get enough to cover what they still owe the bank. One woman posted on the Facebook site: "I sold my car yesterday. Owed the bank R121K and got out R85K – I can refinance the difference and have bought a used car.
"It is just such a shame that 90% of the people in this are dependent on the rebate and are going to be in a lot of financial trouble."
Some are talking about taking legal action against Satinsky for breach of contract, seeking damages.
Carey asked her bank to lower the interest rate on her loan. They refused. Satinsky suggested last week that they extend the already long term of their loan in order to lower their monthly repayments, but that's very costly in terms of interest in the long run, so few are keen on that.
About the banks' involvement – firstly, Wesbank is the only one of the big four which chose not to finance these Satinsky cars. They must be feeling pretty smug right now.
Secondly, so many people can't afford the repayments without the advertising fees, which have now unilaterally dried up. If they could, why would they have chosen to go this route, having to drive around in cars emblazoned with those garish adverts, be forced to drive pretty high mileage, and then have the schlep of documenting and posting the stickers and their mileage every month?
So here's the thing. All three banks say they didn't factor in the anticipated advertising fee from Blue Lakes when they assessed whether the applicants could afford the repayment. They say the applicants passed the affordability tests based on their earnings and expenses. End of story.
So something is not adding up. Consumer activist Simon Lapping told me that he'd spoken to people who claimed to have disclosed their monthly living expenses in an application on the Blue Lakes website, but when they saw the bank document later, the figure was quite a bit lower. Someone had altered it. In one case I've seen, a woman who earns a gross salary of R8000 a month, had her total monthly living expenses – rent, fuel, food, insurance – listed as R1270. She says that's not what she declared, and it could be argued that the bank involved should have queried such a low amount.
Simon's advice to those affected is to get copies of their loan applications and agreements from their banks in order to get to the bottom of the affordability issue, and establish whether there is a case to make for reckless lending.
According to the National Credit Act, if you can prove reckless lending, the lender may be forced to write off the debt.
And another thing: it appears that none of the clients have signed copies of their Blue Lakes contracts, which is highly irregular. Consumers are legally entitled to a copy of any document they put their signatures to.
So all in all, this awful story drags on, and the hardship caused by this sudden Game Over scenario, is immense.
To be continued…
Please view original article ECR.co.za article here.