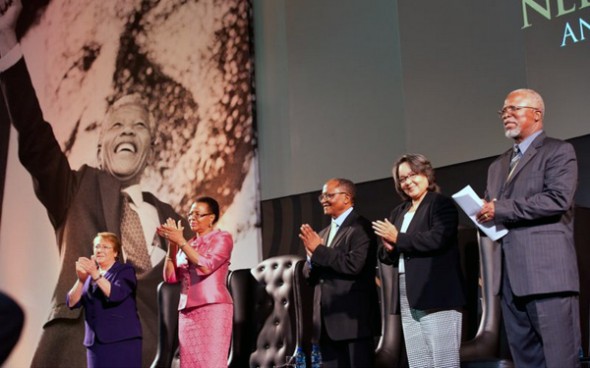 The challenges of social integration were increasing, and it was essential to update democracy. "We must take on the challenges of the future, not just consolidate our wins."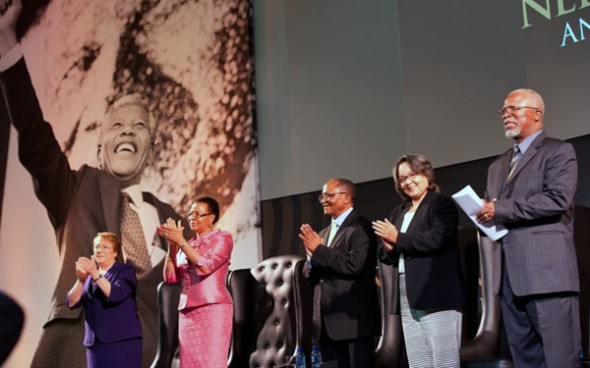 Chilean President Michelle Bachelet expressed these sentiments in delivering the 12th Nelson Mandela Annual Lecture, in the City Hall, Cape Town, on Women's Day – 9 August.
The lecture was particularly significant as it was from the City Hall that Mandela first addressed South Africans and the world following his release from prison on 11 February 1990. It was also the place from where he first spoke to South Africans as their president on 9 May 1994. And it was also particularly poignant as it was the first annual lecture to be given since his death on 5 December last year – a fact mentioned by more than one speaker.
Women's Day, a national public holiday, commemorates the day in 1956 when about 20 000 women of all races marched to the Union Buildings in Pretoria to demand that women not be required to carry passes.
Watch Chilean President Michelle Bachelet deliver the 12th Nelson Mandela Annual Lecture:
The topic of Bachelet's lecture was "Building social cohesion through active citizenship". She also focused on education and community participation in democracy.
She paid tribute to Mandela, saying his life had been based on a "profound certainty that there are no differences that justify discrimination, violence, abuse or oppression". He had shown that the only viable path was one of cohesion and unity. She also honoured Archbishop Emeritus Desmond Tutu, one of the many dignitaries in the audience, for having convened the Truth and Reconciliation Commission, and for the similar process in Chile.
It was one of several historical similarities between the two countries on their path to democracy that she listed: "It can be said we share a common wound, a common pain, but we also share a sense of common pride."
In speaking about democracy today, Bachelet said: "Economic growth and reducing inequality are essential, but are not enough. The growing new middle class brings new challenges that pose new tasks. Confidence in institutions is weakening – this is a global trend. This puts at risk our democracy… Society has changed, the world has changed, and people around the world are asking more of their governments," she said. "Today, legitimacy and justice are more than just legality. More and better democratic policies of inclusion are needed."
And to get there, changes must be driven by society. Representative democracy was no longer enough; people were now demanding participation. "But to take part requires more than just voting. This is key to modern democracy." Indeed this was the core of her lecture: society was opening spaces and forums where these new demands could be reflected. It was time for structural changes, but there was no magic recipe for this. "But the wrong path is denying citizens their participation."
Bachelet pointed out that sub-Saharan Africa had experience strong economic growth in recent years, but half the population still lived on less than $1.25 a day "This strong economic performance is not filtering down. It is the same in Latin America and the Caribbean. There is some encouragement in the growth of the middle class, but the inequality gap is high and is growing.
"We need more equal distribution of wealth." To get there, the public sector needed strengthening.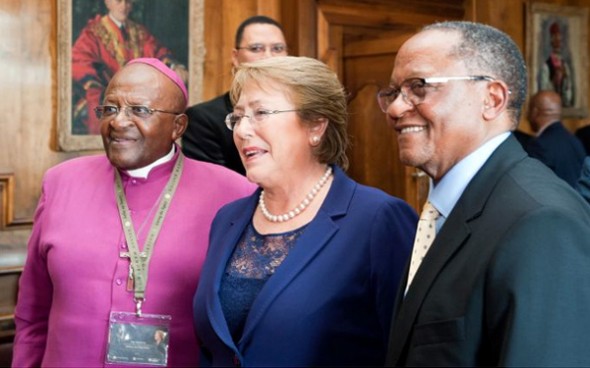 Gender equality
In building a socially cohesive, democratic society in which all people participate meaningfully, there needs to be equality between the sexes. Yet, Bachelet pointed out, cultural, economic, social and political discrimination against women remained one of the "most scandalous unequal situations on the planet". Six out of 10 poor people were women; 75% of women could not get a bank loan because they were in unstable or unpaid jobs. Sexism was rife and there was a lack of representation in business.
She spoke about policies being set up in Chile to assist women. "[Equality] needs to be promoted in every country. We need to make gender equality a state objective." But to do so "requires us to rethink our ways of cultural identity. We need to ask: 'How can we make living together possible?' It is a complex task in permanent evolution."
Chile, and the world, had a lot to learn from South Africa, and from Mandela's attempts to build a unified nation. To get there, structural changes were needed – and effort had to be made to make cultural changes. "Above all, we must build a culture that allows us to recognise our self in others. To do this requires active citizens … Chile is proposing that people take this responsibility to grow social cohesion."
Importance of education
Bachelet also spoke about improving education, as a crucial tool to ensure a democratic, socially inclusive nation. The challenge was "not only access to education, but also quality education". Structural changes were needed to achieve this; it should be an economic, social and political goal simultaneously.
She quoted Mandela, saying that education was the most powerful weapon to change the world, but added that action was needed to reach this goal. Non-negotiable was passion, the ability to listen and the active participation of citizens who could also listen to constructive criticism.
In ending her lecture, Bachelet referred to South Africa as the cradle of humanity: "In this land that is the birthplace of the human species, we can dream of a new humanity… We have hope to build a common future."
At the press conference after the lecture, she said: "Mandela has been the leader who inspired me all my life. He has taught us so much."
Returning to education, she announced that in 2015, Chile would launch 50 Nelson Mandela scholarships for post-graduate students from Africa to attend Chilean universities. A statue of Mandela would also be commissioned for a public park in Santiago, and Chile planned to convene a "conversation" involving South Africa, Chile and other Latin American countries going through a transitional justice process so that they could learn from each other.
Her lecture was well-received by an audience that consisted of dignitaries, activists and ordinary folk, as well as Nkosi Zwelivelile Mandla Mandela, Mandela's grandson. The Nelson Mandela Foundation website reported that he found the lecture to be insightful. Bachelet made it clear that being an elected official meant you had to continue to speak on behalf of people, the Mvezo chief said.
"This is to ensure service delivery and to be a true reflection of what is happening in the country… We must strive to make a better world. Her excellency has called us back to the drawing board, and has raised questions: have we done enough to recognise indigenous people? Is there still a role in post-apartheid South Africa for traditional leaders?" he said.
Archbishop Emeritus Desmond Tutu, who delivered the Nelson Mandela Annual Lecture in 2004, was also upbeat as he walked out of the hall. Showing the victory sign, he said the lecture had been "wonderful to listen to", and Bachelet had been "fantastic".