Today I met a very friendly family in Durban, while I was shopping.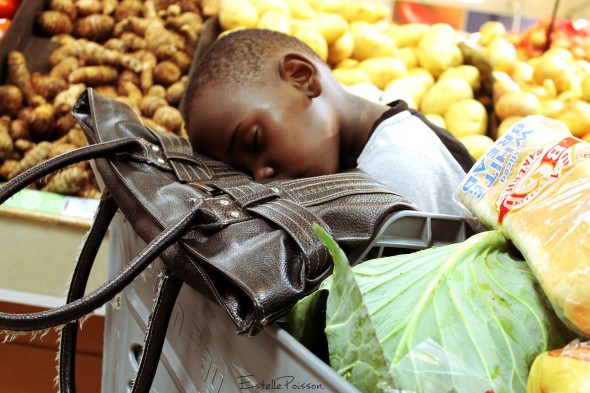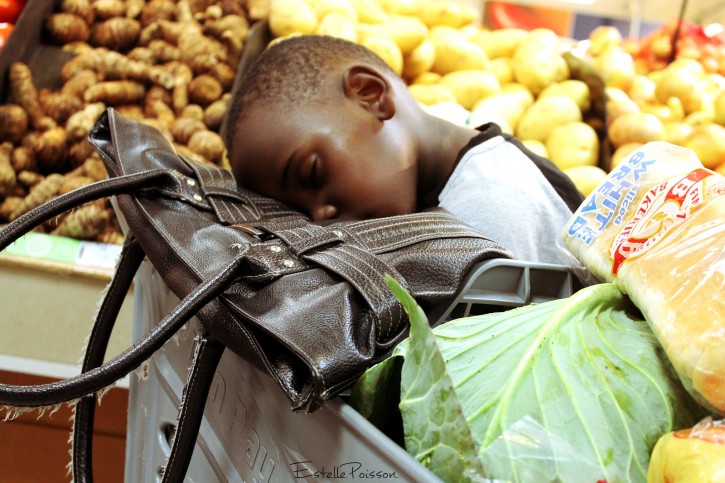 My eye got caught by the adorable toddler that was peacefully sleeping in the trolley, his head laying heavy like a stone on his mom's handbag.
I asked his mom and aunt, Patience and Thembe, if I could take a picture of him. And we ended up having such a nice chat!
The Baby Boy's name is "Blessing". Isn't this beautiful? To think that parents view their child as a gift to the point of calling him "Blessing"?
"He is very bubbly," said his mom, but today almost everyone stopped to admire him sleeping! Thembe, his young aunt, is studying Agriculture and funny enough, she is leaving next week for Europe: she will continue studying in Denmark for a year.
Thembe said that she always heard that "French" people (which I am) were mean. I laughed! I like to believe it's not true. Nevertheless, I initiated her to the "French crocodile" concept: French people who are known for having a big mouth that talks a lot and small arms that don't do much, just like crocodiles. We laughed some more.
As an anecdote, a few months ago, in the same shopping center, I found myself in an elevator with a granny and her teenage grandson speaking perfect French, and looking perfectly French (that "get off"/"go away" look in their eyes, that only us French people handle like nobody else).
I obviously spoke French to them and said: "Oh, you're speaking French!" as an introduction.
The elevator door opened almost simultaneously. They both looked me up and down and said "yes" in French and left!
I'm still waiting for an "oh that's so nice to meet someone from France", or "hey! how are you?". Even a simple "bonjour". But nothing. These people, supposedly "my" people can just really be so stupid.
This is one of the (many) experiences I had with French people overseas, that led me to not be the typical expatriate that looks for any opportunity to meet people from my country. I learned, through my several experiences abroad, to do my best to get to know the local people and speak with them and try to understand their culture and ways as much as I can.
Don't get me wrong, I'm not betraying my own people. Not at all. I might just not be very lucky and always attract the arrogant-rude-unfriendly French people when I'm outside of France.
And I have to say that South Africans have been quite amazing with me since I stepped into South Africa.
Today, meeting Patience, Thembe and sleepy Blessing is another beautiful experience I can add to my life in SA. I just love South Africans and their ability to liaise with anyone. Anyone! Even me, the French girl! Hopefully, Thandi doesn't think we are mean anymore 😉