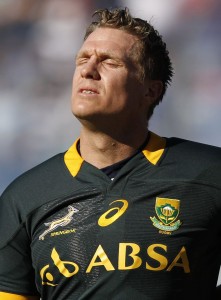 Springbok captain Jean de Villiers will become the fifth Springbok to play 100 Tests for South Africa when he steps onto the field in Wellington, New Zealand later today (Saturday 13 September 2014) to take on the All Blacks.
He told South Africa Rugby this week that while reaching this milestone is a "huge honour" and he's very "humbled" by all the support, "I can honestly say that I almost would've preferred if this was only a regular Test. We've got a massive challenge this weekend and the belief is there that we can win – we've got to put that into action on Saturday."
In the interview he paid tribute to the massive support he's received from his family and his wife Marlie, saying "she's been a rock and if you think playing 100 Tests is tough, you've not spent months on your own raising two beautiful daughters while your husband flies around the world playing rugby!"
Everything you need to know (or maybe know already) about Jean de Villiers: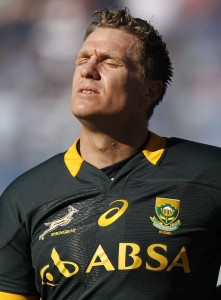 This will be his 100th game as a Springbok.
It will be his 28th game as captain. He first played as captain in June 2012, becoming the 54th Springbok captain.
Only three players have captained more games than him – John Smit (83), Gary Teichmann (36) and Francois Pienaar (29).
It will be his 85th game in the Springbok midfield. (His first was in Marseilles, France, in November 2002.) He has also played 15 games as wing.
De Villiers is 33-years-old.
He's 6-foot-3 and weighs 100 kg.
He never thought he would even get a chance to play a second Test for the Springboks! (And actually that opportunity was delayed by 18 months due to injury.)
He has scored 25 Test tries. This means he comes a tie-fifth with Percy Montgomery in a list of top Springbok try-scorers ever.
Jean and his brother Andre-Louis played together in the SA Under 19's in 1999.
De Villiers credits Andre-Louis, their parents and his wife Marlie for their incredible support.
He attended Paarl Gymnasium and Stellenbosch University.
In 1999 he played for SA Schools.
The only other teams he has represented, apart from South Africa's national team, are Maties, Western Province (50 games) and the DHL Stormers (105 games). He also spent one season in Ireland with Munster (23 games) and two games for the British Barbarians in 2008 and 2013..
In 2008 he was SA Rugby Player of the Year and Players' Player of the Year. In 2013 he was SA Rugby Player of the Year again.
Watch Video – Jean de Villiers Highlights – Springboks 2013 [HD]
The South African vs New Zealand game kicks off at 09:35 South African time (that's 9.35 am).
It should be exciting – no team has beaten the All Blacks as many times as the South Africans. The Springboks have won 34 times and New Zealand 50 times. Let's make that 35!
UPDATE SATURDAY AFTERNOON: It was a tense, awesome game…which was won by the All Blacks 14-10. Congratulations.