Saxby Superspar staff, with the help of South African singer Kevin Leo, surprised shoppers in Centurion last weekend with a Flash Mob performance of "Shosholoza" (watch video below).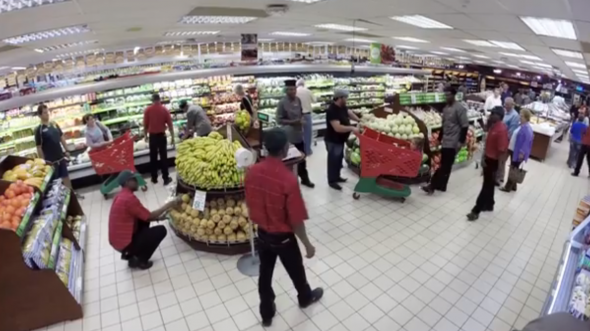 Kevin wrote the following message on Twitter and Facebook last Saturday (October 4, 2014): "Kom gou oor na Centurion Saxby Spar toe. Gaan 11:00 saam met die personeel mense verras met klipharde sang binne in die Spar. Shosholoza!!"
In the video, which was uploaded on Friday, Kevin is seen pushing his trolley around the shop for a couple of minutes before launching into what has become referred to as South Africa's second national anthem.
'Shosholoza' actually originated in Zimbabwe, and was introduced to South Africa when the Ndebele migrant workers from Zimbabwe would sing it on the mines in South Africa. The Zulu workers then adopted it to generate a good rhythm at work and alleviate the tedium and boredom of their group tasks.
The song describes either the migrants' trip to South Africa, or their return home to Zimbabwe. Nobody's totally sure. It is usually sung as a sign of solidarity between the workers, and of hope and encouragement with the the word 'Shosholoza' sounding like the sound of their steam train, and the term apparently meaning 'go forward' or 'make way for the next man'.
The popularity of 'Shosholoza' has spread in the last 20 years of South Africa's freedom from apartheid.
It was sung publicly for the first time by Springbok fans during the 1995 Rugby World Cup…and later recorded by Overtone for Client Eastwood's "Invictus", the 2009 film which highlighted the role former SA President Nelson Mandela, rugby captain Francois Pienaar and a country's love for rugby played in South Africa's transition.
'Shosholoza' has also been sung at other sports competitions – from swimming to football, with Bafana Bafana singing it when they walked on to the field for the 2010 FIFA World Cup.
Centurion shoppers are no strangers to flash mob events! In December, the Soweto Gospel Choir posed as shoppers and workers in a Woolworths store and entertained real shoppers with a beautiful tribute to Nelson Mandela, who had just passed away, with a performance of Johnny Clegg's "Asimbonanga". (Watch the Woolworths Flash Mob Video here.)
Kevin Leo, known as South Africa's Singing Chef, is currently touring the country with his tribute show to the life and music of the late Gé Korsten.
Watch Video:Saxby Superspar Flash Mob
Saxby Superspar flash mob with Kevin Leo and Superspar staff. The singing itself only begins after 2:40. (Video by JC Crafford Photography.)
'Shosholoza' Lyrics (South African Version)
Shosholoza (2)
Ku lezontaba
Stimela si qhamuka e South Africa
Shosholoza (2)
Stimela si qhamuka e South Africa
Wena u ya baleka
Wena u ya baleka
Ku lezontaba
Stimela si qhamuka e South Africa
'Shosholoza' Lyrics – English Translation
Work, work, working in the sun
We will work as one
Shosholoza
Work, work, working in the rain
Till there's sun again
Shosholoza
Push, push pushing on and on
There's much to be done
Shosholoza
Push, push, pushing in the sun
We will push as one.
Note: In another version, the words are translated as meaning:
Moving fast, moving strong
Through those mountains
Train from South Africa
You are leaving
You are leaving
Through those mountains
Train from South Africa)