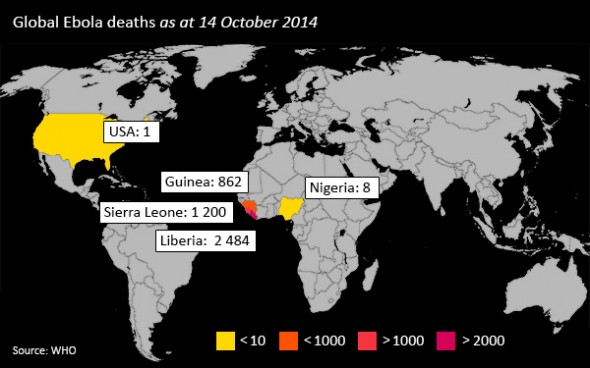 There remain no suspected or confirmed cases of Ebola virus disease in South Africa or any of its neighbouring countries, and the country is fully prepared for any outbreak, should it occur.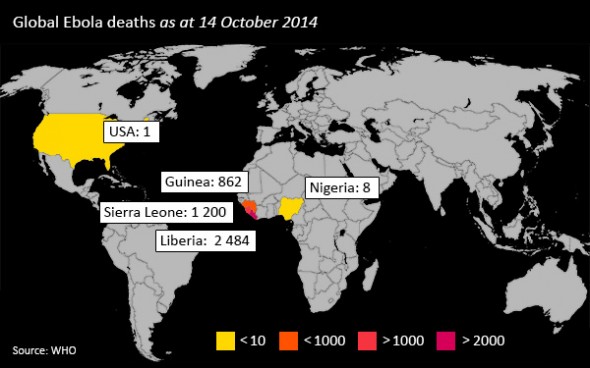 The disease remains largely confined to the small West African countries of Liberia, Sierra Leone and Guinea, with Liberia the hardest hit. Globally, according to the World Health Organisation, there were 9 216 confirmed, probable and suspected cases of Ebola in Guinea, Liberia, Nigeria, Senegal, Sierra Leone, Spain and the United States up to the end of 14 October.
A total of 4 555 people have died from Ebola, according to WHO figures. Of these, 2 484 deaths were in Liberia, 1 200 in Sierra Leone, 862 in Guinea, eight in Nigeria and one in the US.
While the situation in Guinea, Liberia and Sierra Leone is deteriorating, the last confirmed case in Senegal was reported on 29 August, and in Nigeria on 8 September, both well over a month ago. There have been no Ebola deaths in Senegal. As the disease's incubation period is 21 days, both countries are now considered Ebola-free.
John Vertefeuille, from the US Centers for Disease Control and Prevention, said Nigeria had taken the right steps to contain the outbreak.
"Nigeria acted quickly and early and on a large scale" he told the AFP news agency. "They acted aggressively, especially in terms of contact-tracing."
Both Spain and the US continue to monitor potential contacts. The Spanish nurse who contracted Ebola has now tested negative for the disease. In the US, two nurses who treated the country's one Ebola casualty in a Texas hospital have now contracted the disease.
"The outbreak continues to accelerate," the South African Department of Health said in a statement. "According to the World Health Organisation, half of the nearly 5 000 cases occurred in the last three weeks, and it is not unthinkable that 20 000 could become infected before the outbreak is over.
"However, most cases are concentrated in only a few localities."
South Africa is prepared
In August South Africa imposed a total travel ban for all non-citizens travelling to the country from the worst-hit West African nations to limit the spread of Ebola , unless the travel is considered absolutely essential. This ban continues to be strictly enforced.
Earlier in October, the health department announced plans for dealing with the disease, should it ever land in South Africa.
"We have identified 11 hospitals around the country to deal with patients who could be affected by Ebola," department spokesperson Joe Maila announced. The hospitals are all equipped with the necessary isolation facilities and protective clothing.
"If anything happens, and someone is discovered to have Ebola, we can send them to these hospitals."
Gauteng and the Eastern Cape each have two identified hospitals, while the remaining seven provinces have one each.
In September, health minister Aaron Motsoaledi rejected claims that hospitals in the country were not ready to deal with an Ebola outbreak.
Answering questions in Parliament, Motsoaledi insisted the 11 hospitals and their staff were fully equipped.
"All the designated hospitals have received guidelines on viral haemorrhagic fever and Ebola virus," he said, "dealing with all aspects of diagnosis, isolation, treatment and even management of possible fatalities that may occur as a result of the Ebola virus disease."
Article written by Mary Alexander.
Source: www.MediaClubSouthAfrica.com