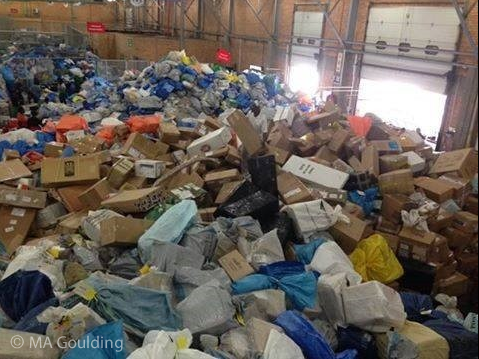 While announcing that many Post Offices around South Africa are operational again, or at least being repaired after damage caused by vandalism, the South African Post Office has confirmed that unfortunately (our word, not their's) the "Johannesburg International Mail Centre is not working at optimal capacity". [Please view
UPDATE 30 Oct 2014

at bottom of this page.]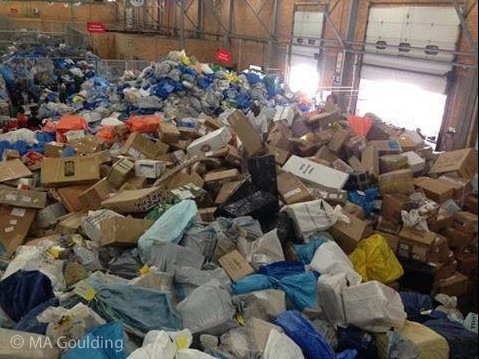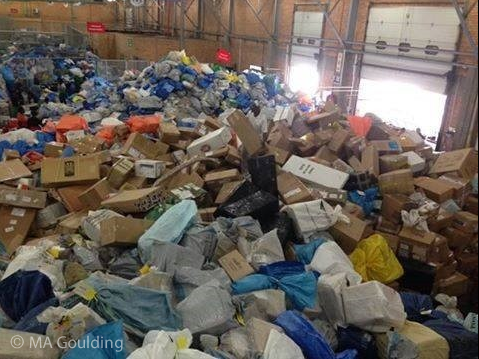 And judging by the photograph above, that's a slight understatement! This photograph, taken by a contractor working in the Johannesburg Mail Centre, was sent to SAPeople a few days ago. It's not a pretty sight!
Efforts are being made by SAPO and the Communication Workers Union to end the drawn-out national strike. The Union has revised their wage demand, reducing it from a 15 percent increase to 8 percent. It is also demanding that casual workers be given permanent employment after 16 months rather than the 30 months the Post Office is proposing.
Frustrations have been mounting in South Africa and amongst expats around the world, with Sandy Ruger Doherty asking simply "when are they going to sort the mail system out in South Africa? Would love to be able to mail something and know it will reach its destination!"
Some post offices across the country have been forced to close because of intimidation and vandalism by the striking workers.
SAPO announced two days ago that a turning point has been reached and that they have "finally been granted an interdict against listed striking workers which makes it illegal for them to approach any Post Office facility to within 500 metres. This makes it much harder to intimidate and threaten employees who go to work."
The Post Office admits that the situation is still "very fluid" and may change. However they remain optimistic that the postal service will now begin to recover.
SAPO published its latest updates on Facebook a couple of hours ago: 
First the good news…
Mail services in the Eastern, Northern and Western Cape are normal.
Mail services in KwaZulu-Natal are also normal.
Mail processing in Gauteng has resumed at most major mail centres and the mail is flowing again.
Then the less good news…
A total of 30 post offices in the Wits region are closed for repairs after they were vandalised by strikers.
In Tshwane, the majority of people are back at work with 3 post offices closed for repairs after they were vandalised.
And then the really not-good-at-all news…
Krugersdorp hub is not operational.
In the Free State, Welkom mail centre is not working at full capacity. All post offices in the Central Region are open.
In Polokwane, mail is expected to start moving today, although 22 branches in Limpopo are closed with staff on strike.
Lastly, the Johannesburg International Mail Centre is not working at optimal capacity. SAPO says "the international mail centre at Johannesburg Airport is operating, but not at full capacity yet. We are working with the authorities to give employees there the peace of mind that it is safe to go to work."
UPDATE from SAPO, 30 October 2014:
"Mail services in strike-affected provinces continue to improve. This is despite a temporary dip in employee attendance at sorting centres in Gauteng today, which the SA Post Office attributes to the Communication Workers Union march to the Union Buildings in Pretoria.
"A total of 540 Post Office employees were absent from work in Gauteng today, 30 October 2014. The rule of no work, no pay applies to these employees.
"The mail service has resumed in the Polokwane area as well, where mail trucks have been dispatched to outlying areas such as Mokopane, Tzaneen and Makhado.
"The SA Post Office is now focusing on the Emalahleni mail centre, which is not yet operational.
"In all other provinces, the postal service is normal with no employees on strike.
"The SA Post Office has amended its proposals to address labour union issues and expects to receive feedback next week."
Domestic and International parcels can be tracked at: www.postoffice.co.za/