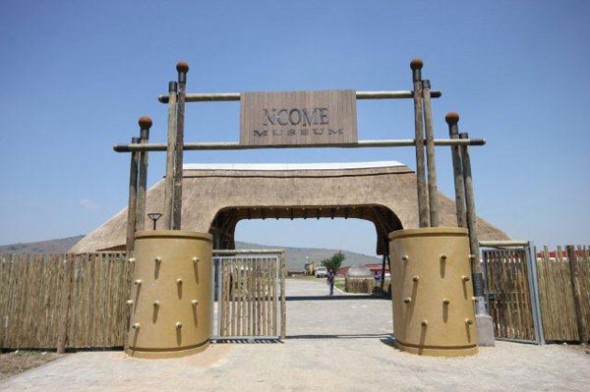 Ncome, near the scene of the Battle of Blood River, presented a moving and meaningful setting for today's official National Day of Reconciliation celebrations. And in a speech aimed at encouraging reconciliation between all races, South African President Jacob Zuma included a history of how today, 16 December, has been transformed as a public holiday in South Africa over the decades.
He also took the opportunity to extend a "hearty congratulations" to South Africa's newest hero Rolene Strauss on her Miss World victory and on "bringing the crown home after so many decades."
President Zuma said "this was a proud moment for Brand South Africa, as she has proved that our country is capable of producing winners and that we can shine on the world stage as a nation. We know that she will acquit herself well during her reign. We should all provide her our full support."
Speaking at the Ncome Museum in the uMzinyathi District Municipality, KwaZulu-Natal, Zuma said "it is befitting that today we are gathering at a venue that has been the source of pain and conflict, and which caused the 16th of December to be commemorated in different ways in our country for many decades until 1994.
"This day in our history witnessed one of the brutal conflicts between the Zulu Nation and the Afrikaner people, Impi YaseNcome or the Battle of Blood River.
"The battle resulted in the conquest of the Zulu people and formed part of the series of colonial conquests, loss of land and the subsequent subjugation of the indigenous peoples throughout the continent.
"This was consolidated through apartheid legislation, decades later, which not only discriminated against indigenous African people but also dehumanised them and relegated them to lesser beings.
"To this day, we continue to deal with the legacy of colonialism of a special type that deprived the African people of their land and made them pariahs in their motherland.
"Owing to the deep divisions of the past, December 16 before 1994 had a different meaning to different people, depending on their racial or ethnic background or even their ideological orientation.
"For some it was the symbol of triumph, for others, the symbol of resistance and pain or alternatively a bitter potent experience of wars and disposition.
"For the Afrikaner people the 16th of December became the Day of Vow of the Day of the Covenant, remembering the success over the Zulu Nation.
"For the Zulu people and the African people in general, December 16 became known as Dingane's Day, symbolising resistance against colonial aggression.
"The African National Congress launched Umkhonto WeSizwe on 16 December 1961, inspired by the spirit of Ncome and other similar battles that had been fought on the African soil.
"For many decades, 16 December became the day on which to remember and celebrate the armed struggle against apartheid colonialism."
He said that in April 1994, the journey to rebuild a new nation began, working towards peace and harmonious co-existence.
"Under the leadership of President Nelson Mandela, government launched a new meaning of December 16, changing the day to the National Day of Reconciliation.
"This big idea of reconciliation was first introduced in the make-up of the South African Government after 1994 elections. This was the Government of National Unity.
"The aim was an inclusive Cabinet that comprised of leaders from the opposition parties.
"This was one of the most difficult undertakings in the history of humankind. We had no choice but to work together to bring peace, stability and a common future to ancestral land. Twenty years later, we look back with great pride at the achievements scored.
"It took the political acumen and astuteness of our leaders of all political formations led by the ANC to champion the idea of reconciliation."
President Zuma reminded South Africans of President Mandela's words on the first celebration of the Day of Reconciliation in December 1995, which were:  "We, the people of South Africa, have made a decisive and irreversible break with the past. We have, in real life, declared our shared allegiance to justice, non-racialism and democracy; our yearning for a peaceful and harmonious nation of equals…But we do know that healing the wounds of the past and freeing ourselves of its burden will be a long and demanding task".
Zuma concluded that "indeed reconciliation is a process, and not an event."
He said "reconciliation also does not mean forgetting or trying to bury the painful history of conflict.
"It means that while we remember the pain of the past, we will not allow it to stop us from building a better tomorrow.
"Generations to come will testify that people who lived through this period of transition from apartheid colonialism to a new non-racial, democratic society, were a truly wonderful and remarkable generation to have been able to overcome fear, hatred and pain to build a new non-racial future.
"Today, we have reached another crucial milestone adding to the achievements of the South African people.
"It is a huge significance that both the Zulu and Afrikaner people have come here today to mark this important historical day together, instead of commemorating the day on the opposite side of the Ncome River.
"Both Groups have crossed the river and crossed the bridge in the literal and figurative senses, which demonstrates that reconciliation is possible if both sides make an effort.
"We have unveiled the Reconciliation Bridge between Ncome and Blood River heritage sites. These have been divided for a century and decades."
Along with the new Bridge is a new interpretive centre at Ncome which has been unveiled. The aim of the centre is to tell South Africa's story of history and heritage for generations to come.
"Both the bridge and the memory centre are a symbol of our quest to create a caring and proud society where everyone has a sense of belonging.
"It is the South Africa that belongs to all, as envisaged in the Freedom Charter and the Constitution of the Republic.
"This has reminded us that we have to continue building a new society, a truly united, non-racial, non-sexist and prosperous South Africa, together.
"In the programme of action that we are implementing since May 2014, based on the National Development Plan, social cohesion and nation building are key priorities."
The President said the government is building "a culture that protects and promotes human rights, respect and dignity of all citizens."
He pointed out that "reconciliation and redress are two sides of the same coin. In this vein, we will continue to bridge the inequalities and differences in access to quality health care, education and training, clean water and adequate sanitation.
"We will continue to intensify the fight against poverty, combat crime and drug abuse, champion the interest of women, children and people with disability.
"We will continue to fight all forms of racist, tribal and xenophobic tendencies.
"Economic transformation will be taken forward through better implementation of laws such as the Employment Equity Act, broad-based black economic empowerment act, land restitution and redistribution, and other forms of empowerment.
"Cultural redress will continue through the improved utilisation of African languages in public institutions including our schools.
"In the society we envisage, the sharing of common space across race and class will be enabled through instituting sustained community dialogues and improving public services.
"To build a caring society, we should embrace the values of Ubuntu which include human solidarity, generosity, hospitality, friendliness, caring, compassion, harmony, forgiveness and neighbourliness.
"This is a responsibility of all South Africans, not just government.
"We also intend to continue elevating sports at both community and school levels in order to enhance the talents of our children and youth, and to promote nation building and unity."
The President said that together with Rolene Strauss' crowning, South Africa is ending the year "on a high note as our sports teams have qualified for International tournaments."
He ended his speech saying "all our goals of building a non-racial, non-sexist, successful and prosperous society are achievable if we are united and continue to put South Africa first in everything we do.
"Together we move South Africa forward!"