There's a South African wine that's sure to do well in 2015. Goats do Roam. It's the perfectly named wine for a year in which the Chinese celebrate the Year of the Goat! And it looks like the marketing opportunity has not been missed by Fairview, the South African winery owned by Charles Back.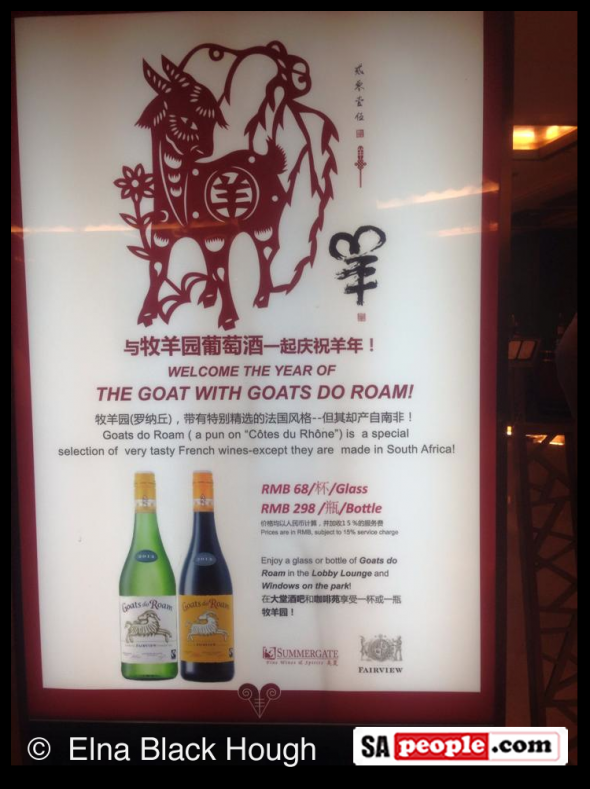 Elna Black Hough, a South African in China, noticed the above promotion in Shanghai. "South African wine is being promoted in Shanghai for the Year of the Goat," she said. "Great Stuff!"
The Chinese New Year begins on February 19 (and of course – just like 'Chinese food', it's not called that in China! It lasts 15 days and is called Spring Festival, or Lunar New Year because of its reliance on the moon.)
South African vintner Charles Back's Goats do Roam has already made waves around the world, thanks in part to its humorous name in an industry which likes to take itself seriously!
As the text in the above promotion says Goats do Roam is a "pun on 'Cotes du Rhone'"…although when the Institut national des Appelations d'Origine (INAO) protested in 2004 that the South African wine's name was too similar to the French name, Back apparently said that the name is based on the goats which roam around his Fairview winery. According to a wikipedia entry, he made "counter-protests with a herd of goats outside the French embassy".
Legend has it that the name was created when Back's son Jason left a paddock gate open…and a herd of goats roamed into the vineyards and selected some of the best berries from the vines…which were then used in the making of the Goats Do Roam wine. (Back has another wine, classically called Bored Doe – sounds like…Bordeaux! We're not sure of the legend behind the naming of that one!)
And while the concept may be fun and the name light-hearted, Back takes his wine seriously. Goats do Roam is currently the single best-selling South African wine label in the USA.
After conquering the States, it looks like China's next for Goats Do Roam…and maybe Korea, Japan and Vietnam could be on the cards since they celebrate Chinese New Year too.
Perhaps next year South Africa could promote its famous Monkey Gland Sauce…to tie in with the Chinese Year of the Monkey!