A South African great-grandmother is making headlines around the world with her 100th birthday celebrations. Footage of Georgina Harwood skydiving near Cape Town yesterday has been aired on international news channels everywhere.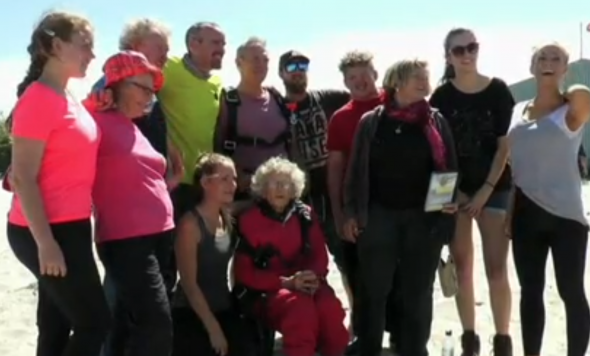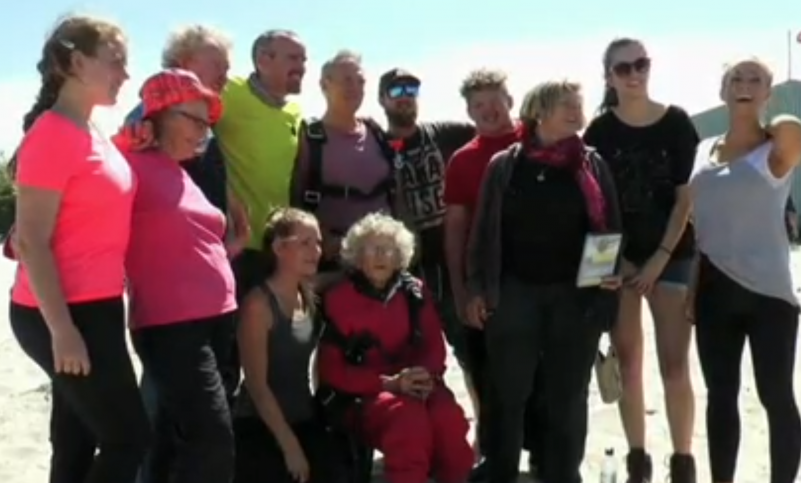 The BBC in the UK put together a wonderful compilation, set to the 'Chariots of Fire' music as the 100-year-old was escorted from the airport hangar to her aeroplane for take-off…and the soundtrack was replaced by Van Halen's 'Jump' as the cool Granny made her leap out of the plane.
The tandem dive was Georgina's third. The skydiving bug first bit when she was 92. She described yesterday's jump as an "exhilarating experience" and said it was even better at 100 because "I was much more conscious of everything this time because I had a better idea what I was going to do."
Fifteen of her family members participated in yesterday's event.
And Georgina's birthday celebrations are not over yet. Tomorrow she will be lowered into an underwater cage for a close-up experience with sharks!
Watch Video – South African Granny Skydives to Celebrate 100th Birthday
View BBC compilation here.
Happy Birthday Georgina Harwood!