Former Sunday Times editor Ken Owen has passed away this morning. The writer, who grew up in Pretoria West, was suffering from cancer.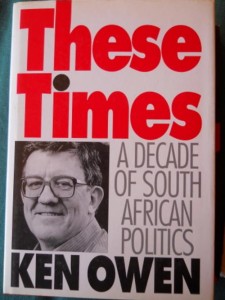 Less than a month ago Owen gave a moving speech at his 80th birthday party celebrations, on 21 February, in which he said he was ready to "relinquish life". He also used the occasion to offer insight into his life and values.
He began by saying "I did not want to make this speech. I told Kate I had become an old fart in the wrong century, and I had nothing to say, but Kate said: "Say something to offend everyone!
"That's not easy. How in heaven do you offend Hugh Corder [Professor of Public Law at UCT] when he forgives you even before you have sinned?
"But let me try. I'll start by saying that as I look back on my life I think I have always tried to find and hold the middle ground – between Hitler and Stalin, between left and right, between Afrikaans and English, between black and white."
Owen went on to share anecdotes from his life about chance encounters and books that shaped the opinions he carried for the rest of his life.
At the end of the speech he asked if all were offended and then added two more points – a thank you to the "bunch of drunks" at Alcoholics Anonymous who saved him with "tender and loving care" 45 years ago; and a thank you to his wife Kate.
Owen said "Kate was sent from Mount Olympus or somewhere to teach me to love, to see beauty, to read well, to widen my horizons, to give me a rich new life including four step-children who have been unfailingly kind to me, and she widened our circle of friends to the point where we could not have them all here tonight. It has been a fairy book love story.
"I'm so grateful to all my friends for coming here tonight, for what is probably my last gathering, and while it is a joy to see you, I must say to you that I relinquish life easily, and I hope gracefully.
"It is time to go.
"Goodnight."
Read the full Ken Owen Birthday Speech here.