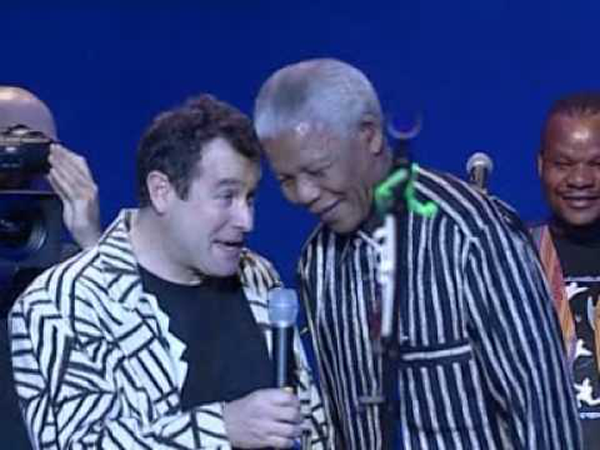 Sjoe – try watch the video below without getting just a little emotional. And definitely crank up the volume – as, in the words of the late Nelson Mandela, "it's music and dancing that makes me at peace with the world…and at peace with myself…let's join."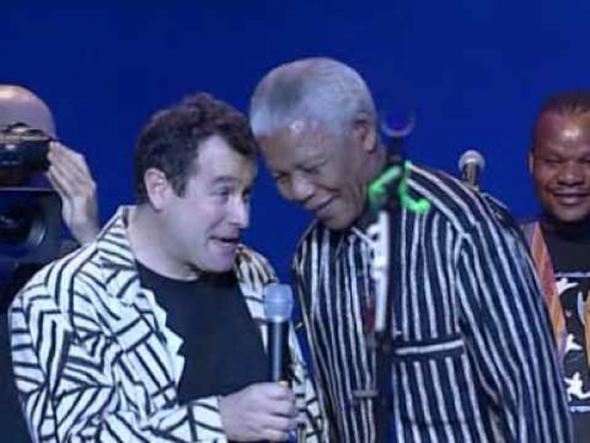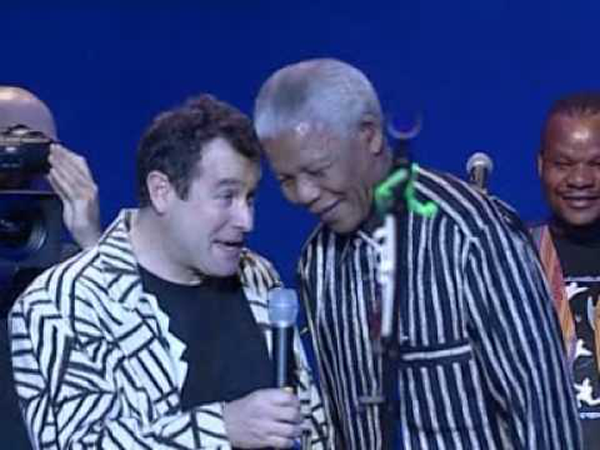 In this show performed in France in 1999, legendary South African singer Johnny Clegg introduces his 1987 struggle song Asimbonanga.
He says "13 years ago in 1986, South Africa was in a State of Emergency, and it was a very intense cultural struggle that was being waged, and we were part of that.
"And this is a song that we wrote for truly one of the greatest South Africans in history – Nelson Mandela – and we'd like to open the show tonight with a tribute to him."
Make sure to be watching from 2:35 as one of SA's greatest singers is joined by one of its greatest leaders who says to those in the back, who he can see are not moving:  "let's join."
If Mandela were alive today, he would surely be saying the same…
Watch Video – Johnny Clegg (With Nelson Mandela) – Asimbonanga – 1999 Fran
To mark the first anniversary of the passing of Nelson Mandela, Johnny Clegg released a new version of 'Asimbonanga' (which means "we have not seen him") with the vital message for us to continue Madiba's legacy and do what still needs to be done.
This video features the winners of the 2014 MySchool Choir competition from Riebeek College Girls' High in Uitenhage, South Africa (who recently lost their beloved teacher Jayde Panayiotou).
Watch Video – Asimbonanga, Madiba Tribute 2014
Asimbonanga Lyrics (original)
Asimbonanga (We have not seen him)
Asimbonang' uMandela thina (We have not seen Mandela)
Laph'ekhona (In the place where he is)
Laph'ehleli khona (In the place where he is kept)
Oh the sea is cold and the sky is grey
Look across the Island into the Bay
We are all islands till comes the day
We cross the burning water
Asimbonanga (We have not seen him)
Asimbonang' uMandela thina (We have not seen Mandela)
Laph'ekhona (In the place where he is)
Laph'ehleli khona (In the place where he is kept)
A seagull wings across the sea
Broken silence is what I dream
Who has the words to close the distance
Between you and me
Asimbonanga (We have not seen him)
Asimbonang' uMandela thina (We have not seen Mandela)
Laph'ekhona (In the place where he is)
Laph'ehleli khona (In the place where he is kept)
Steve Biko
Asimbonanga (We have not seen him)
Asimbonang 'umfowethu thina (we have not seen our brother)
Laph'ekhona (In the place where he is)
Laph'wafela khona (In the place where he died)
Victoria Mxenge
Asimbonanga (We have not seen him)
Asimbonang 'umfowethu thina (we have not seen our brother)
Laph'ekhona (In the place where he is)
Laph'wafela khona (In the place where he died)
Neil Aggett
Hey wena (Hey you!)
Hey wena nawe (Hey you and you as well)
Siyofika nini la' siyakhona (When will we arrive at our destination)
Asimbonanga (We have not seen him)
Asimbonang 'umfowethu thina (we have not seen our brother)
Laph'ekhona (In the place where he is)
Laph'wafela khona (In the place where he died)