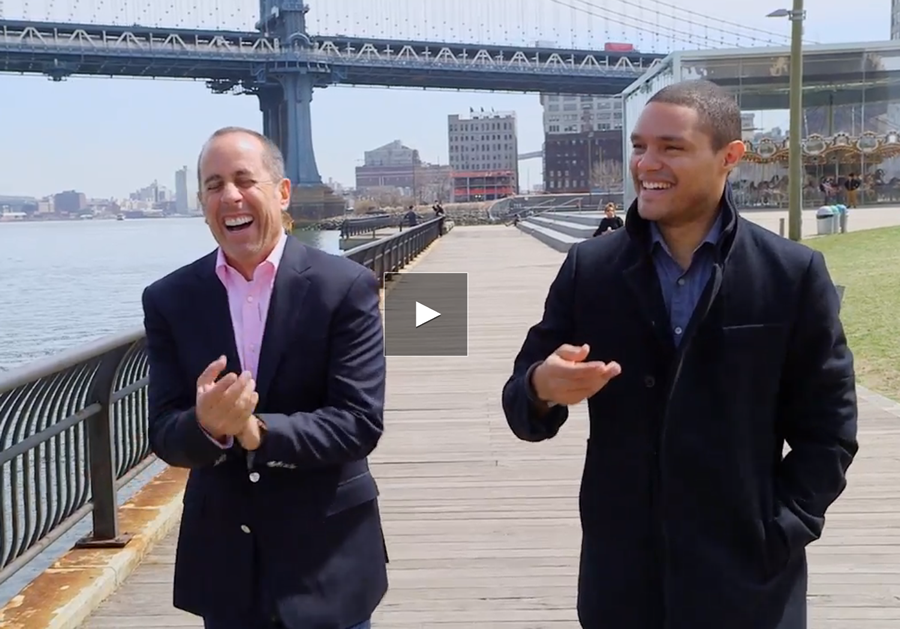 South African comedian Trevor Noah will appear in the next episode of Jerry Seinfeld's online Emmy®-nominated series 'Comedians in Cars Getting Coffee'.
The American comedian posted the trailer on his Facebook page today with a message saying "Jerry and Trevor Noah! He's half Black and half Swiss. You asked for half Swiss, we gave it to you. Next time it's half Puerto Rican and half cheddar. Served at Nelson Mandeli."
In the trailer Trevor mimics a couple of well-known accents, shares his definition of 'apartheid' and, right at the end, reveals where he got his incredible work ethic from.
The full episode will air on Wednesday evening, 11.30 pm EDT, on Sony's Crackle digital platform.
This is the sixth season of the show which sees Seinfeld driving in classic cars, getting coffee and sharing stories and laughs along the way with guests like Trevor, Julia Louis-Dreyfus (who played Elaine in the Seinfeld TV series) and actor and comedian Jim Carrey.
Trevor takes over as host of Comedy Central's 'Daily Show' in September.
Watch Video Trailer – Trevor Noah on Seinfeld's Comedians in Cars Getting Coffee
Jerry and Trevor Noah! He's half Black and half Swiss. You asked for half Swiss, we gave it to you. Next time it's half Puerto Rican and half cheddar. Served at Nelson Mandeli.Full episode premiers Wednesday, 11:30PM EDT.

Posted by Jerry Seinfeld on Monday, June 29, 2015