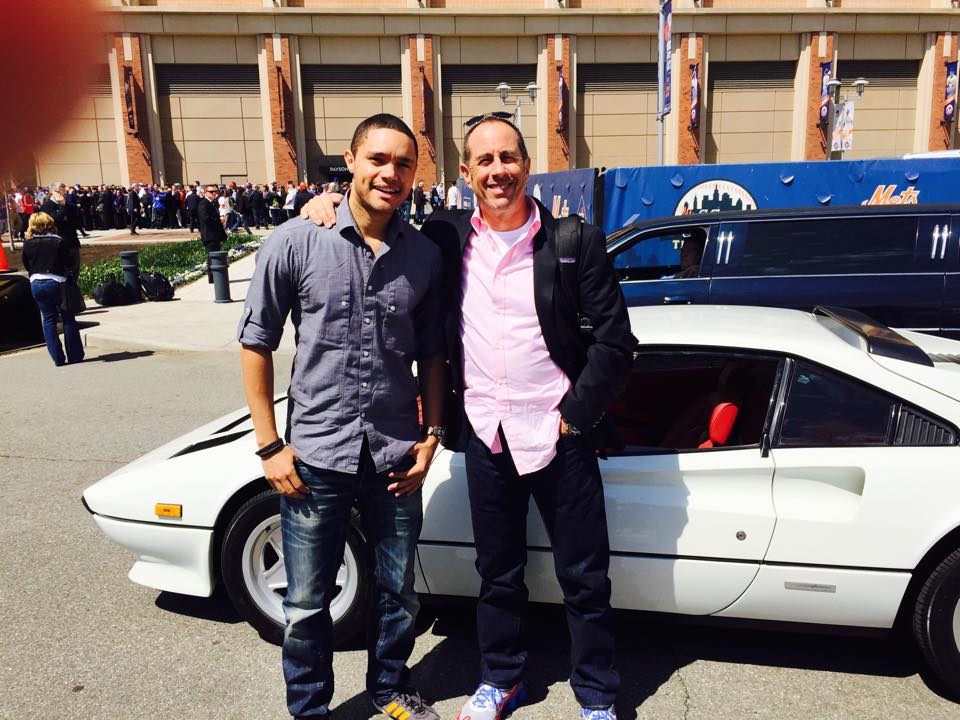 Here it is! The full interview between American comedic star Jerry Seinfeld and South African comedian Trevor Noah.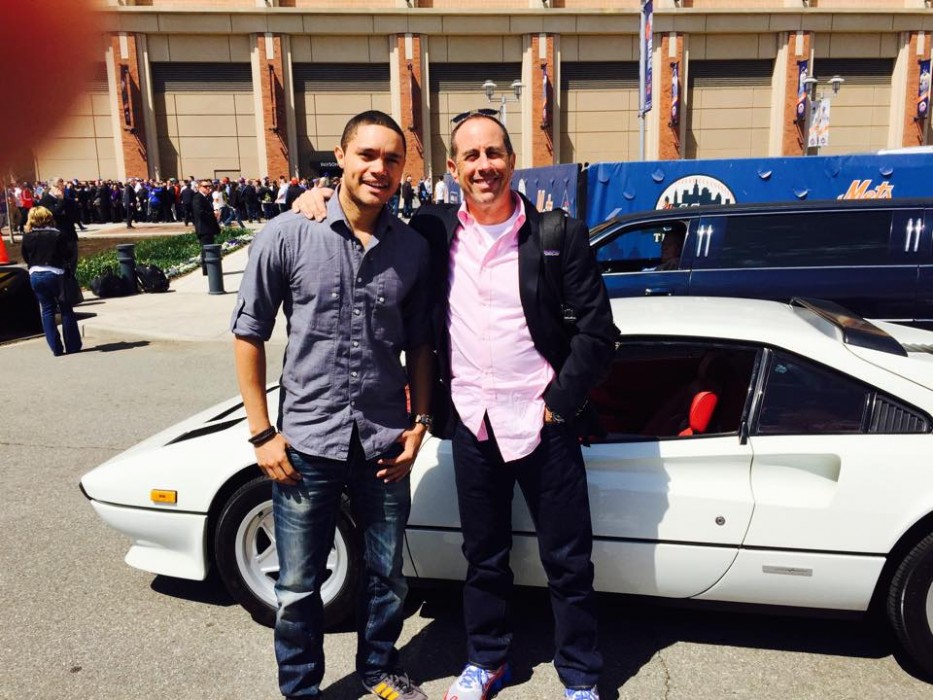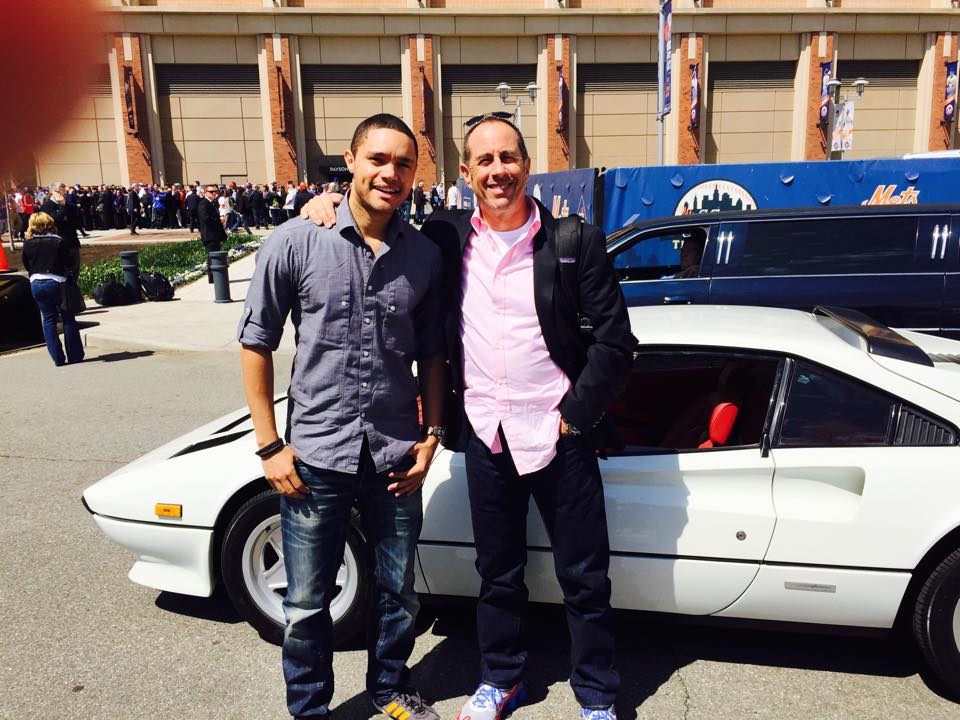 With Seinfeld at the wheel of a white Ferrari, the two discuss everything from apartheid to China, heckling to safaris, on Seinfeld's online show 'Comedians in Cars Getting Coffee' which was aired last night.
Trevor summed up the show on his Facebook page this evening, saying: "I bought Jerry Seinfeld some coffee because I'm poor. Then he drove me around in a Ferrari because he's rich."
Trevor is poised to take over from Jon Stewart as the host of Comedy Central's popular 'The Daily Show' on 28 September 2015.
At the start of the show, which was aired last night, Jerry introduces Trevor as having an "interesting, complicated and ethnic background"…referring to Trevor's black South African mother and white Swiss father.
Jerry adds that the 31-year-old's background includes many colours, cultures and languages but that "none of that matters – to me he's just a funny guy".
Watch Video – Comedians in Cars Getting Coffee | Trevor Noah | Season 6 Episode 5
Sorry, this video is no longer available. But you could watch it on Cracked.
In the video Trevor reveals:
When he first arrived in New York he would do about five to seven shows a night and then fly to London on Sunday to do three nights at a theatre there. That incredible work ethic, he says, comes "from being poor".
Nelson Mandela was an extremely funny man but nobody got his jokes because he was Nelson Mandela.
His mother sends him emails every day and some of them are half-Hebrew (from his grandmother's side) which he doesn't understand.
The first time he realised how powerful comedy could be was when he was in Joburg during a demonstration and his grandfather managed to make a white police officer on a horse burst out laughing.
Jerry Seinfeld has the "humility of a coloniser" (when Jerry asks if he can perform with Trevor in South Africa) – "it's like you're holding the gun, and you're saying to me, as the native on the land, do you think we could share this land?"
The first time someone heckled him in the UK, he told him "Where I'm from, when white people come at you, normally they come at you with dogs and teargas. Is that the best that you have?"
The fact that people are now able to protest (through social media) in their underwear defies what protest is all about – marching for a cause.
Comedy was hardly possible in South Africa for him pre-1994, but after 1994 "it was no longer illegal to be black".
"The whole point of apartheid" was that white and black people couldn't fraternise. His mom was fined and jailed several times.
He grew up in Soweto at a time when black people were not allowed in Joburg town after 6pm, so to go to his dad's apartment, his mom would act like she was his dad's maid and "she would say that she was babysitting me for a friend of hers who was my skin colour".
"The whole [apartheid and racism] system was absurd…When you look now you go 'how did that craziness happen?' It doesn't make sense…If you find the right balance between desperation and fear you can make people believe anything."
Jon Stewart is leaving the Daily show because he has an 8-year-old and a 10-year-old and it's the "juiciest time" of their lives.
He was driving in Dubai in the middle of the night when he got the call from his manager asking "how would you like to be the host of the Daily Show?" He got out the car and he "didn't have legs". The worst thing was how hard it was to find a drink to celebrate!
Jerry reveals:
He would not want to go on a safari. His reason? "So these elephants that I'm going to see…how similar are they to the elephants that I've already seen?" He would enjoy seeing the jeep.
He believes Trevor's "going to do just fine" (on the Daily Show)…he's "a purebred."
Everything you need to know, you'll figure it out when you need to know it. "Pain is knowledge rushing in to fill a gap."
If you can't see the video above, watch it here- http://comediansincarsgettingcoffee.com/