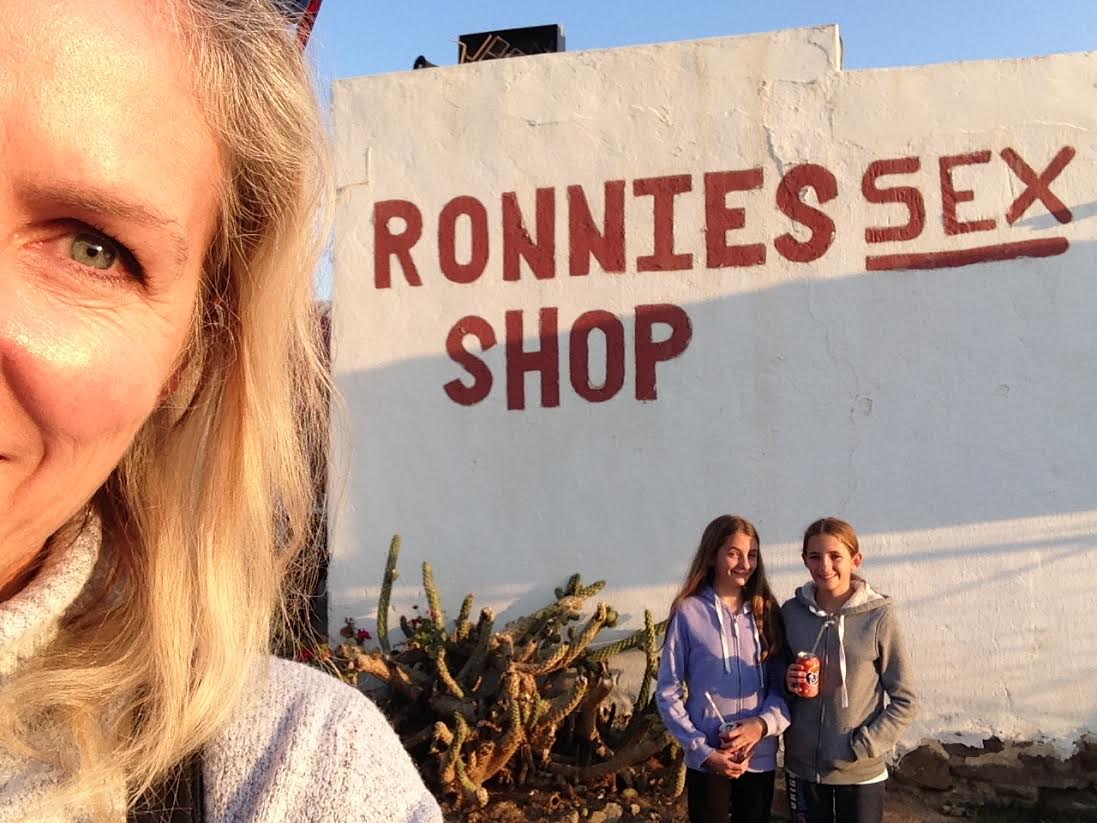 Sometimes things come about because you're tired of the fast pace of life, the continual "mission mission mission, get there quickly," rush around…and then you come back from a holiday feeling like you need one. And dragging two fractious Pixies around while you do it is no fun.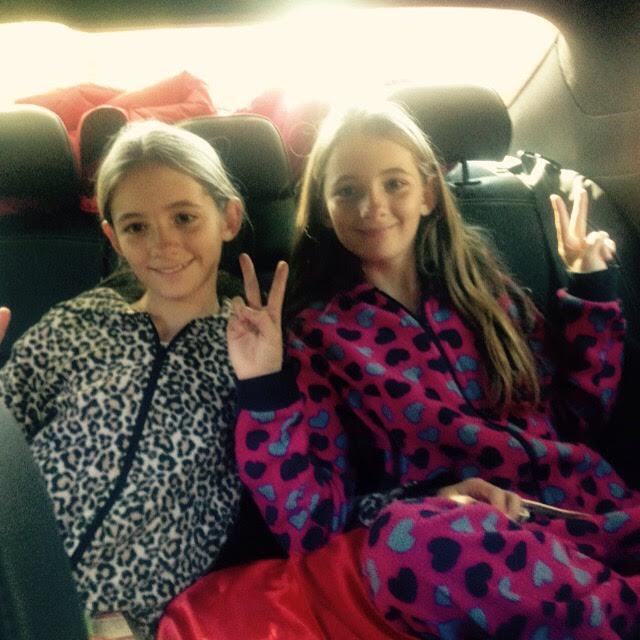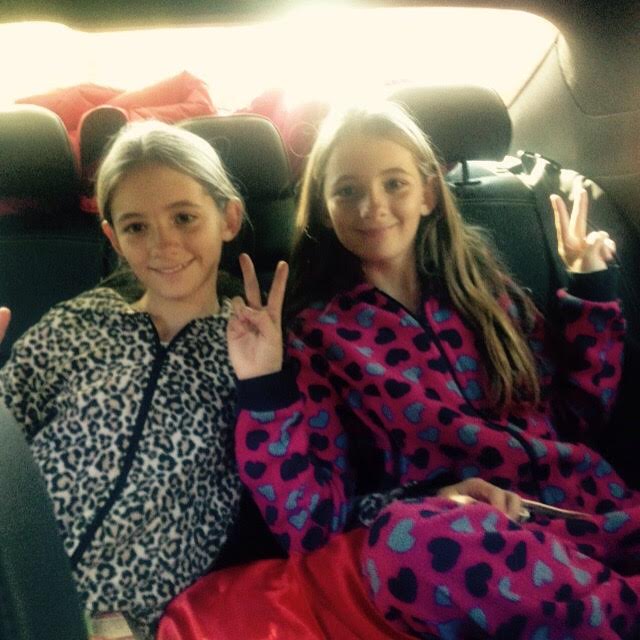 The Pixies are my daughters. Twins.
So the idea of flying from Gauteng to Cape Town, having to scurry through to Stellenbosch on three separate days – for the girls to compete in the SA Judo Championships – in a hire car, and flying back, without a chance to actually see anything really didn't hold much appeal.
[quote_center]"Living in a country really does mean that you should see as much of that country as possible."[/quote_center]
And gone are the days when I could just jump into my fast car at 4 am in Joburg and hit Cape Town at two that afternoon. (Yes, a chopper would have been better, but alas my budget has never stretched that far.)
That's not really living.
Living in a country really does mean that you should see as much of that country as possible. I have been inordinately blessed to have had  some of the best jobs ever – like 'Treasure Hunt' in the '80s – which have allowed me not only to travel abroad, but to get to know our beautiful land all that much better.
So why should my children have it any differently?
Thus began the idea for the "New SA Treasure Hunt" (what else?!) – take a few days to get somewhere; go see interesting things in out-of-the-way places…Learn stuff. Geocache. Take a chill pill and devolve.
Take the slow route to Slaapstad. Visit old friends. Sleep well. Come back rested. That was the plan.
But it was almost over before it began. Four days to NSATH departure, my trusty School Utility Vehicle decided to develop an engine problem. A strange one. One that shouldn't have happened as it had just had a cambelt replacement and head overhaul.
It does, however, pay to have friends in good places. The moment one of them heard of my vehicle travails and the trip we'd planned, he got in touch with his good friend and suggested that this would be the perfect opportunity to put a Kia Koup through an 'all-terrain' road trip test drive.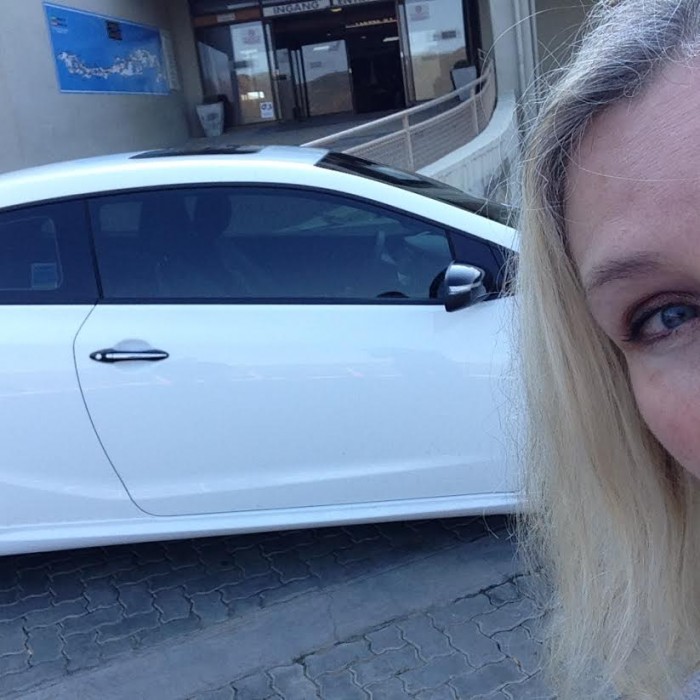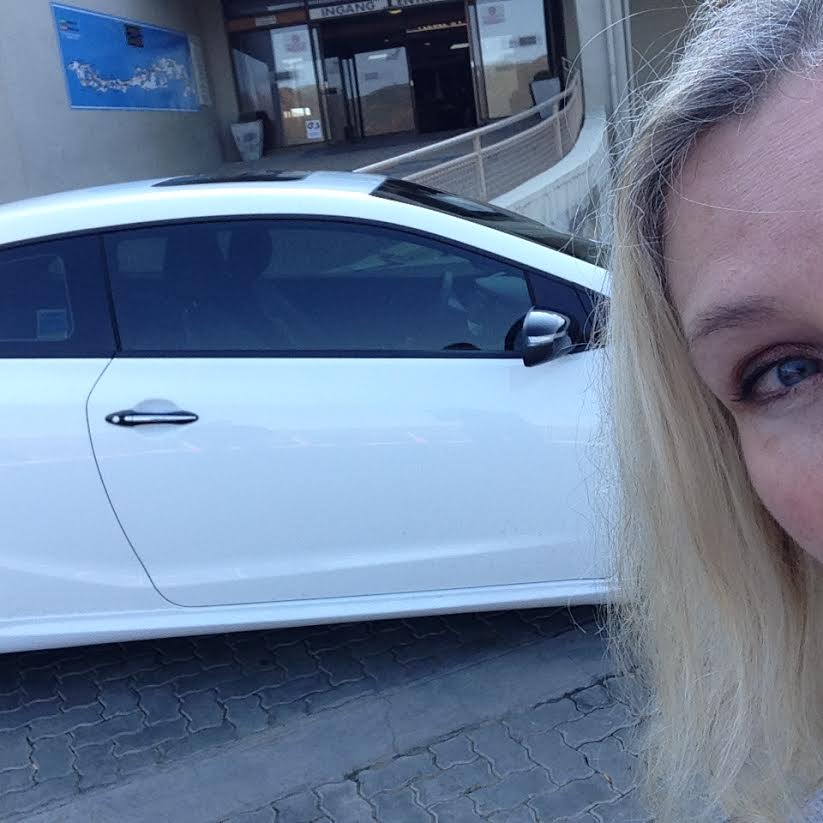 Many people said "no, you'll go crazy with having to get the kids in and out of the front door", "you won't have enough boot space", and other things of those ilk.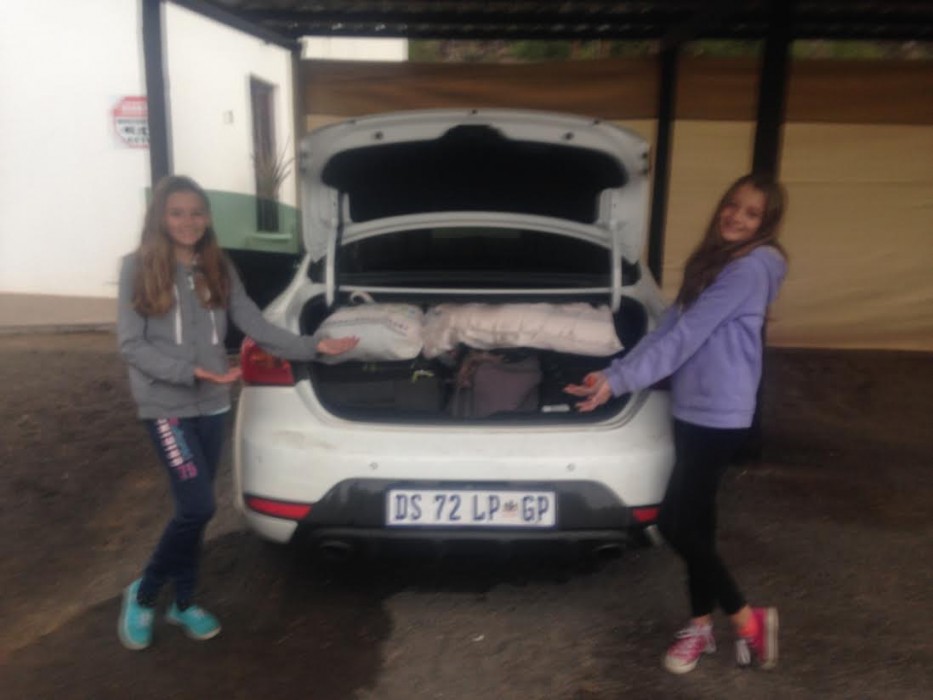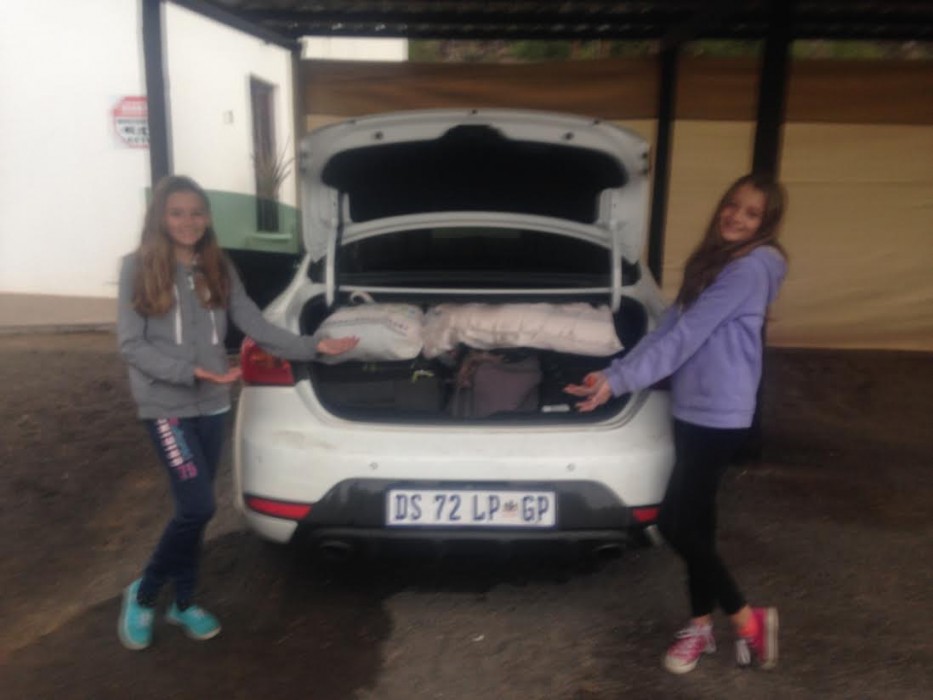 But man, despite the fact that I'm used to driving with gears, and sitting high up in a SUV, on this trip I've cruised into auto on our long winding roads and been – for a change – enjoying the drive. (Okay, okay, admittedly many of the roads are dead straight, long and intensely boring, but on those it feels like I'm steering an armchair into the distance.)
So D(eparture) Day arrived, and off we set. First stop Kimberley.
The Big Hole
Apart from the roadworks and, as the Pixies informed me, 527 trucks, it was a pretty uneventful drive. Checked into guest house, and chilled. On the agenda – the Big Hole, finding out more about diamonds and The Star of the West. And a geocache or two, much to the girls' dismay. (You'd think they'd have more of their parents' adventurous spirit, but now, they're at that age when technology is the bomb.) Tough! This is going to be a touchy-feely experiential trip.
They were, it must be said, a little underwhelmed by the sight of a gaping gap in the ground, but once they realised that it had been hand-dug, were well impressed. But more so by the diamonds and tanzanite in the shops nearby. Now those…the lovely ladies in the store were only too happy to explain about the four C's [cut, colour, clarity, and carat weight] and where they came from, and the biggest diamonds in the world ensovoorts.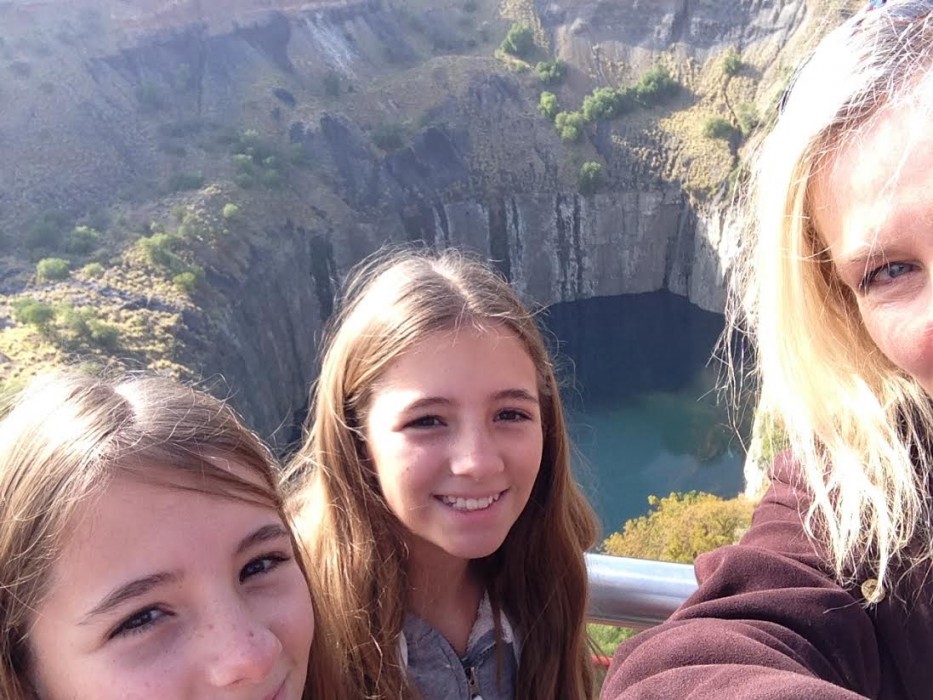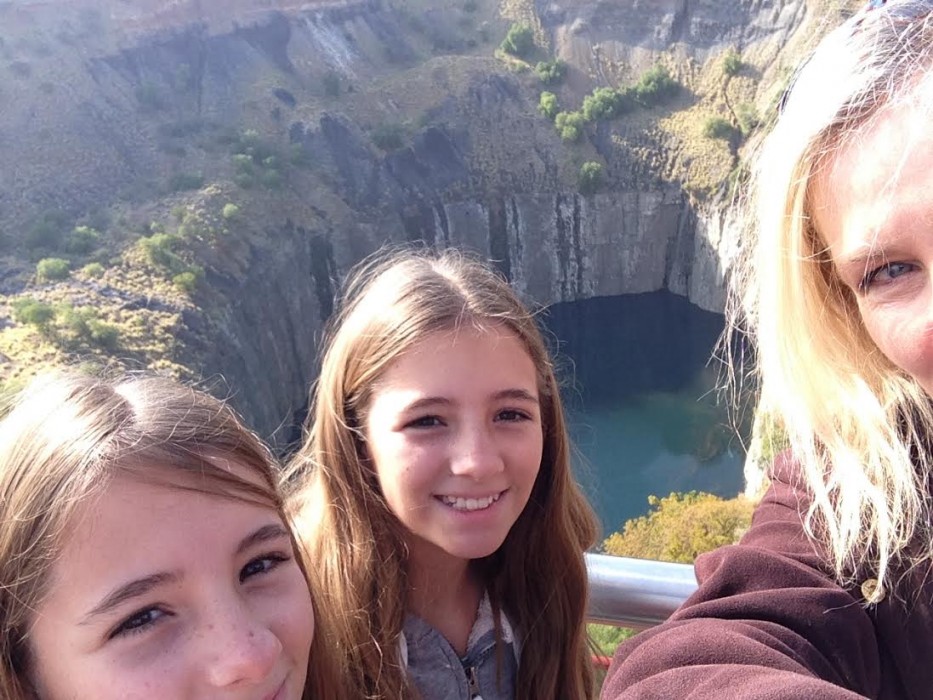 Where, however, they thought I was going to get the few thousands needed to buy them each one, Lord alone knows. Maybe when I'm rich and aimless…
The Star of the West Pub
That destination ticked off the list, it was off to The Star of the West pub, amongst the oldest operational taverns in South Africa. It first opened in 1870 to give sustenance to the hordes of thirsty miners who had joined the diamond rush that put the town of Kimberley on the map.
Halfway House Hotel
Quick geocache, a potted history for the Pixies' benefit, and then to another pub at the Halfway House Hotel to find a cache at that famous pub, the only licensed 'drive-in' bar in the world. "The Half" so named as it's sensibly positioned halfway on the main road between Du Toitspan and the New Rush mines, the latter of which became known as the Kimberley mine.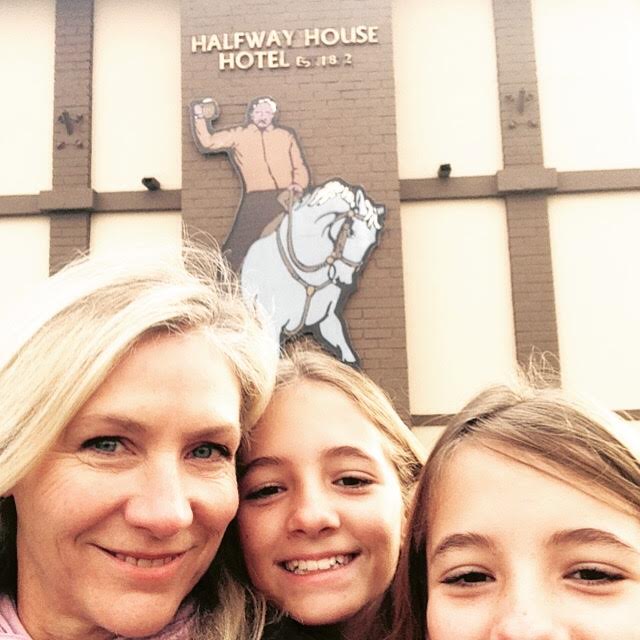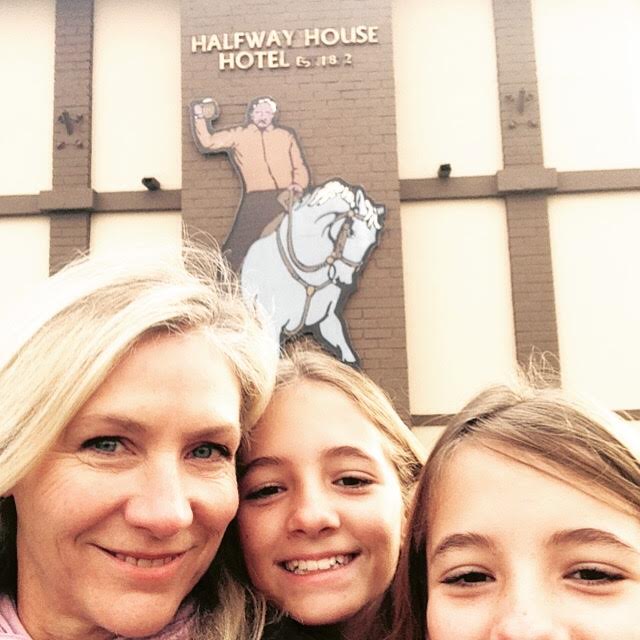 Even though we were going somewhere slowly, twas time to hit the long and dusty to our next port of call (no, not another pub this time!) – Beaufort West and the Karoo. Although the Koup is a coupe, which necessarily means less leg space than the normal Cerato sedan version, the girls were more than comfortable sleeping together on the back seat. And when they sleep it can be bliss when driving.
When they're awake – another story. That's one thing I'd suggest to all car manufacturers when taking family trips into consideration. Put one of those sliding soundproof glass thingies like you find in limos in the car as an optional extra so we don't have to listen to bickering…
Olive Grove Karoo Guest Farm
We arrived at sunset at the Olive Grove Karoo Guest Farm, a place I'd stayed before and absolutely love. Great location (in the middle of nowhere), great Karoo style food and great country hosts. Alas, it was raining in the morning (great for the farmers, not so much for going for a walk without raincoats), so left earlier than anticipated for Oudtshoorn and the Cango Caves. Through Meiringspoort, some of the most wonderful driving roads and scenery ahead.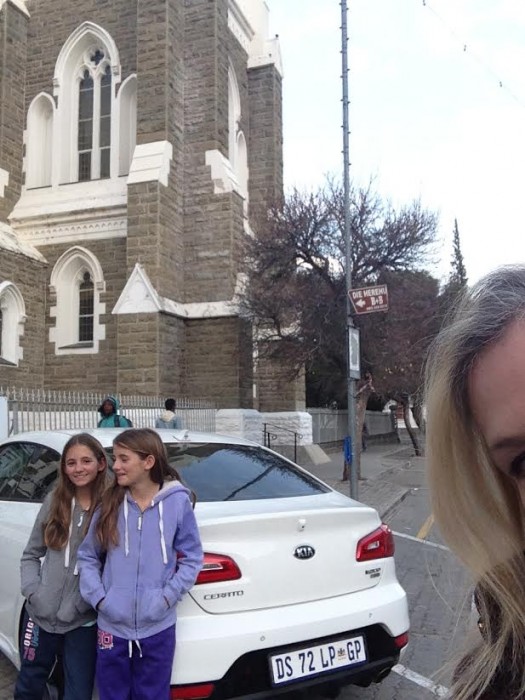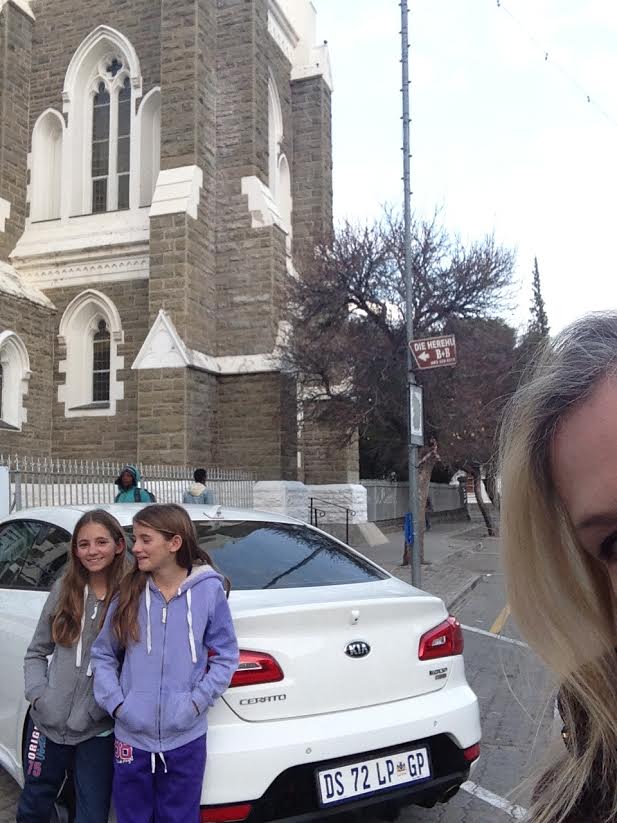 Cango Caves
I love caves. I have done most of those open to the public in South Africa, and a great many more overseas. But the Cango are glorious. With time constraints in place, we weren't able to do the Adventure tour, just the standard one, so no going and posting ourselves through the Letter Box. (Which I had done numerous times the last time I visited them during filming an episode of Treasure Hunt down on the coast. I kept doing it, hoping I'd end up somewhere exotic, but despite a post-it note with the address of places like Singapore, the magic didn't actually work!)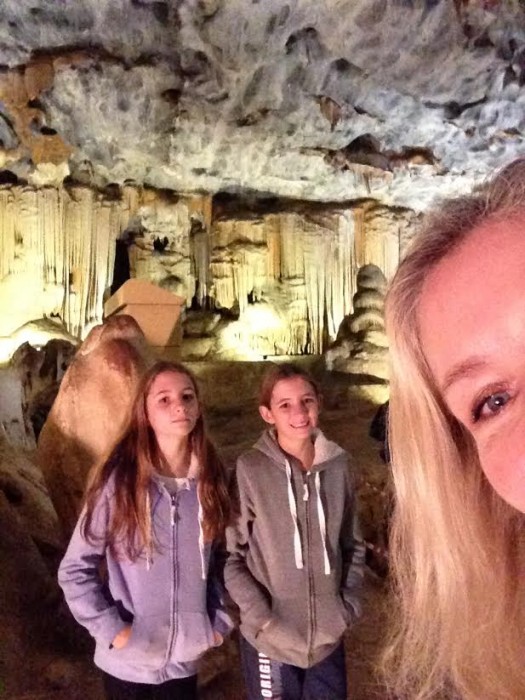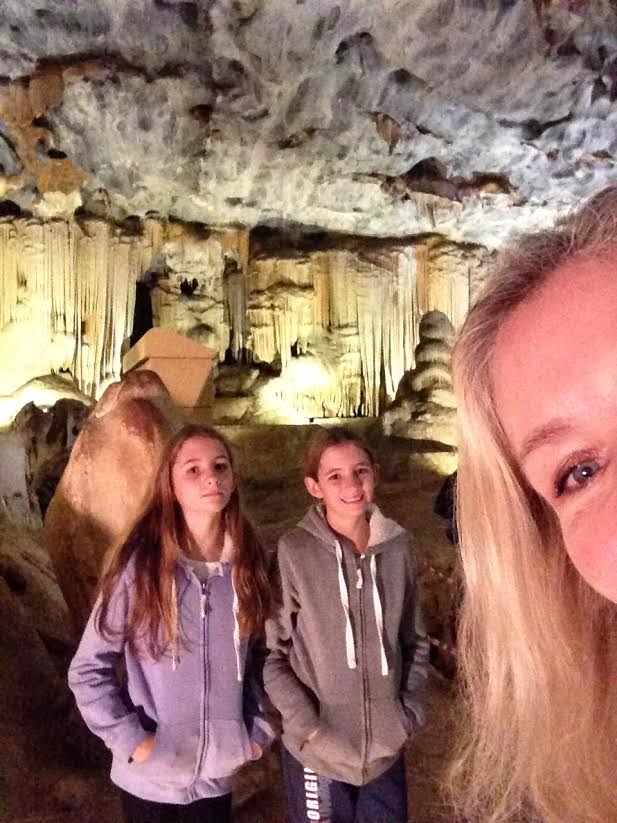 Route 62
Pixies decided that they didn't want to go and ride ostriches after all, so off down Route 62 it was.
Cape Route 62 is the tourist route in the Western Cape and Eastern Cape that meanders between Cape Town and Oudtshoorn, the Langkloof and Port Elizabeth, offering the shorter, scenic alternative to the N2 highway. It's an area of magnificent landscapes and towering cliffs, crystal clear streams and an abundance of trees and indigenous flora.
This Mountain Route offers range upon range of striking mountain edifices. And Andrew Bain and his son, Thomas, were the engineers and constructors of several of the mountain passes – some of which had the girls ducking and hiding. Try explaining time after time that "no, no huge rocks are going to come down and smash us to death in the car. Now sit up and enjoy!"
Ronnie's Sex Shop
Along the route is the famous Ronnie's Sex Shop. It's not a Sex Shop. It's a pub. (Getting the underlying theme here?) Famous for being, well, famous, Ronnie explained to us all how it got its name and helped us a little with the geocache which should have been there, but had obviously been muggled and taken away. But never fear when Melle's near – a new one is up and running in the same spot.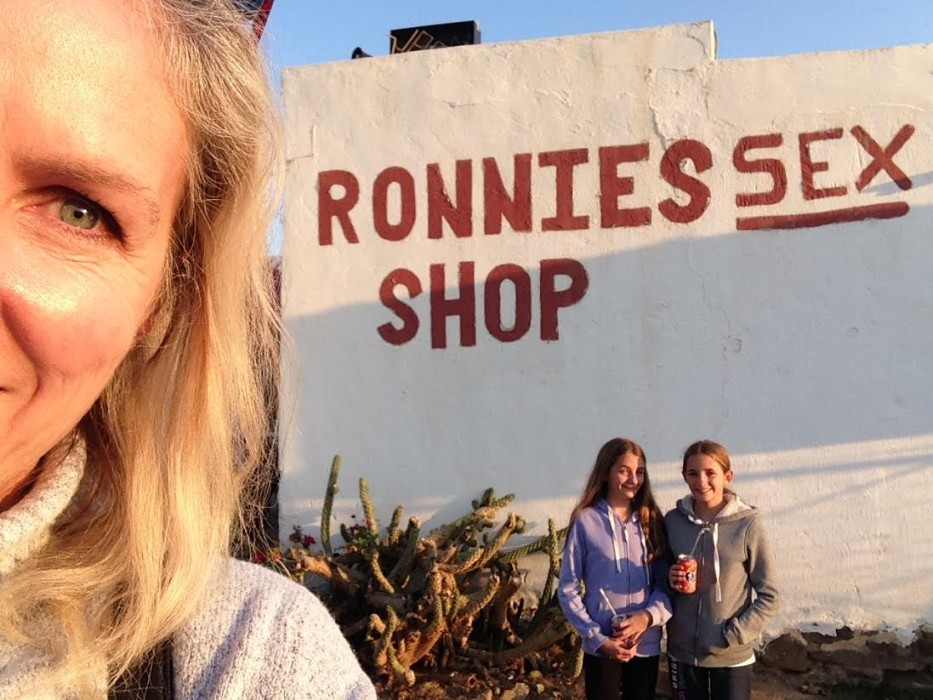 From there it was either stay in a guest house somewhere along the route or skedaddle down to Cape town – in the dark. Now, apart from leaving raincoats behind, I also left my driving glasses, so I wasn't all that ecstatic about negotiating the twisties at night. But happily the roads were dry, not that busy, and the intelligent automatic lighting of the Koup made it just that much easier on the eyes and the nerves.
And so to Cape Town where the drivers…well, let's just say that it's the one aspect of the city I could do without.
Not much time for sightseeing as we're back and forth to Stellenbosch for the SA Judo Championships for a few days, but Oom Samie's se Winkel and Babylonstoren are on the hit list for tomorrow afternoon.
We'll be off up the Garden Route to Cape Aghulas (how can I not take the Pixies to the southernmost tip of Africa), Knysna for a bit of the Oyster festival, through Grahamstown, where the festival is on too, to Hogsback for an overnighter. Then through the eastern Cape to KZN for a few days relax, and the Midlands before heading home. But more of the next travels in the next blog…
If you're interested to follow, we're updating the travels of the Chicken Koup (well, we are flying the coop a bit!) on Twitter #TheNewSATreasureHunt and #KiaKoup. And @KiaMotorsSA…
Flying into a town near you…