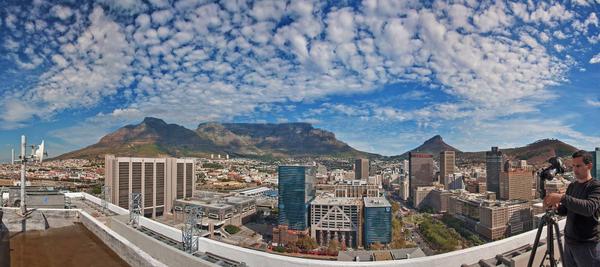 A Cape Town-based multi-national company has created the largest picture of Cape Town ever taken. It's 200,000 pixels wide! Yesterday FanCam uploaded a link to the 360º photo with the words "a picture of our home town…Sorry, a BIG picture of our STUNNING home town."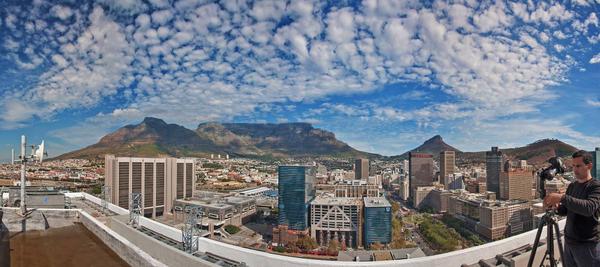 The gigapixel image of the City Centre was captured from the top of the Media24 building earlier this year.
According to FanCam's website, the picture was done as a test for a larger project in Tokyo. You can zoom in on the pic to get a closer view inside the Castle of Good Hope, and explore the Vredehoek and Oranjezicht neighbourhoods in brilliant detail.
Back in 2010 FanCam was already breaking records – with the biggest crowd image in history at the time – 90,000 people at FNB Stadium in Soweto. Founders Tinus le Roux and James Taylor were taking all the photos.
[vc_button title="View the BIGGEST picture of Cape Town" target="_blank" color="default" size="size_large2″ href="http://bit.ly/1dPd71B"]
Five years later and the company now has specially trained photographers on four different continents with clients including Coca Cola, Nascar, Samsung, U2 and more.
They describe themselves on Facebook as "the cool guys from South Africa that introduced the very first Fancam to the world in January 2011 and [have] since produced over three hundred Fancams for multiple sport and musical events."
Fans are able to zoom into their images and not only explore every corner of a stadium, but tag themselves and their friends too.
This latest large Cape Town picture was actually not done for a client, but "just because we love Cape Town so much" says founder Tinus le Roux.
Le Roux describes himself on social media as a "passionate and proud South African entrepreneur, a terribly inadequate father of three and part time husband to one" who is also a "recovering workaholic" and "lover of sport, innovation and technology."
FanCam also offers a Devil's Peak view which was captured in 2013. It's 600,000 pixels wide and would cover five rugby fields if printed out!
Next up will be Lion's Head view which is set to be a million pixels wide, making it the biggest picture in history.
[vc_button title="View the BIGGEST picture of Cape Town" target="_blank" color="default" size="size_large2″ href="http://bit.ly/1dPd71B"]
More Info
www.fancam.com