With the escalating poaching of rhino causing rhino figures to tragically dwindle it's become a rare sight and privilege to view a rhino in the wild in South Africa…let alone to witness a mating pair of Black Rhino who bring hope to the country and to the species.
So when Gavin Udal from Wendy's Country Lodge in KwaZulu-Natal posted this incredible capture of a mating pair this week, it inspired a short story by Ralph Sibande…which is published here with their kind permission.
RHUMBA IS IN LOVE…by Ralph Sibande
My name is Rhumba, and I am in love. I am in love with the most beautiful lady in the iMfolozi valley; Rhuda. I love her and she adores me.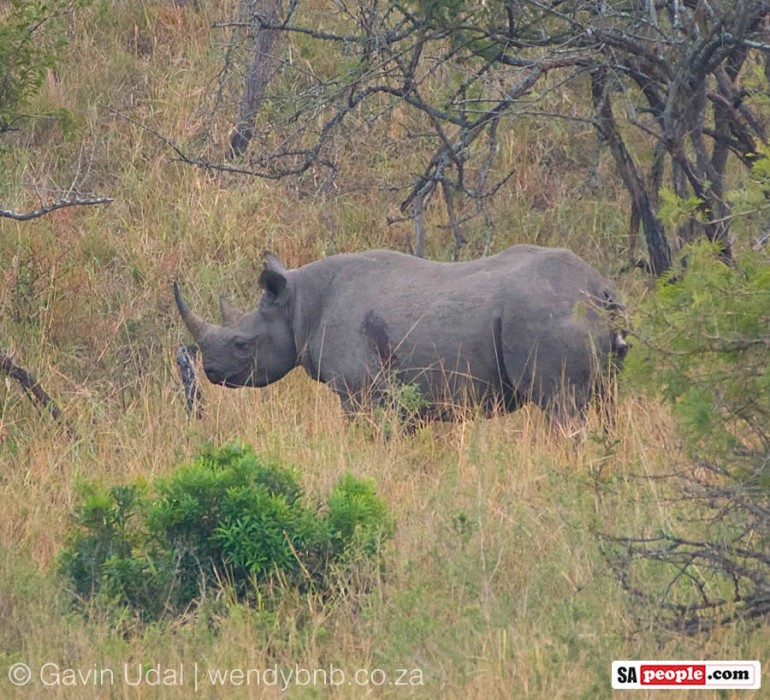 Of course I am a rhino but.. I am the most eligible rhino bachelor and I am going to marry Rhuda. We will tie our knot under the shadow of the ancient Nyalaberry tree just a few steps from here. My uncle, the Right Reverend Rhee, shall preside at the nuptials.
From the very moment I set eyes on Rhuda, my heart just knew that she was the one. It was a quiet afternoon and the Hadedas were just starting to honk and everyone was tired from the heat and I was standing under some black monkey Thorn bushes ruminating about life, when Rhuda walked into view.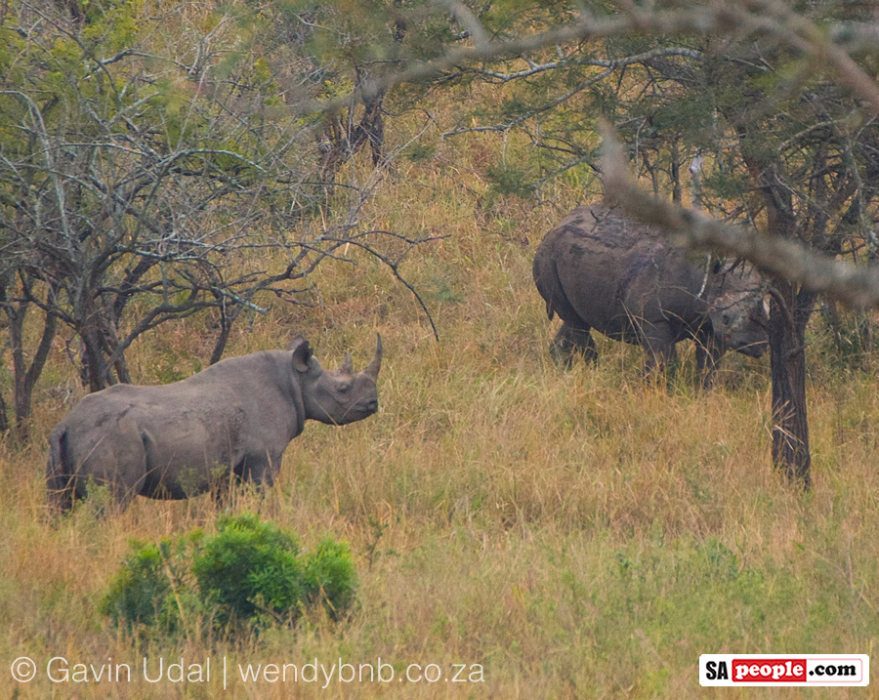 I was enthralled and captivated all at once by her stately presence. It was not a passing infatuation but a long abiding devotion that knocked at the door of my heart. I knew that I knew her, and every muscle in my body screamed with the joy of confirmation.
Of course I noticed her gentle wrinkles around her cute mouth. She had the most exquisite ears I have ever seen in a rhino. I noticed everything about her including the herringbone pattern at the base of her horn and her generous but plump belly and the sturdy legs that she moved about with quiet dignified authority.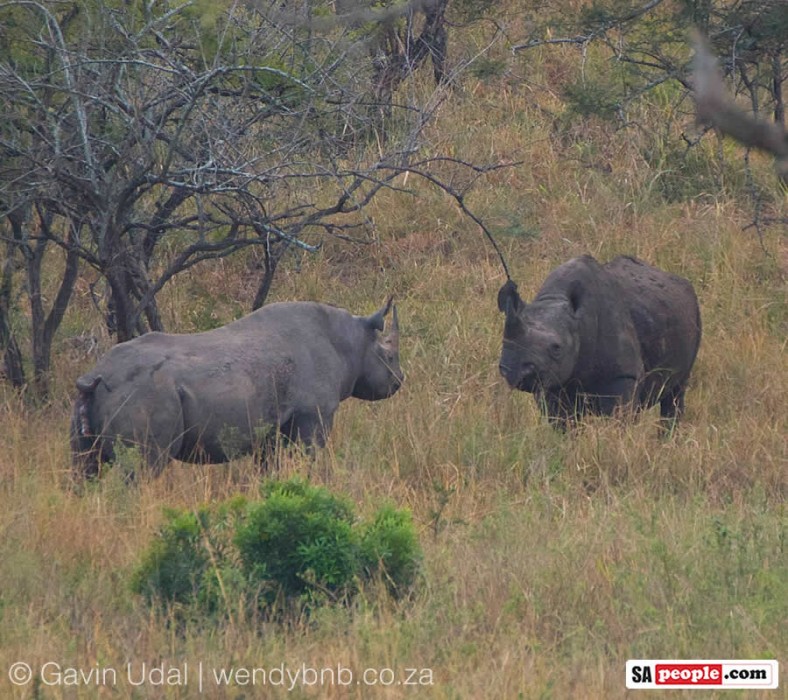 She had this total feminine forbearance that made me feel awkward in her presence and at a loss for words. The red lipped oxpeckers walked so gently on her back and nudged her gently for non existent ticks. I stood transfixed by cupid's lance and only the woodland kingfisher's cry brought me back to reality.
I still kept silent and let her beauty consume my doubts and questioning emotions. It was she who broke the ice and greeted me. It was the most amazing Angelic voice I have ever heard. Its sound simply ravished me and dispelled any remaining doubts I might have had. I knew that for her I could jump into the sky say hello to the blue moon, kiss it and still be back undaunted for supper.
I knew I had unfinished business to settle; and that is the matter of my rival for her affections. I will not bother you with the details of that encounter. It's salient details have been well chronicled by Ralph Sibande. Let it suffice that I had put the fear of God into the heart of that infernal and presumptuous coward. For now I stand unchallenged and sole Victor Ludorum of my lady's affections.
Today I have the attention of my love all to myself. And I looked into her eyes and saw the endless sea of our love stretching into the beyond where sea and sky meet into the endless twilight.
Yes we rhinos do not kiss, we osculate. Her breath smelled of fresh lemon grass and spicy herbs and I took it all in and felt the world come to a standstill and worship at the door of my heart.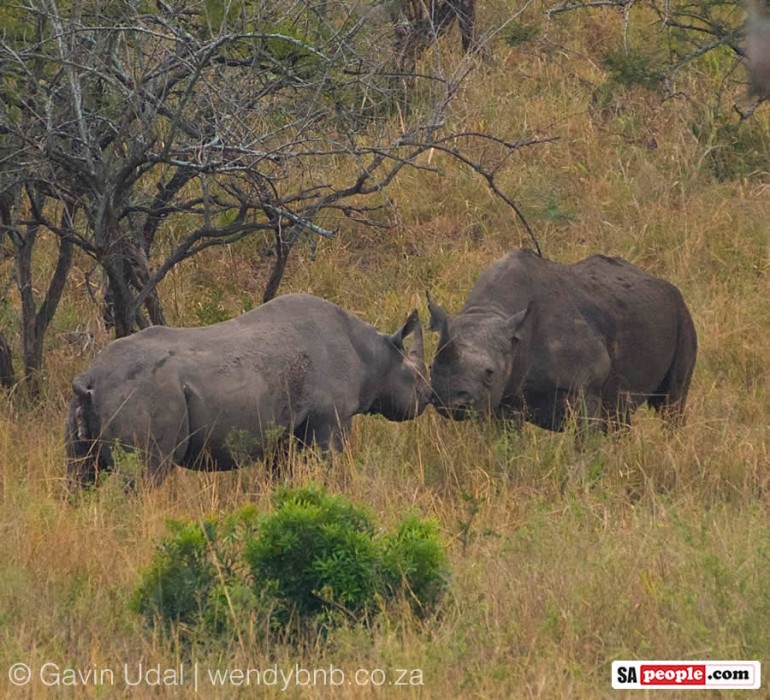 I would not bother you with all the details of our dalliance in our romantic rustic enclave. She smiled and that was all I wanted to see and know.
Let the world sing of Rhuda and Rhumba. We dared to love in spite of all the tragedy following our folks.
© story Ralph Sibande and images by Gavin Udal.
***
Wendy's Country Lodge is situated in the heart of KwaZulu-Natal's "Mtubatuba" which is the gateway to the Isimangaliso Wetlands and the Hluhluwe/iMfolozi Game Parks. The lodge offers game drives into the Hluhluwe/iMfolozi Game Parks and Isimangaliso Wetland park where visitors can experience a breakfast in the bush, whilst enjoying great viewing, magnificent scenery & the BIG Five.
www.WendyBNB.co.za | https://www.facebook.com/wendys.countrylodge