Comedy Central has today released its first video teaser introducing The Daily Show with Trevor Noah.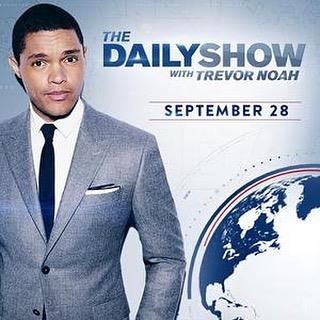 The video shows a very cool and suited-up Trevor Noah strutting in to the 'The Daily Show' studio…and readying his seat for the take-over on 28 September 2015.
As the video says, it's the same seat his predecessor Jon Stewart used to sit on…
According to Comedy Central, Trevor wil be the host, executive producer and writer of Comedy Central's Emmy® and Peabody® Award-winning "The Daily Show," when it premieres at the end of September.
The countdown has certainly begun and Trevor is probably counting how many more sleeps it is right now. An hour ago, he uploaded a Daily Show photo of himself with the message: "Let's Go."
And then he uploaded the video below…
WATCH VIDEO: Introducing The Daily Show with Trevor Noah
Uploaded to YouTube by Comedy Central: "Trevor Noah readies his seat at The Daily Show, where he takes over as host starting September 28 at 11/10c."
https://youtu.be/EagQVJuM-K0
Trevor first joined The Daily Show in 2014 as a contributor. He made his U.S. television debut in 2012 on "The Tonight Show with Jay Leno" and has also appeared on "Late Show with David Letterman," becoming the first South African stand-up comedian to appear on either late-night show. Noah has hosted numerous television shows, including his own late-night talk show in his native country, "Tonight with Trevor Noah."
The comedian, who grew up in Soweto, was featured on the October 2014 cover of GQ South Africa and has been profiled in Rolling Stone, Newsweek and The Wall Street Journal, and by CNN and NPR's Talk of the Nation, among others. He continues to tour all over the world and has performed in front of sold-out crowds at the Hammersmith Apollo in London and the Sydney Opera House in Australia.