JOHANNESBURG – South African companies are more likely than their counterparts abroad to stay away from potentially corrupt deals and will pull out of a deal they discover is corrupt even if they have already invested in it, but also feel strongly that not paying a bribe could hurt business, according to a new survey.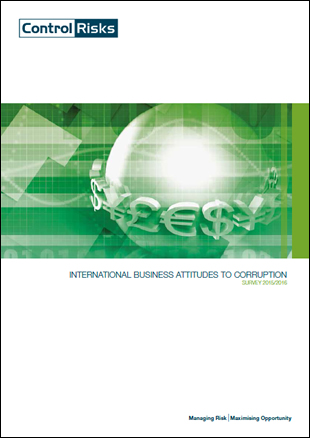 The annual 'International attitudes to corruption' survey is published by Control Risks, a global business risk consultancy with 36 offices around the world, according to its website.
As far as paying bribes goes – or what the survey refers to as 'facilitation payments' – it was found that 36 percent of South Africans say refusal to pay them leads to major costs, and 10 percent (the highest among countries surveyed) say business would grind to a halt if they didn't pay.
"However," adds Control Risks, "respondents may have been thinking of their international operations elsewhere in sub-Saharan Africa, not necessarily their home country."
Thirty-six percent of South Africans believe there would be major delays if these facilitation payments were not paid, a figure equalled only by Indonesia. In Nigeria, which came out highest, it was 48 percent.
The company said in a statement on Monday that the survey was carried out among over 800 senior legal and compliance professionals around the world to find out if multinational organisations were sufficiently prepared to manage the complex governance and compliance environment they face today – or whether those responsible for anti-corruption and compliance initiatives are finding it hard to keep pace with global regulations and struggle to protect their businesses across all markets in which they operate.
The survey found that 55 percent of South African companies surveyed say they avoid certain countries if the corruption risk is perceived to be too high. Sixty-one percent have already pulled out of a deal at least once due to the risk of corruption, despite already having invested time and money. This is much higher than the global average of 41 percent, Control Risks said.
"This risk-averse approach is underlined by other strong prevention measures: 54 percent of South African companies have procedures in place for corruption risk assessment (global average is only 39 percent) and 57 percent have a standard procedure for integrity due diligence on business partners."
The survey also found that 85 percent of South African respondents believe anti-corruption laws improve the business environment for everyone.
"Although many challenges remain, this is higher than the global average of 81 percent which is a positive indicator of changing attitudes to corruption," Control Risks said.