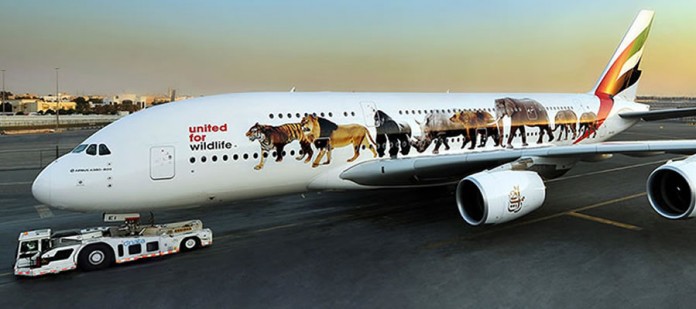 The anti-poaching wildlife message goes sky-high this week as two Emirates A380 jets take off wearing special livery featuring endangered species…in support of United for Wildlife (a global collaboration of seven of the world's leading wildlife charities).


According to a statement today from Emirates in Dubai, the livery – which features some of the animals threatened by poaching and illegal wildlife trade – aims to raise awareness of the illegal trade and communicate the need for urgent action.
The stats are endless and tragic. Over 1,290 rhino were poached in Africa during 2014. About 30,000 African elephants are killed by poachers each year. The pangolin is the world's most-trafficked mammal – over a million are estimated to have been poached in the last decade.
Lord Hague of Richmond, Chair of the United for Wildlife Transport Taskforce said: "This is more than just an environmental issue. The illegal wildlife trade is now recognized as a serious and organised transnational crime. It drives corruption, is linked to money laundering and can damage economic development in many of the world's poorest countries and communities."
Park rangers are often ill-equipped against poaching syndicates who have increased their activities and enhanced their equipment (now using helicopters, veterinary drugs, night vision equipment).
Over 1,000 rangers are estimated to have been killed in ten years while protecting wildlife.
Lord Hague said: "It will take a concerted effort, involving not only effective deterrents against poaching and smuggling, and vigilance in policing and punishing these crimes, but also efforts to increase consumer education to cut demand to protect these animals for the future."
Last week the US House of Representatives passed an anti-poaching bill making trafficking easier to prosecute.
Sir Tim Clark, President Emirates Airline said the "unprecedented spike" in illegal wildlife trade has put the world in a "global poaching crisis, and everyone has to do their part to stop this, before it is too late.
"Emirates believes that the global transport industry, including airlines, can play a significant role to break the supply chain of illegal wildlife trade."
Consumers too, can contribute in a big way, by boycotting products made from the parts of these endangered animals and discouraging others from doing so.
The first A380 departed for London yesterday and a second will operate to Mauritius on Thursday 5 November, each wearing a different design featuring endangered wildlife.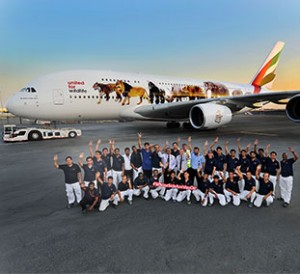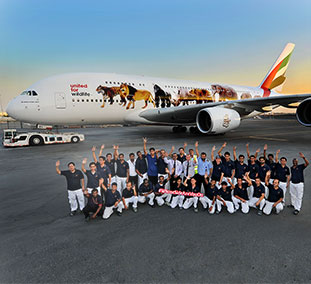 The decal on the first flight featured six endangered species, while the second flight will feature a decal with rhinos and elephants.
The larger of the two designs span over 42.5 metres in length and 6.2 metres in width, and weighs 70kg.
Both are the largest decals the airline has put on any aircraft, and took a team of 28 people 2.5 days to apply the decals on one A380, or approximately 900 man hours per aircraft.
Emirates will also run regular feature stories about wildlife protection in its inflight magazines, and showcase podcast interviews, wildlife programming and feature films on its inflight entertainment system.
The airline says it is also collaborating with international organisations to train and better equip its ground and cargo staff to detect and deal with illegal wildlife products in transit. As the required paperwork for movement of some wildlife products is often forged, Emirates also made the decision to ban trophy shipments.
Watch Video: Timelapse of the "United for Wildlife" Airbus A380 | Emirates Airline
#WhoseSideAreYouOn
MORE
www.unitedforwildlife.org