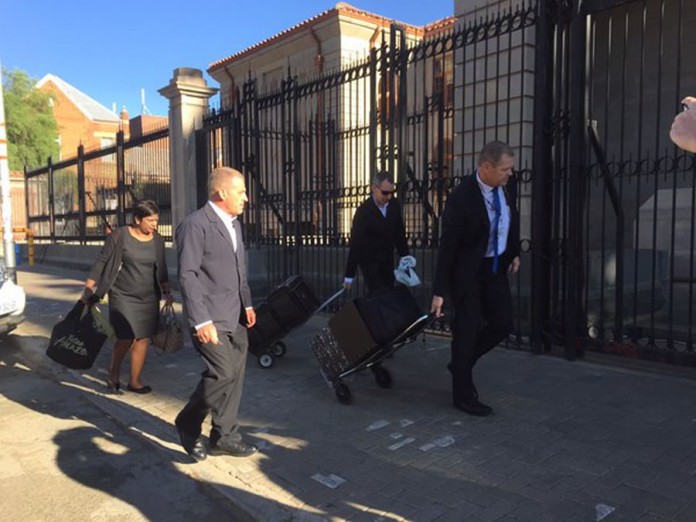 South African state prosecutors lodged an appeal today, in the SA Supreme Court of Appeal in Bloemfontein, for a murder conviction for Oscar Pistorius.
The former Olympic and Paralympic athlete is currently under house arrest, after being found guilty of culpable homicide in the killing of his then girlfriend, Reeva Steenkamp, on Valentine's Day 2013.
Chief Prosecutor Gerrie Nel made it clear the State is not arguing that Oscar deliberately killed Reeva, but that he aimed to kill the human behind the door.
The five judges will now consider their verdict. It could take several weeks. The ruling will rely on a majority decision. Their options are to reject the appeal, order a retrial or deliver a new verdict. Nel requested the latter, saying that neither State nor Defence "has the stomach" for a retrial.
According to reports, microphones in court picked up Oscar's defence advocate Barry Roux saying – after proceedings – that he is going to lose, or specifically "Dat ek gaan verloor is feit". Although media outlets are reporting on the overheard comment, it is uncertain to what exactly he was referring.
Barry Bateman, senior reporter for Eyewitness News, has also pointed out that audio recordings of discussions between legal representatives can lead to contempt of court (see his tweet below.)
Gerrie Nel tweeted: "When will they tell me that i've won? #OscarPistorius"
Nel argued today that trial judge Thokozile Masipe had been wrong to find Pistorius not guilty of murder and that she had been incorrect in her application of the principle of dolus eventualis. He said since she accepted Pistorius' claim that he thought Reeva was in bed, this then meant he had criminal intent to bring about the demise of whoever was behind the door.
Nel said Masipe was wrong to dismiss circumstantial evidence (such as gastric contents, which he said proved Oscar's version of events was not possible), and that she erred in her conclusion that Pistorius didn't foresee that firing four shots through the door was likely to cause the death or injury of the person in the toilet.
During questioning by Judge Leach, Roux was asked: "there was no place to hide in there…if you put four shots through that door, you must surely see you will shoot someone".
Leach also said "the issue was not whether Reeva was behind the door, the issue is that he knew there was a person behind the door". He said Oscar didn't know if that person was a 12-year-old child or someone with a machine gun, and asked Roux if there was anyting "apart from the noise" that showed Pistorius his life was in danger. Leach also noted that while Masipe had found Oscar to be a "poor witness", she also then "finds he genuinely entertained the idea his life was in danger."
Roux stressed Pistorius' state of mind rules out murder – that he was filled with anxiety and vulnerability, on his stumps, and terrified.
The live broadcast below is now over.
Barry Bateman tweet:
It's worth noting SCA Practice Note 1/2009, point 8 (a) and (b) as well as point 9. pic.twitter.com/yNOPhi2ss3

— Barry Bateman (@barrybateman) November 3, 2015