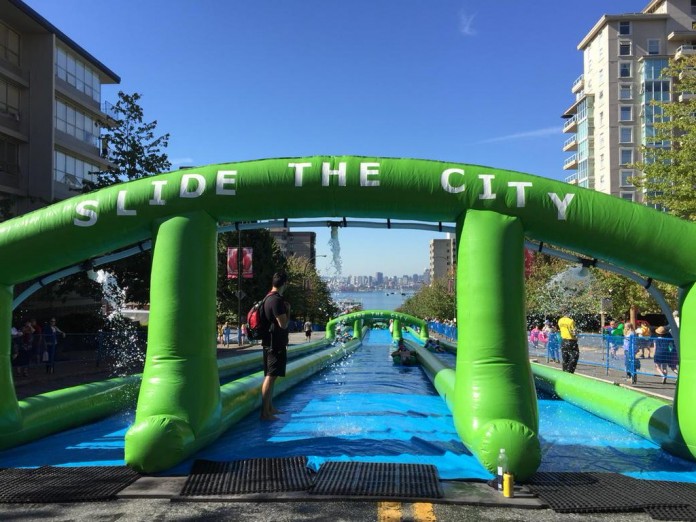 As weather predictions mount of a serious drought hitting numerous parts of South Africa, people are starting to ask whether a massive international water slide event scheduled to take place in a number of cities should go ahead.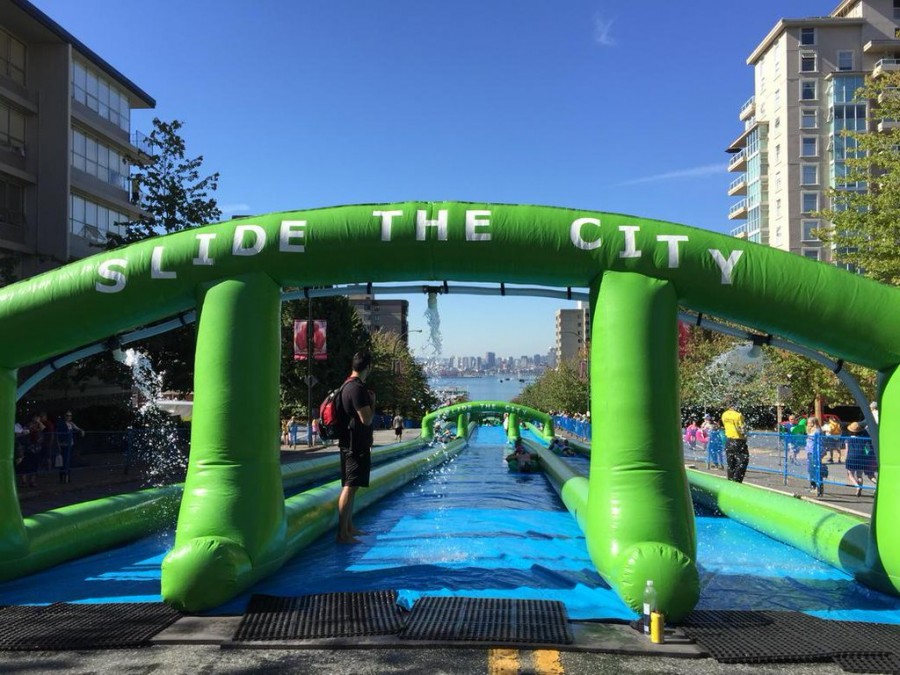 The event organisers, Slide the City, have given assurances that they take water conservation seriously, and a website in Cape Town – which is scheduled to have two Slide the City events between December and February – has called the petitioners "party pooper police".
Slide the City events in various places were cancelled during the northern hemisphere summer of 2015 – in Seattle, Washington, Wembley, England, and Flint, Michigan, although mostly for reasons other than water concerns. Some, such as in Nanaimo, Vancouver Island, Canada, were called off because of drought conditions.
In September 2014, according to news reports, Los Angeles denied Slide the City a permit for its already sold-out event, citing local concern over water waste in the face of California's particularly devastating drought. Numerous petitions were circulated online at the time.
For the South Africa events, a 304-metre three-lane slide down an an actual street, ending in a 26-metre pool, will be erected around the country – on Knysna, Port Elizabeth, Johannesburg, Nelspruit, Ballito, Pretoria and Cape Town – between December and February. Tickets range from R99 for one slide to R490 for the whole day.
One anti-waterslide petition in South Africa, on Care2 thepeititionsite.com, says that since the country is going through a water crisis, holding this kind of event "is definitely not going to help".
"Citizens are being told to use water responsibly and sparingly, to understand the value of water, BUT at the same time Government is allowing an event to take place using 30,000 to 40,000 liters of water per event." According to Slide the City, the average household pool (which it puts at 5m x 5m x 1.5m deep) holds about 37,500 litres. A news report at the time of the cancellation of the Nanaimo event in Canada, however, said the same size slide to be used locally used 300,000 litres of water.
The Care2 petition said "water shedding" is taking place in parts of KwaZulu-Natal as a result of drought and the rest of SA is not far behind. On Tuesday, Johannesburg was the latest metropolitan area to declare water restrictions. The Care2 petition has already got over 5,000 signatures.
Slide the City, which has taken place in England, Canada, Australia and the US, said on its website that the water will come from a variety of sources, such as a borehole in Ballito, KwaZulu Natal, to the fire departments of various cities, and that it is filtrated and returned after usage.
"We are committed to having zero environmental impact on the communities we're in," one of its representatives said in a news report. "We want to provide a safe and sustainable experience for all of our participants and therefore one of our main concerns is responsible water usage."