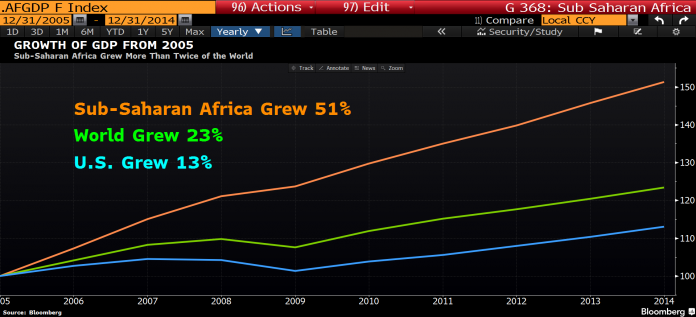 Yes, the rand is plunging, unemployment is rocketing and the country's debt is increasing, but South Africa remains one of the countries in sub-Saharan Africa that has been growing faster than other countries around the world, according to a new report.
The report by financial news agency Bloomberg on Tuesday, compiled from various data since 2005, said that South Africa's Gross Domestic Product of $328 billion is 28 percent greater than it was 10 years ago, when it was equivalent to Denmark and Greece. While Denmark expanded 1.4 percent since then and the Greece contracted 18 percent, South Africa today is a much bigger economy, the report said.
It added that since 2005, the GDP of the 11 largest sub-Saharan countries increased 51 percent, more than twice the world's 23 percent and almost four times the 13 percent expansion of the US.
It said the robust expansion has been accompanied by stabilizing inflation on the African continent, with the consumer price index for all of Africa declining to 7.8 percent from more than 13 percent in 2008, and the continent's CPI remaining less than 8 percent since 2013. Kenyan and Nigerian government debt has been outperforming most of the world's, the report added.
When the benchmark government bonds of 32 countries in the emerging markets are compared since 2010, it said, "South Africa is the only big loser among the sub-Saharan countries, mostly because its currency, the rand, declined 51 percent".
The report said part of Africa's expansion can be explained by a massive population growth since 2000 of 41 percent, next to India's 23 percent and the world's 25.8 percent. In South Africa, it is 28 percent. Global investors, the report said, are focusing on these new consumers, which has helped the five major industries there outperform their peers in emerging markets since June 2014, when oil began a 58 percent plunge.
The report was hardly rosy about South Africa's prospects, however. It went on to say: "The government of President Jacob Zuma is lurching from one crisis to the next. The economy is hamstrung by a shortage of electricity, a hangover from decades of under-investment in new generation capacity. Prices of gold and platinum – vital exports – have plunged.
"The government increased personal income taxes to avoid having the country's credit rating cut to junk. The public schools system, ranked among the world's most useless, leaves millions of youths without marketable skills. Mobs have attacked foreigners who are seen as competitors for jobs.
"Zuma has batted away a series of corruption scandals, including allegations that he used taxpayer money to build a swimming pool and enclosures for cattle and chickens at his private home. Police violence has been a recurring issue. In October, anger over rising tuition costs and persistent poverty levels led to the largest protests by South African university students in the post-apartheid era."