Madiba could be closing down.
The first totally South African restaurant in New York, it opened 17 years ago in an area – Fort Greene, Brooklyn – that was way off of everyone's map. And for a long time it did very well. Any South African in New York was invariably asked, "Have you been to Madiba?"
But that might not be for long. The owner of the restaurant, Mark Henegan, has started a "Save Madiba" campaign on Indiegogo to raise $200,000 to keep the restaurant going. (By Wednesday, $12,700 had been pledged, with 49 days to go.) Already, according to a news report this week, Henegen has had to close down Madiba restaurants in Miami, North Carolina and one that opened recently in Harlem, New York.
The flagship restaurant in New York – which Henegan, a South African chef, opened in 1999 in homage to Mandela – however, has always been the most successful, but it is probably a victim of its own success. Fort Greene has become one of the most sought-after areas in New York, and Madiba is one of the reasons, for it was a destination eatery where there were few others.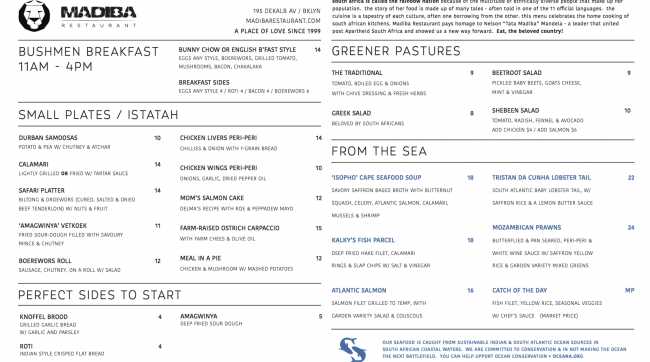 But as the eating options in the area have multiplied like crazy, Madiba has become one of many. And South African food – though some of us might love it – isn't something Americans immediately think of when the other options are Thai, Italian, French, American, and so on. Also, restaurants in New York are known to have a short lifespan – 10 years is considered fantastic, according to various surveys – so 16 years is actually a very long time.
At the same time, other South African-centric eateries have also opened in New York City, including Kaia Wine Bar, Braai, Xai Xai, so heading out to Brooklyn is no long necessary for Manhattanites.
In its campaign, Madiba is reminding people of the role a South African restaurant has played in getting the public to this part of Brooklyn. The restaurant has always been a socially aware neighbour, contributing to local upliftment programmes and hosting events that promote Africa, especially its musicians.
"I'm getting to the point where I know that I'm going to lose the restaurant," Henegan was reported as saying this week. "The idea that Madiba can actually go out of business – it kind of just hit me."
Henegan wrote on Indiegogo: "We know that Madiba has become your second home…We want to continue to offer the menu, experience and support that have put us on the global map. We encourage you to still come and dine with us, as any support will help to protect our future."
Madiba serves dishes like bobotie, oxtail stew and samoosas, and also has a small shop to one side that sells rusks and other South African products. Contributors to the campaign will get various discounts on any future meals at Madiba.
There will be a fundraiser party at the restaurant on 16 December.