The Mall of Africa will open its doors on Thursday, 28 April.

It is the biggest mall built in a single phase in South Africa/Southern Africa/Africa, depending on which website you read.

Construction consumed 10 million bricks and 8,500 tons of steel.

A flotilla of cranes during early construction of the mall. Photos by Mall of Africa and Waterfall.

It is located in Waterfall, a new living, working, retail area between Johannesburg and Pretoria, on a 2,200-hectare tract of land triangulated between Woodmead, Kyalami and Midrand, formerly known as the farm Waterval. Its creators call Waterfall "a city developed on a scale beyond anything South Africa has known".

It is reached via the new Allandale Road exit off of the N1, as well as the new Bridal Veil Road overpass bridge, which was built at a cost of R160 million and will create a new east-west transport axis. It is also close to the Gautrain's Midrand station.

It has been under construction for three years and has cost an estimated R5 billion.

It is 130,000 square metres in size and has parking for 65,000 cars.

Next-door is the 26-story PwC Tower, which is visible from a 30-kilometre radius.

Between the mall and the PwC Tower is Waterfall Park, which the developers say was inspired by Central Park, with a fountain, 232 trees, bicycle and foot paths, eight interactive sculptures, three amphitheatres and a ring road.

An artist's vision of the completed Waterfall Park.

There are over 300 stores in the mall, from Armani to Zara (with Starbucks opening its second store in South Africa there), accessible by 40 escalators.

Inside the mall as it nears completion.

The first international brands to open stores in South Africa will do it at the Mall of Africa, including Armani Exchange, Helly Hansen, Asics, Zara Home, The Kooples, Under Armour, Women'secret and Soap Stories.

The inside decor takes its inspiration from the forests of central Africa, the great lakes in the east of the continent, the oil and trade of the west, the sand of the North African desert and the mineral wealth of southern Africa.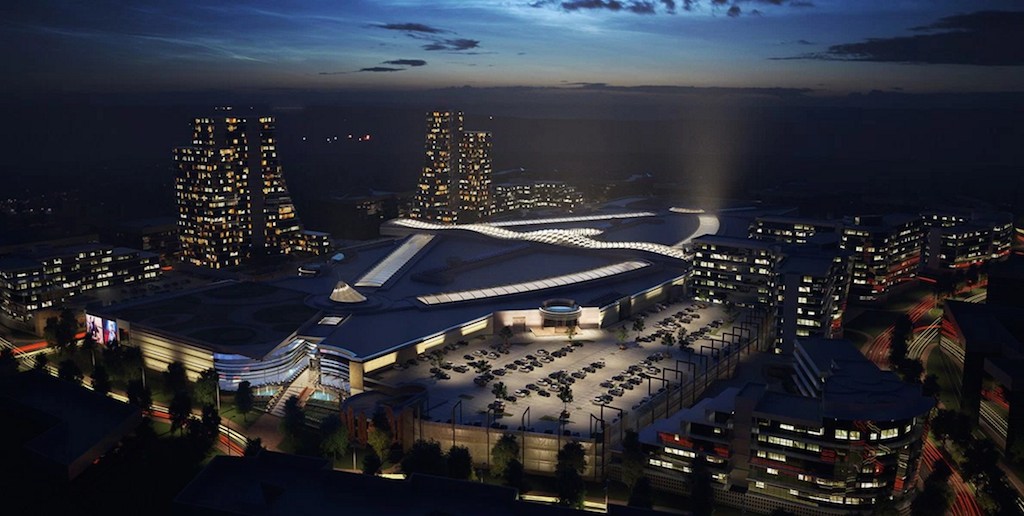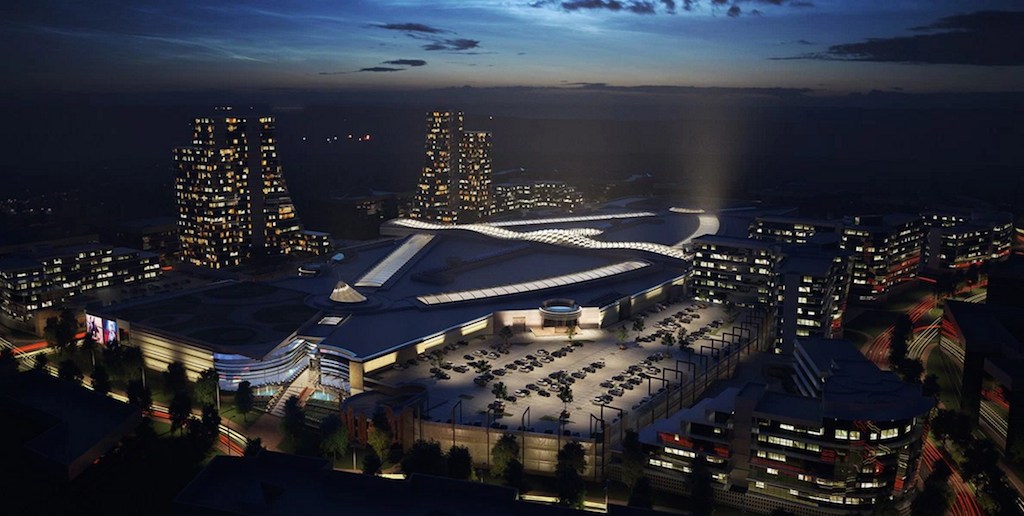 Watch a time-lapse video of the construction of the PwC Tower and the Mall of Africa: