South African athlete Wayde van Niekerk has won the 400m in Rome, Italy, this evening. In an interview this week he said his focus now is on the 400m… and he meant it!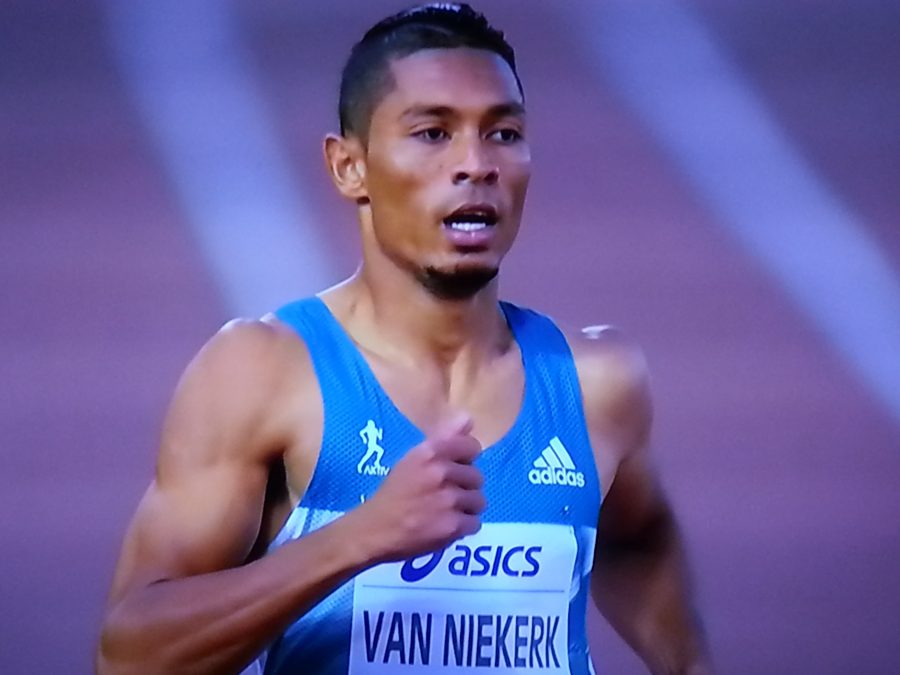 Wayde – who made sprinting history in March when he became the first man to ever run faster than 10 seconds for 100m, 20 seconds for 200m and 44 seconds for 400m – told the International Association of Athletics Federations (IAAF) ahead of today's race that "maybe in the future I'll start considering the 100 and 200m but for now I'm completely focused on the 400m."
He said "I fell in love with the sport through the 100m/200m, but I see the 400m as an extra blessing."
Arriving in Rome earlier this week for the 2016 IAAF Diamond League, Wayde tweeted a video of the Coliseum along with the inspiring words: "Rome was not built in a day. Neither is the dream."
The 23-year-old sportsman, who won gold in the 400m in Beijing last year, completed the 400m today with a time of 44'19".
Bralon Taplin of Grenada came second (44'43") and fellow African Isaac Makwala of Botswana came third (44'85").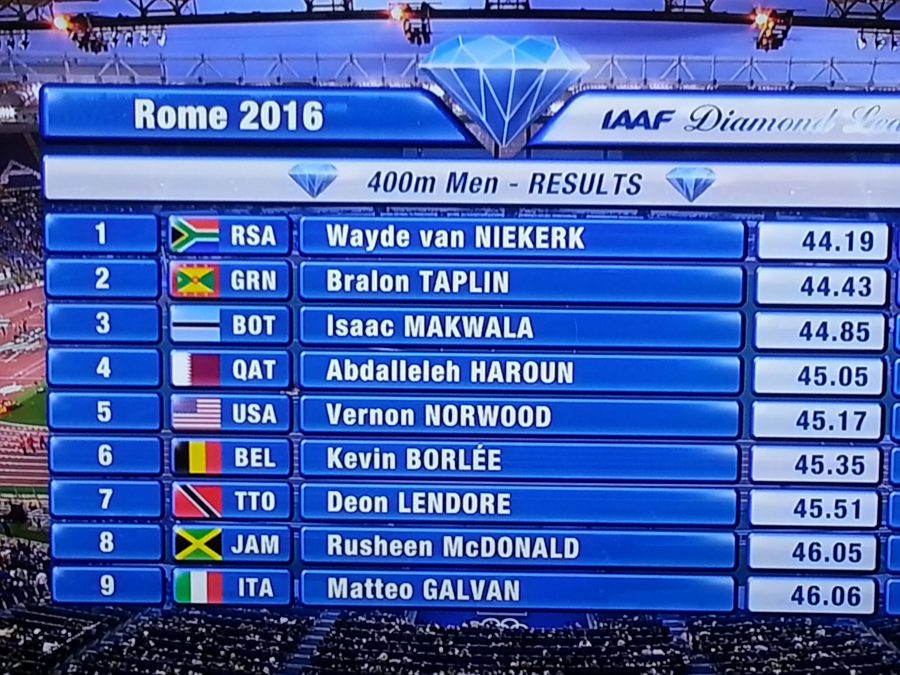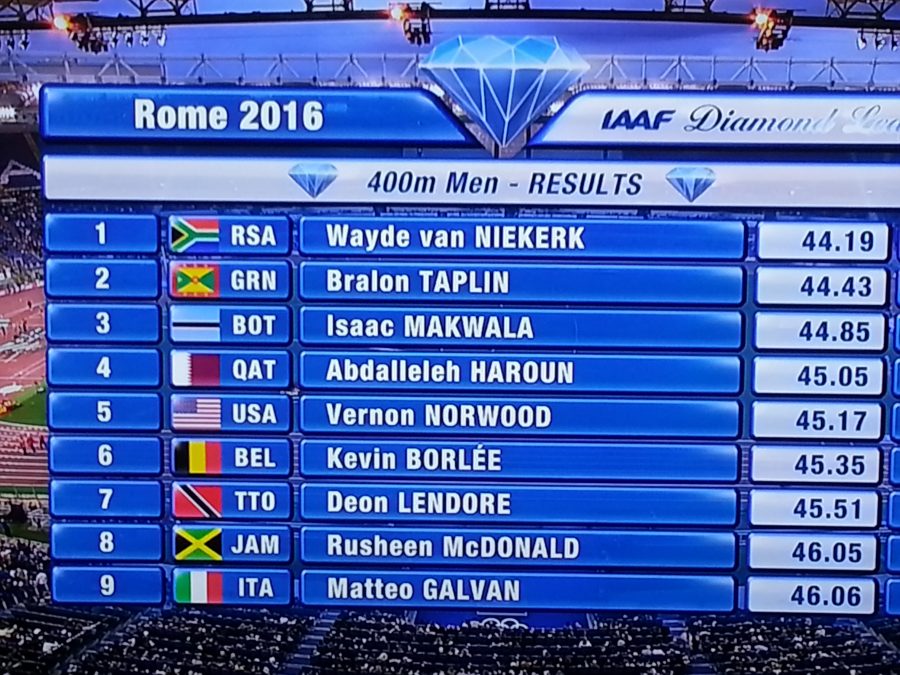 Afterwards Wayde said "it took me a while to recover after the race. It was a challenge, but I am glad I won."
The 10 #DiamondRace points he earned from his win, move him into second position behind Lashawn Merritt (20 points).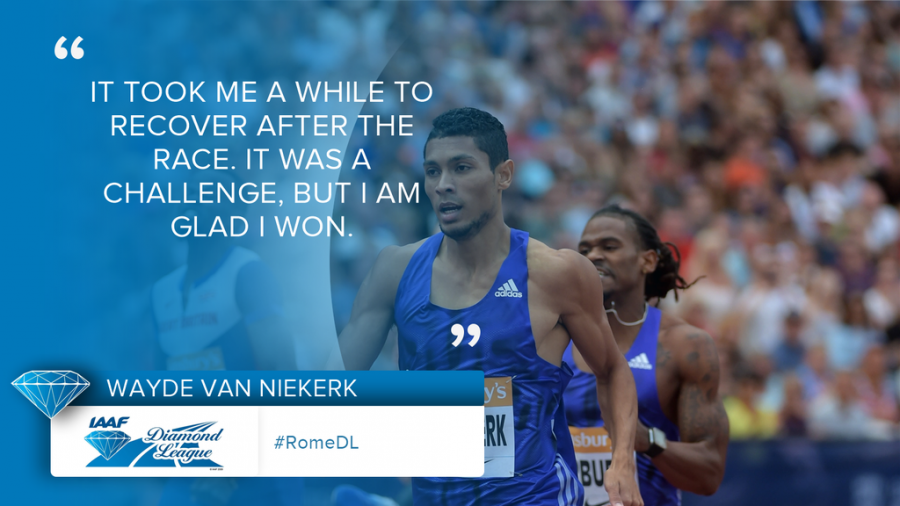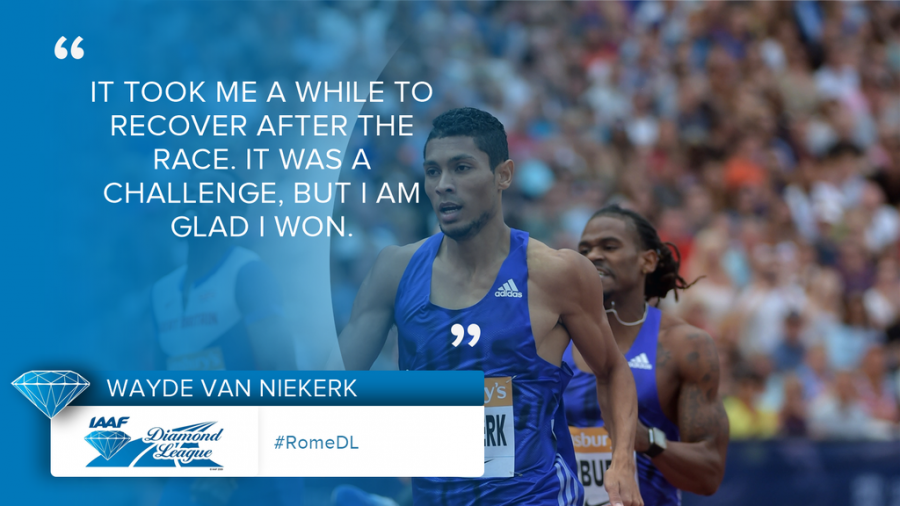 Wayde will reportedly be training in Jamaica later this month with Usain Bolt's coach, Glen Mills, before the Rio Olympics.
The South African has certainly got off to a great start in accomplishing his wish for the European season to help him "build up some good momentum" for the Olympics!
"Rome was not built in a day. Neither is the dream."
About ten days ago, Wayde proved he's a winner off the track too when he donated half a million rand to Newborns Groote Schuur Trust in South Africa. It's a cause close to his heart as he was delivered prematurely, at just 29 weeks, weighing less than 2kg at birth.
Today, miraculously, and with a lot of hard work and training – he's the fourth fasted 400m champion in history… #GoWayde #Inspiration!
Watch Video: Wayde van Niekerk wins Gold in 400m Rome DL
MORE
Watch Caster Semenya win Gold… plus Gold for Sunette Viljoen! #GoSouthAfrica