In a joint statement Wednesday from SA Rugby and the ANC Youth League it was confirmed that plans to disrupt Springbok Test matches have been cancelled, as a result of "positive engagements between the two bodies".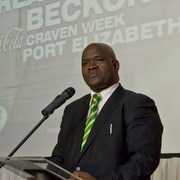 ANC Youth League Secretary General Njabulo Nzuza said that although rugby still had much work to do, his organisation had been reassured of SA Rugby's intentions and commitment following a presentation to the League by SA Rugby.
The ANCYL has rigorously engaged with SA Rugby on the memorandum to them on the pace of transformation in rugby in South Africa. Nzuza said the ANCYL had gone in search of answers because this is a very serious and important issue for the Youth.
"After an intense and exhaustive dialogue on the current situation in rugby, we were reassured that SA Rugby takes this matter as seriously as the ANCYL and that steps have been put in place to ensure that transformation continues apace in the game.
"We have further noted that the current Springbok squad is the most transformed in history and Teboho Mohoje has been named as captain of the South Africa 'A' team this week.
"SA Rugby demonstrated where progress has been made and on that basis we are happy to throw our full weight behind the Springboks and put off our plans to disrupt matches. We have provided SA Rugby with recommendations on Youth engagement and will continue this conversation with SA Rugby."
Khaya Mayedwa, Senior Manager Government and Stakeholder Relations at SA Rugby, said: "We had a healthy and at times robust conversation with the Youth League, but there was also a meeting of minds.
"We had the opportunity to explain just how far SA Rugby has come in recent years and discuss the details of our Strategic Transformation Plan, which is a road map for the sport at all levels to 2019. We believe that SA Rugby has a good story to tell and we welcomed the engagement with the ANCYL to bring them up to speed with our progress."