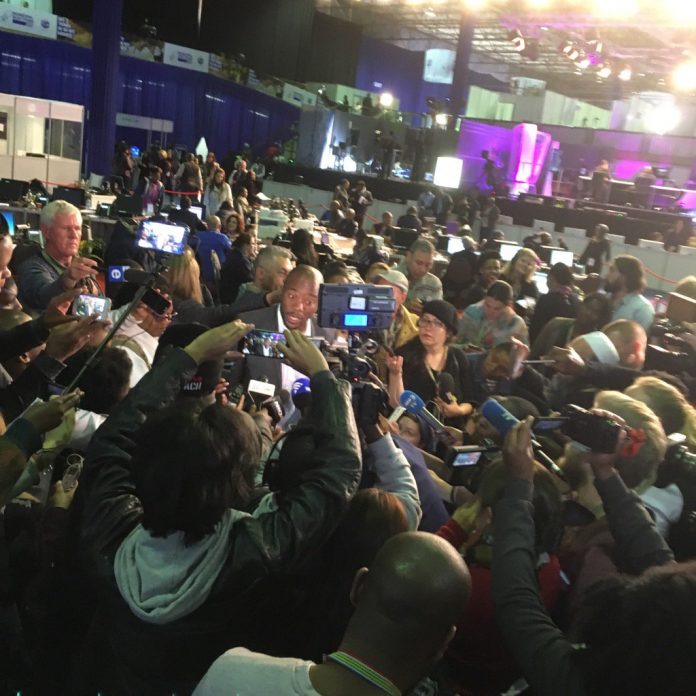 JOHANNESBURG (Updated at 15h45 local time.) – As the votes are tallied South African opposition party, the Democratic Alliance (DA), is currently leading in Johannesburg and Nelson Mandela Bay but has dropped to a tie with the ANC in Tshwane. All three are key districts which were previously held by the African National Congress (ANC). The ANC still leads nationwide.

By 15h45 Thursday  afternoon, eThekwini (Durban municipality) had still not posted any results. In a tweet from the IEC, the electoral body said: "We appeal for your patience to allow the accurate capturing & independent auditing in Ethekwini to follow due process.  Update – results have started coming in and the ANC leads with 46 percent.
Results are still coming in from around the country. Currently the ruling party, the ANC, had 53.9% of the votes, the DA 26.89% and the Economic Freedom Fighters (EFF) 7.58% with the Inkatha Freedom Party (IFP) at 5%.
A provincial breakdown shows that the ANC has overtaken the DA (which was in the lead this morning) in Gauteng and currently leads with over 44.2% votes followed by the DA at 40.48% and the EFF with around 10%.
In Joburg – the DA leads 43.9%, followed by the ANC at 42.6% and the EFF with just over 10%. In Tshwane the DA and ANC are currently battling it out neck and neck at 42.96% each (where just a couple of hours ago the DA had a lead of over 5%), with the EFF trailing at just over 10%.
@MmusiMaimane Mobbed by Journalists at IEC national results centre pic.twitter.com/drmJezBpq3

— Mike Moriarty (@MoriartyGPDA) August 4, 2016
The DA is also leading in its traditional stronghold the Western Cape with 64.1%, and the ANC follows with 25.12%.
In the Eastern Cape, the ANC is leading at 65.77% although the DA leads in Nelson Mandela Bay at 50.13%. The ANC trails at 39.07%, and has also lost Kouga Municipality to the DA.
The ANC is leading in KwaZulu-Natal, Limpopop, the Northern Cape, Free State, North West and in Mpumalanga.
Despite the cold winter chill, the National Results Operational Centre (ROC) in Pretoria is a hive of activity.
The IFP have retained Zuma's hometown Nkandla with a bigger win (56%) than in the 2011 elections.
Vote counting continues and full results will probably only be announced Friday.