South Africa's controversial def rap group, Die Antwoord, have accused hit movie – "Suicide Squad" – of copying them, basing the movie's lead characters on the band's
¥o-Landi Vi$$er and Ninja. 
In an outraged message on Instagram, Yolandi accused the director, David Ayer, of ripping off Die Antwoord's style for the smash hit movie (which has recorded the highest August opening in history – $133,7-million.
Her accompanying video portrays the similarities between Die Antwoord and the movie's characters – Joker (Jared Leto) and Harley Quinn (Margot Robbie).
Yolandi addressed the message to Ayer, accusing him of callingup Ninja before the movie came out "pretendin 2b down, so it looks OK when u bite our black & white graf style & our opening sequence". She also reveals that supermodel Cara Delevingne (with whom Die Antwoord have filmed a music video) and Leto had told Die Antwoord how much Ayer was talking about the duo on set… "but u never asked our permision to rip us off".
Ayer has not yet responded to a message Ninja apparently sent him, nor to media reports.
Some on Twitter have claimed that Die Antwoord themselves copied comicbook characters to create their own persona, and back in 2012 their video for their Tension album was removed after copyright claims from 'The Butcher Boys'.
Die Antwoord has battled it out with famous people before. A couple of years back they not only famously turned down Lady Gaga's invitation to support her during her tour of South Africa – but created a spoof video "Hey Fatty Boom Boom" making fun of her.
Die Antwoord are currently touring Europe during August, then the USA in September and October before heading to Australia at the end of December.
On Instagram – Yolandi's Message to Suicide Squad director:
If your device cannot view the above message – here is a screenshot: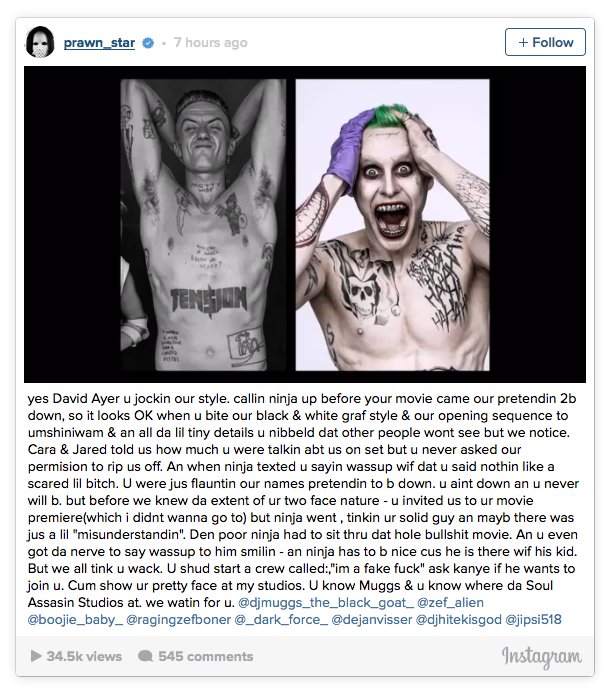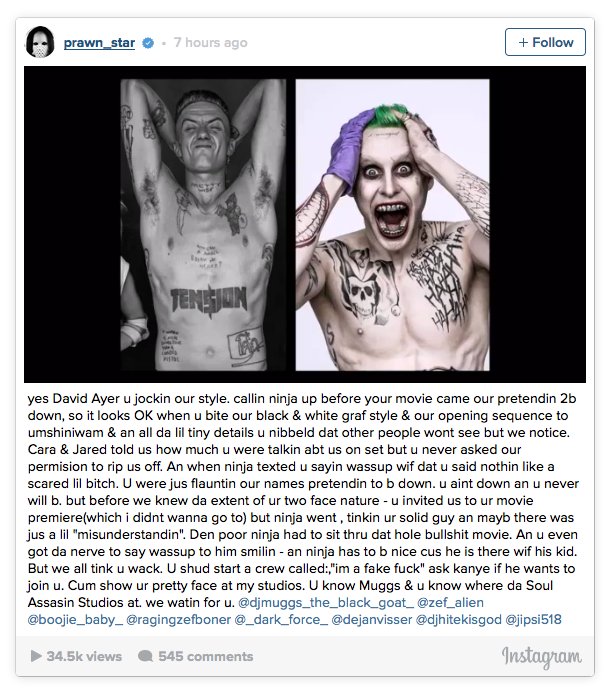 On Twitter:
Suicide Squad Director Gets Called Out By Die Antwoord For Jocking Their Style – https://t.co/IjVDqPeGTe pic.twitter.com/HGmzMhkfW6

— ComicBook NOW! (@ComicBookNOW) August 10, 2016
The irony is that Die Antwoord won't answer nor reply to this tweet… https://t.co/41gJZTazRg

— Mr Ruele (@MrRuele) August 10, 2016
Watch Video: Die Antwoord's next release is in September
Watch Video: I fink u Freeky by Die Antwoord
https://youtu.be/uLyhb5iG-5g