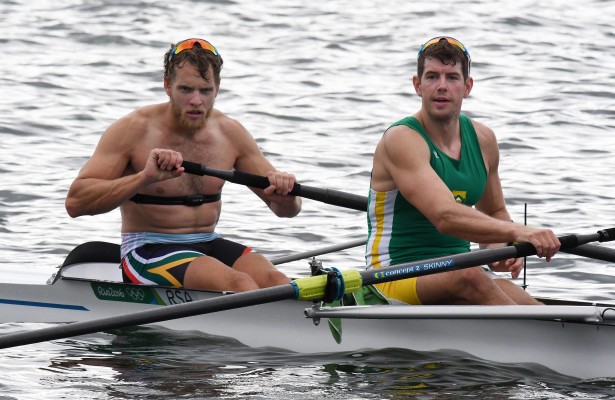 South African rowers Lawrence Brittain and Shaun Keeling have finished second to win another silver for Team SA, joining swimmers Chad le Clos and Cameron van der Burgh as SA medallists at the Rio Olympics in Brazil.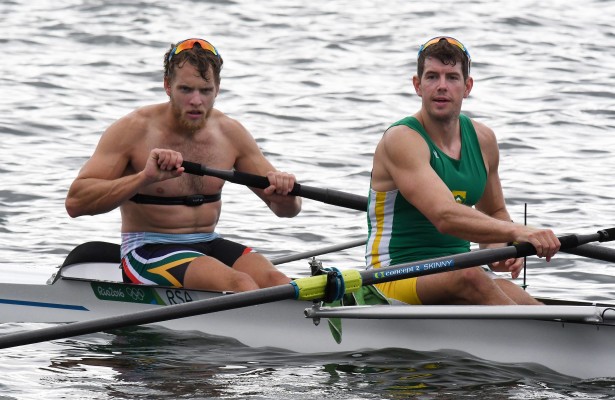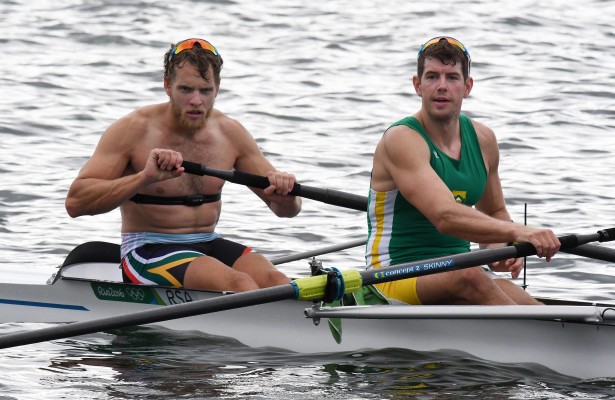 SASCOC's Gary Lemke said: "Eric Murray and Hamish Bond haven't been beaten in nine years and the New Zealanders are one of the dominant acts in sport. But they were pushed hard in the last 200m as South Africa's Brittain and Keeling threw everything at them and were closing fast at the line.
"Brittain and Keeling had made a fast start from lane one and led through 500m, after which New Zealand made their move and came to the front, taking a lead they never relinquished. Behind them South Africa, Great Britain and Italy were going stroke for stroke, trading places.
At halfway South Africa were fourth and out of the medals but they put the hammer down in the last 500m and surged home powerfully."
Rowing runs in the family for Brittain whose three brothers have all competed internationally. His older brother won gold at the London Olympics in the lightweight men's four. (Brittain and longtime partner Keeling just missed out on qualifying for that Olympics.)
This fantastic achievement today will be extra special for Brittain (25) who came to this, his first Olympics, less than 18 months after battling cancer (Hodgkin's lymphoma).
RT @eNCASport: SA men's rowing pair win silver at #Rio2016 https://t.co/FbqihTqw7o pic.twitter.com/t4GKWXIPCl

— eNCA (@eNCA) August 11, 2016
***
Thursday's Update from Rio 
There were six different codes being represented by Team South Africa on Thursday. Apart from South Africa picking up its third medal of the Games with Brittain and Keeling's silver in the Men's Pair final, Rowing also qualified another four boats for the rowing finals on a strong morning. Times are Rio local and in brackets is SA time.
OTHER ROWING
Women's Pair: Lee-Ann Persse and Kate Christowitz qualified for the final by finishing third in their semi in 7min 24.03sec.
In a nutshell: As expected, the South Africans found Great Britain and the United States a little too hot by the end of the 2 000m but finished a strong third of the six boats to reach the final. Persse and Christowitz were never out of the first three and in fact were chasing the GBR boat right from the start before the USA upped the tempo inside the last 500m to move into second in the quicker of the two semis. Persse and Christowitz however qualified third fastest for the final and have a real medal opportunity.
Fastest qualifiers: 1 Great Britain 7:18.69, 2 United States 7:20.93, 3 South Africa 7:24.03, 4 Denmark 7:27.56 GL
Lightweight Women's Double Sculls: Kirsten McCann and Ursula Grobler won their semi-final in 7:19.09 to qualify for the final.
In a nutshell: McCann and Grobler reached the semis by virtue of winning their heat and China and New Zealand had looked to be their toughest semi-final opponents.While China started the quickest, the South Africans were travelling well and the two boats went through halfway side by side, with New Zealand behind that. These three pulled clear of the opposition and South Africa McCann and Grobler made their move, hitting the front. South Africa held off to beat New Zealand and China and qualified for the final in fourth.
Fastest qualifiers: 1 Netherlands 7:13.93, 2 Canada 7:16.35, Ireland 7:18.24, 1 South Africa 7:19.09 GL
Lightweight Men's Double Sculls: James Thompson and John Smith won their semi-final in 6:38.01 to qualify for the final.
In a nutshell: The South Africans had caught the eye in reach the semi-finals but this is where things started to get tough. Thompson and Smith had been part of the Four that won gold in 2012 and are experienced, hardened campaigners. Norway set a cracking early pace to pull the field through 500m with South Africa, Poland and Italy virtually in a line for second. Norway went through halfway a boat length clear with Thompson and Smith leading the battle for second. Then the South Africans started to pile on the pressure and drew alongside Norway at the 1500m mark before nudging ahead to cross the line first.
Fastest qualifiers: 1 France 6:34.43, 2 United States 6:35.19, 3 Ireland 6:35.70, 4 South Africa 6:38.01 GL
Men's Four: David Hunt, Jonathan Smith, Vincent Breet and Jake Green finished second in their semi in 6:15.22 to qualify for the final.
In a nutshell: The Four had reached the semi-final by virtue of winning their repechage and were drawn in lane six of the six boats. They needed to finish on the first three. Australia drew away but South Africa stuck to their guns and dug deep inside the last 500m, determined to qualify. They did exactly that by holding off Italy for second and Hunt punched the air in delight as they hit the line in second and reached the final after their first day disappointment. GL
Still to come
GOLF
8.52am (1.52pm): Men's Strokeplay, First round: Brandon Stone
9.25am (2.25pm): Men's Strokeplay, First round: Jaco van Zyl
What to expect: Stone becomes the first South African golfing Olympian when he tees off in a group that includes Rudolfo Cazaubon (Mexico) and Bernd Wiesberger (Austria). Three threeballs later Van Zyl stand on the teebox in a group that includes Mikko Ilonen (Finland) and David Hearn (Canada). At last we're talking about golf and who is playing in Rio, rather than the Zika virus and who is not. GL
SEVENS RUGBY
3pm (8pm): Men's semi-finals: South Africa vs Great Britain
7pm (12 midnight): Men's final
What to expect: South Africa got back on track after a sloppy display against Australia in their final pool match. They met the Australians in the quarter-final later on the day and this time lightning didn't strike twice and Neil Powell's men find themselves as favourites to beat Great Britain and reach the final. A gold medal is a realistic expectation. GL
SWIMMING
1.14pm (6.14pm): Men's 50m Freestyle, heat 7: Doug Erasmus
1.18pm (6.18pm): Men's 50m Freestyle, heat 9: Brad Tandy
What to expect: This is where the speed merchants come out to play, all big men who turn the water into a white-water rapid zone. Anything can happen – and usually does. In the seventh of 11 heats, Erasmus draws lane seven where he comes in with an entry time of 22.26. Two heats later Tandy dives off the lane six block and his entry time is 21.87.
2.28pm (7.28pm): Men's 100m butterfly, heat 5: Chad le Clos
11.34pm or 11.42pm (4.34am or 4.42am Fri): Men's 100m butterfly, semi-final: Chad le Clos
What to expect: Le Clos will still be hurting by his fourth-place finish in the 200m butterfly where Michael Phelps made amends for London 2012 and picked up his 20th Olympic gold medal. Le Clos should come back strongly from that setback and he is second favourite at the bookies – the same bookies who made Phelps favourite, and Le Clos only fourth favourite, for the 200m. Look for Le Clos to win his heat and also qualify comfortably later in the evening for the final. GL
BADMINTON
7.30pm (2.23am Friday): Men's singles group play stage– Group N: Jacob Maliekal v Wan Ho Son (Kor)
What to expect: China-based Maliekal has made no bones about the fact that he's in Rio to cause an upset… he'll have to as both other players in his group (Ukraine's Artem Pochtarev is the other) are ranked higher than him. Good thing for badminton players at these Games is that the Rio-Sentro Pavilion is less than a five-minute walk from the Athletes' Village. Hopefully this knowledge will mean that Team SA will come out and support him. ME
SAILING
470 Class, race three 1.15pm (6.15pm) followed by race four seven races later
What to expect: The three South Africans in action so far will be looking to up their game as the 470 class moves into its second day while Stefano Marcia gets a welcome breather to regroup before Friday's resumption of battle. ME
Image of Brittain and Keeling by Christiaan Kotze/SASPA
GL = Gary Lemke
ME = Mark Etheridge
For more updates as they happen, check source: Sascoc.co.za