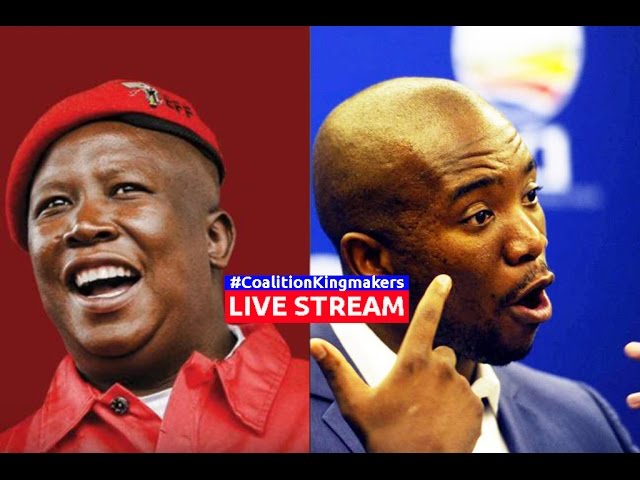 #DieStem is trending at the top of Twitter in South Africa after EFF commander in chief Julius Malema revealed Wednesday that one of the EFF's conditions for #CoalitionTalks included the removal of Die Stem.
Other conditions were land appropriation, nationalisation and free education. Further conditions to the ANC included remove eTolls and Jacob Zuma as SA President, no nuclear deal (which will cause trillions) and an inquiry into the Guptas. Malema believes Zuma won't step down because he's taken the money already and the Guptas are behind the nuclear deal.
Malema said singing Die Stem was like making Jews sing a song of praise to Hitler, and claimed that the DA lagreed with the EFF that Die Stem should change. He said however that Maimane didn't want street names in Tshwane to be changed – so no Coalition deal could be made.
He said he was happy to announce that no coalition would be formed with either the DA or the ANC, and that the EFF didn't want any positions in municipalities – they only wished to focus on service deliveries.
He also said the EFF didn't want any speaker or favour "or anything from racist DA".
Of the ANC he said that once again they had chosen Zuma. And asked "why are they not going to ask Zuma to step down?", accusing the ANC of taking collective responsibility even after ConCourt said Zuma must take individual responsibility.
He said from ANC supporters' body language you can see they don't want Zuma, but they're scared.
Malema said people may say they're obsessed with Zuma, but "the damage that guy is causing South Africa is too much."
He said: "We have not signed anything. There is no agreement with anyone." The EFF, he said, will not give a single vote to the ANC, but the DA will get its vote in Joburg subject to a confidential small condition which it has agreed not to disclose.
Malema said the DA is the lesser devil than the corrupt ANC which subscribes to kleptocracy. He accused both of protecting white capital and said "we are happy to announce there is no deal between the ANC and the EFF".
He said "our blood boils" when seeing Zuma in Parliament, and that "if the ANC removes this crook – there will be peace".
During question time, Malema said the water and electricity debts of the poor should be cancelled. "We cannot punish people for being poor."
Watch live streaming: