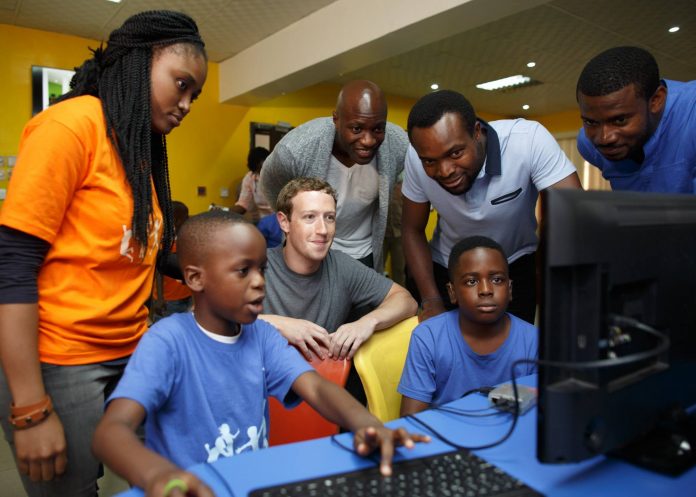 Facebook CEO Mark Zuckerberg has shown Facebook's commitment  to Africa by making a surprise visit to Nigeria to listen and learn, and take ideas back to California on how Facebook can better support tech development and entrepreneurship across Africa.
According to a press release, issued by APO on behalf of Facebook, this is Zuckerberg's first visit to Africa.
On Tuesday night, Zuckerberg wrote on Facebook:
"This is my first trip to sub-Saharan Africa. I'll be meeting with developers and entrepreneurs, and learning about the startup ecosystem in Nigeria.
"The energy here is amazing and I'm excited to learn as much as I can.
"The first place I got to visit was the Co-creation Hub Nigeria (CcHUB) in Yaba. I got to talk to kids at a summer coding camp and entrepreneurs who come to CcHub to build and launch their apps. I'm looking forward to meeting more people in Nigeria."
Zuckerberg met with developers who run a platform called Life Bank that saves lives by making blood available when and where it is needed in Nigeria.
He then went to Andela, an engineering organisation that is building the next generation of technical leaders in Africa… and which he and his wife's Chan Zuckerberg Initiative invested in earlier this year.
Andela's Lago director Seni Sulyman said Zuckerberg's visit "reinforces not only his support of Andela's mission, but his belief that indeed the next generation of great technology leaders will come out of Lagos, Nigeria and cities across Africa."
At the end of the day Zuckerberg stopped by an Express WiFi stand in Lagos owned by Rosemary Njoku. Facebook's Express WiFi lets entrepreneurs like Rosemary set up a hot spot to help their community access apps and services built by local developers.
Zuckerberg will also be exploring Nollywood, Nigeria's Hollywood.
Nigerians took to social media on Tuesday to thank the billionaire entrepreneur for visiting their country, believing in their people and showing the rest of the world some of the positive stories happening in their country.
From Zuckerberg's Facebook page: